The recent eruptions of Mount Etna have left many tourists a little sceptical of climbing this volcano. Although for good reason, it is still an incredible feeling to climb an active Volcano and one of my most exhilarating experiences to date.
I now have the satisfaction of saying that, because I recently embarked on an Etna adventure in Sicily. Lucky for me, it was before the recent eruptions, but, if your adventurous spirit is still tugging on you to make the climb, it is still possible.
Here is everything you need to know before you set foot on a live volcano!
---
Where is Mount Etna?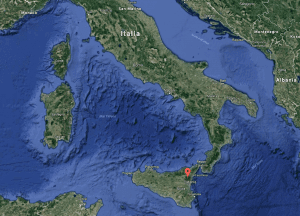 Mount Etna is an active stratovolcano, located on the Eastern coast of the Italian island of Sicily.
Most people make it a day trip from Taormina, the most famous city on the East coast of Sicily. The trip from Taormina takes around 1.5 hours.
NOTE: Before planning your trip, check recent news to find out the best times to visit Mount Etna. As it is an active volcano and has erupted in the last few months, be sure to take safety precautions!
---
What to bring?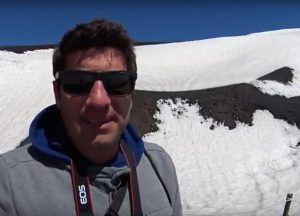 You are about to embark on an adventure up the tallest active volcano in Europe. If you have not done this before and don't know what to expect, then imagine climbing up a very big mountain – it's pretty much the same thing.
The change in temperature is huge, so you may leave your hotel in shorts, but as you drive higher up it will begin to get colder and colder, warm clothes will be a must. If you decide to go all the way up to the top, then you will need to bring warm clothes and a coat because there will be snow.
Also, bring a comfortable pair of shoes for the trek up. I saw some stylish women attempting the climb in high heels… it didn't end well for them.
---
How to get there?
By far the easiest way to get there, and also the way I recommend, is by car. The drive is quite an easy one and all you have to do is follow the signs for ETNA. As you start the ascent from the coast, you will pass by many little towns and villages that are at the base of Etna, where people have been living for hundreds of years.
Now you might ask if living at the bottom of an active volcano is a bit crazy? Yes, it is, but historically people have always lived near volcanoes due to the richness and fertility of the volcanic soil. Some of the best wines are produced in this area as a result. Definitely, try them.
---
What to do when you arrive?
Your first point of arrival will be the Silvestri Craters. There is ample parking there for cars and you'll see it has a 'ski-resort feel' to it, restaurants and bathrooms available. You are now at 2,000 meters (6,560ft) and this is just the tip of the iceberg.
The Silvestri Craters are free to view and also inactive, so don't worry. This first stage will give you a good first taste, like an antipasto, of what is still to come.
---
UP UP UP!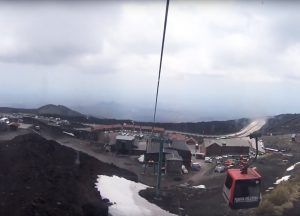 By now you have reached the first part of your Etna climb. Many tourists that visit Etna do not go any higher. This is the end of their Etna adventure, but I implore you to keep going. It is much more interesting the higher you go.
At this point, there is a ticket office window where you can buy tickets to continue further up (63 euros per person). To reach the second part of the Mount Etna climb, you will go by "Funavia", which is the Italian word for "cable car". This will give you a beautiful view of the sides of the Volcano and will take you up to 2500m (8200ft).
At this point, you will wait for off-road jeeps, which will take you up to the third part of the trip. These jeeps will take you up to around 3000m (9842ft) – so pretty high up!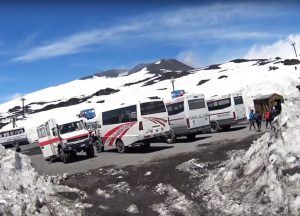 Once you get to the top, there will be a guide who will take you to the topmost crater. I must remind you to be ready because it is going to be cold! You will be surrounded by snow and there will be extremely strong wind. I went in April, so perhaps it won't be as cold or snowy in the Summer months, but it will definitely be colder up top than down below. 
---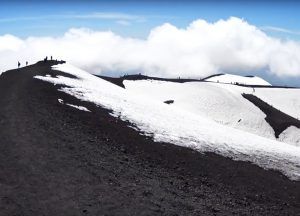 If you want to get a better idea of what it's like to climb to the top of Mount Etna, check out this video of my experience: Hidden gems of Italy, Mount Etna in Sicily.
Need help planning your trip to Italy? Ask the experts in our Italy Trip Planning Department, they will be happy to help you!
---
Discover More
Coming to Italy and feeling adventurous? Whether you're climbing Mount Etna or not, Italy has a lot to offer, including it's delicious food! Here are 3 Traditional Italian Dishes for the Adventurous Traveler!
Share your favorite memories with us on Facebook, Twitter and Instagram with the hashtag #Andiamo.