Florence is home to many masterpieces that will leave you daydreaming for years to come. Michelangelo's David is one such example. The famous statue rests in a corridor at The Accademia Gallery in the center of Florence. With over eight million visitors to this museum a year, it is easy to understand why planning in advance can make your experience not only more enjoyable but even possible. But before we go into the logistics, let's take a look at some fun facts about Michelangelo's David.
Did you know?
Don't be fooled! There are a total of three Davids in Florence, with only one original in The Accademia. One full-size replica stands in the original location in front of Palazzo Vecchio and a second bronze replica towers over the Renaissance city atop Piazzale Michelangelo
The statue stands 17-feet tall and was made from a single block of marble
The David cradles a sling over his
left shoulder and conceals a rock in his right hand. This combined with the name of the statue made it clear that it was a representation of the David who faced the vicious giant Goliath.
The right hand is disproportionately large. Some believe this was Michelangelo's nod to the nickname of David, manu fortis– strong of hand
Four years after the completion of The David, Michelangelo started his work on the Sistine Chapel
The second toe of his left foot was smashed off in September of 1991 by Italian artist Piero Cannata, who snuck a hammer into The Accademia
The high number of annual visitors creates mini earthquakes with the foot traffic. So enjoy but tread lightly.
Now that your interest has spiked, let's get you inside The Accademia, of course without the endless lines.
Experience #1 – Buy your own Tickets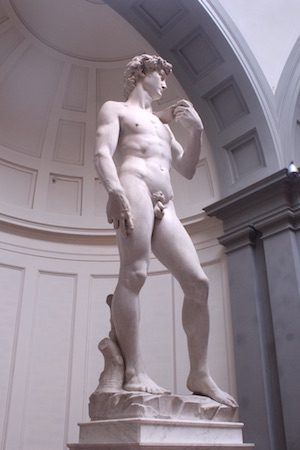 The key to doing this correctly is to plan in advance and book your tickets online.
The Accademia is crowded all year round, so regardless of the time or month, it helps to reserve your spot prior to leaving your home country. The museum organizes tickets by time slots and often sell out very quickly.  
Going directly through the gallery's website is your best bet. Click on the left-hand option (b-ticket), and choose the English version (at the bottom of the website). From here, you'll be taken to the page for all museums in Florence, so simply choose Galleria Accademia from the left-hand drop down menu. Museum websites in Italy are rarely user-friendly, but following these steps will minimize your speed bumps.
If you prefer, you can call the ticket office to reserve your tickets.  Keep in mind the time difference and international rates for your phone provider.
For maximum convenience and information about the museum, you can also book a tour here.
Cons:
There may still be a line. Reserving your tickets promises entry as close to your chosen time as possible, but for crowd control only a certain number of visitors enter at a time.
No expertise. You can read every guide book and museum pamphlet, but nothing compares to the secret facts, guidance, and, well, sense of humor of trained guides.
You might miss important details.
Limited availability on website
Not enough bang for your buck. Florence is repeatedly listed as the #1 European destination. In other words, it's kind of a big deal.  The David is possibly the most sought after piece of art in the city. If you're coming all the way, you might as well make it count.
Experience #2 – Small Group Guided Tour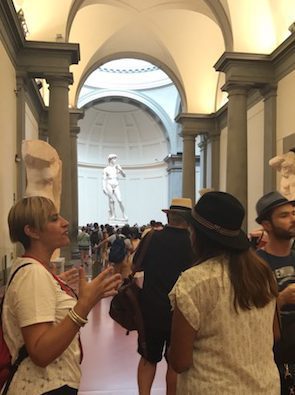 A small group tour can help expose all the nitty gritty details of The David, as well as manage the organizational aspect of the day. There are two options:
You can book a group tour through the Gallery's website.  The guides are all art history experts and each tour is conducted in English.  Each tour lasts an hour and a half and is offered every Tuesday, Thursday, and Saturday at 12:30pm.
There is a second option for a small group tour, and of course The Roman Guy can help you out!  Join their Florence Walking Tour, which starts out with a visit to the David.  Take advantage of the expertly trained guides (with a particularly strong sense of humor if I might add) and spend a beautiful day in the Renaissance capital with our good friend David.
Pros:
Skip the frightful lines
Flexibility on day and time
Become an expert on The David
Meet like-minded travelers and share the experience together
See the best the city has to offer in a short amount of time
English speaking guides
Experience #3 – Private Tour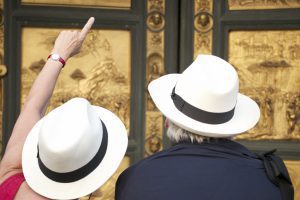 A Florence Private Tour is the ultimate way to experience Michelangelo's David.  No questions are left unanswered, no secret gets untold and no inch of the David is left unexplained.  If you're going to do it, you might as well do it, right?
And, because we love meeting fellow Italy aficionados, we'd love to share this experience with you!  The guys and gals at The Roman Guy are, well, obsessed with Italy and all her gems. What better way to experience one of the most popular museums, in one of the most beautiful cities, with one of the most knowledgeable guides at your complete disposal?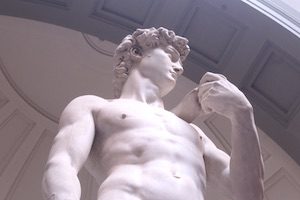 Enjoy an exclusive tour of the Accademia and then spend the rest of the afternoon gliding through the Renaissance streets sprinkled with UNESCO sites, and even tasting local cuisine–all completely private.
But, if you're on a tight schedule or not up for an entire walking tour, contact our Trip Planning and it's as easy as 1-2-3 to arrange a private tour just of the Accademia.
Pros:
Undivided attention from guide means unlimited questions and answers
Intimate experience provides the feeling of traveling with just an extremely knowledgeable friend
Complete customization
Relaxed, stress-free, comprehensive
Making all your friends and family jealous
No holding other people up on all the selfie and photo breaks
Experience la dolce vita!
---
Hours of The Accademia Gallery

Open Tues-Sun, 8:15am-6:50pm.
Closed every Monday.
The ticket office closes at 6:05pm and the museum starts shutting down around 6:30pm.
Every first Sunday of the month, the museum is FREE for everyone. It follows normal opening hours but no pre-booked tickets are sold for those dates.
The museum is closed: every Monday, January 1, May 1, December 25.
---
Discover More
We'd love to see your adventures with David and around Florence.  Share your memories and Follow us on Facebook, Twitter, Instagram and YouTube!
Up next: Learn about the top Italian fashion and food bloggers to follow right now.