Any travel guru can agree that Michelangelo's David is not only a symbol of Florence; it's an art icon.
Travelers can spot Michelangelo's David in three spots around Florence, but only one is the real deal. Standing at a whopping 17 feet tall, the authentic Statue of David lies in the Galleria dell'Accademia but you won't be able to walk up and get in on most days.
This article will explain the best ways to see Michelangelo's David. 
---
Last Updated: July 30 2020
Pro Tip
If you like this article definitely check out our insiders guide to local things to do in Florence.  Bookmark both articles in your browser you can circle back to them when you're in Europe.
The story of David is incredible and best told by locals.  We like to think these famous works merit a full explanation by a tour guide – check out this guide to our Florence tours and our tour of the real David by Michelangelo.
Ok, enough selling and onto the info!
Accademia Gallery Hours
The Galleria dell'Accademia opens at 8:15 a.m., closes at 6:15 p.m., and is closed on Mondays. The ticket office closes at 6:50 p.m., meaning you cannot enter past that time.
If you're looking for cheap things to do in Florence, the Accademia is free every first Sunday of the month, along with every other State Museum in Florence.
The line for the museum can get pretty long which is another reason we recommend doing a guided tour for skip the line access. You can also reserve tickets on your own. We don't sell those directly, but give it an internet search. 
Statue of David Facts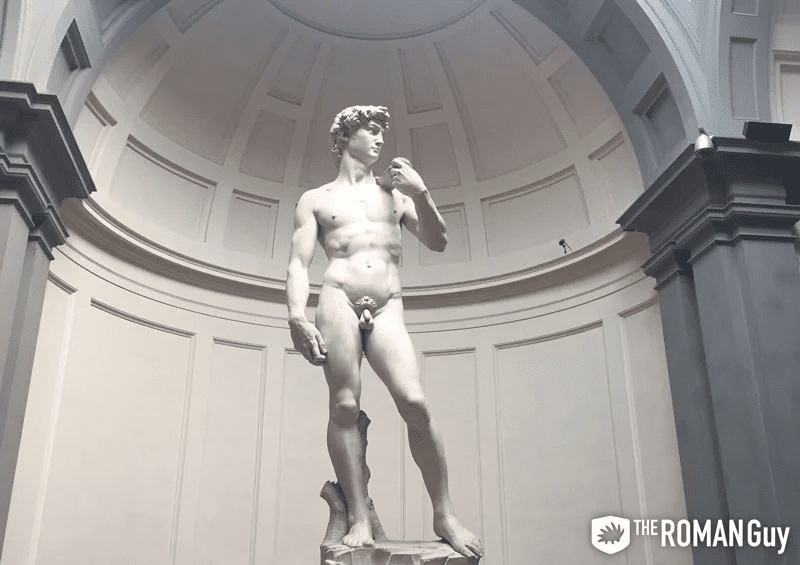 You may wonder how Michelangelo's David got its claim to fame. And if you've never seen the thing, that's a pretty reasonable question.
For those who have, you know that this statue is massive. The sheer size of it makes you do a double-take.
The statue depicts the biblical character David, you know, that victor of the David and Goliath battle.
This statue is the first to depict the scene right before David slaughters Goliath, whereas prior interpretations depicted David during and after the kill.
Similarly, aside from its size and scenic timing, Michelangelo's David is, well, Michelangelo's David. You know that renowned artist who sculpted La Pieta for St. Peter's Basilica and painted the entire Sistine Chapel?
Yep, this is the same dude. Michelangelo is not just an Italian artist, he's the Italian artist.
And to state what may be obvious, the David's fame also comes from the grave detail Michelangelo dedicated to the piece. This iconic statue came from a giant block of Carrara marble, and Michelangelo simply carved it into what we now see as the David.
Statue of David Facts:
There are Three Davids in Florence
Yes, there are three.  There's one in the Galleria dell'Accademia, one in Piazza della Signoria and one atop Piazzale Michelangelo. You could check out this quick read on where all three Davids are and how to get to them. One of them is at an amazing view point of Florence. 
He has an Infamous Right Hand
The right hand is disproportionately large. Some believe this was Michelangelo's nod to the nickname of David, manu fortis– strong of hand.
Others believe that this was due to how the stature was originally positioned outside. Artists often exaggerated the proportions of their subjects to manipulate the way they are perceived from multiple angles.
Relationship with the Medici Family
Michelangelo was extremely close with Lorenzo de' Medici who is often considered the father of the Renaissance, hence his title Lorenzo the Great.
His relationship with the decedents of Lorenzo were mostly civil despite some minor arguments.  All in all, the Medici commissioned some of Michelangelo's greatest masterpieces including the Last Judgement in the Sistine Chapel and Moses in San Pietro in Vincoli (Rome).
Even an Earthquake Can't Defeat Him
The statue has suffered severe fractures and cracks in its shins and ankles over the years from earthquakes. As a result, the David now stands on an anti-seismic platform that protects it from earthquake damage.
He's Missing a Toe
The second toe of his left foot was smashed off in September of 1991 by Italian artist Piero Cannata, who snuck a hammer into the Accademia.
Cannata was quoted by the Italian news agency Ansa saying that it was the original model Michelangelo used to carve David that asked him to do it.  Sure.
Statue of David Tickets
You don't need to go on a guided tour to see David, but the lines can be quite long. Additionally, the museum does not provide nearly enough information for visitors to fully appreciate the David.
A guided walking tour will provide skip the line tickets, for those who cannot wait to see this admirable work of art. However, if you do choose to forgo a guided tour, there are several websites that sell tickets.
---
I Want More Italy!