In the heart of the Val D'Orcia are two outstanding properties for your next trip to Tuscany – La Bandita and La Bandita Townhouse. The latter, resembling your dream country villa, is located outside within the rolling hills and the Townhouse, a former convent turned stylish boutique hotel, can be found in the medieval town of Pienza. Having personally stayed in the Townhouse in Pienza, The Roman Guy considers La Bandita Townhouse to be the ultimate luxury hotel in Tuscany.
We have John Voigtmann and his wife Ondine Cohane to thank for both of these incredible accommodations. John, formerly a high-ranked Sony executive turned hotelier/restauranteur, and Ondine, a well-known magazine editor & travel writer, left Brooklyn behind and landed in Tuscany. They soon opened up the La Bandita country house in 2007 and shortly thereafter, La Bandita Townhouse in Spring 2013.
La Bandita Townhouse & Pienza
Pienza is a dream in and of itself. It's one of our favorite towns in all of Tuscany. While not that easily accessible, it lacks being overrun by day-trippers. It retains it's authentic medieval charm and history. And while you can walk from one end to the other in just about 10-15 minutes, there's a lot that this town has to offer. To name a few, plenty of shops, delicious restaurants, piazzas, and overlooks for those panoramic photos you promised your friends back home.
Now enter La Bandita Townhouse, tucked away at the end of the main street in the town.
Offering 12 stylish rooms with a touch of minimalistic Tuscan charm, La Bandita Townhouse is our top pick for your next stay in Tuscany.The staff, rooms, restaurant, and setting make for the perfect stay – whether you're just passing through for a night or planning on staying for a week.



The Rooms:
I think we can all agree – there's nothing like waking up in a small Tuscan village. More specifically, there is nothing like waking up in luxury.
What you'll love about the rooms are not just its high ceilings, exposed stone walls, and heavenly beds, but the many windows offering stunning views of the rolling hills surrounding. You're truly in a Tuscan fairytale.
With plenty of open common areas, you'll find yourself swapping stories over aperitivo with other trendy vacationers.
The Restaurant: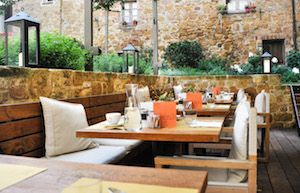 Not only are you in for a luxurious night's sleep, but you're also in for a 5-star dining experience.
Walking into The Townhouse Caffe, you'll be greeted by none other than the chefs who are hard at work behind the open kitchen. Before you even take your seat, you can catch a glimpse of the gourmet food that's about to hit your palate.
Whether you're sitting inside or on the cosy outdoor patio, you're right alongside the hotel's beautiful garden, where many of the ingredients come from. The menu is Tuscan-inspired with a heavy focus on fresh seasonal vegetables.
There's no going wrong with any of the dishes here. And don't forget the La Bandita-branded house wine, which goes along with your beautifully and flawlessly set table.
Getting There:
From Rome
Take the train from Termini to Chiusi (€15-20, a little under 2 hours). From here, hire a car to pick you up for the remaining 30 minute drive.
Or, hire a driver the entire route, which is just about 2 hours.
From Florence
By train, the journey will take you 4 and a half hours, but requires a connection in Siena. This will only put you out €20-30.
You're better off hiring or renting a car – in which case, the drive is only an hour and a half.
Hotel Information:
Phone: +39 0578 749 005 | Website:www.la-bandita.com | Social:Instagram &Facebook | Price:Rooms from €350-550/night
[bgmp-map categories="accommodation" center="pienza"]