Assuming you don't have a problem with warm jackets and cozy scarves, winter is the perfect time to visit Italy. The crowds miraculously disperse and consequently, prices fall.
The Christmas season also brings renowned markets, light displays, and magical weather. Here are the five coolest places to spend winter in Italy!
---
Why Spending Winter in Italy is a Good Idea
Though you might experience some cold temperatures in northern Italy and rain in the south, visiting Italy in winter still makes for a cozy and affordable experience.
While the places below are awesome to visit, if you happen to find yourself in Rome and are looking for something to do in the winter, check out our Best Rome Tours.
Bolzano in South Tyrol
This city in the South Tyrol province of Italy is a charming unity of the Mediterranean and Northern Europe. Its history began in 1027. Afterward, it floated between Austria, France, and the Kingdom of Italy before finally becoming part of modern-day Italy.
Like many cities in this country, the architecture and culture reflect history. So, you see an Austrian influence in the language, architecture, and yes, the food. In fact, South Tyrol produces 12% of Europe's apples. Get ready to chow down on some delicious apple strudel during winter in Italy.
Things to do in Bolzano:
Visit a Christmas market. Bolzano has Italy's biggest Christmas market. From November 23rd to January 6th, local artisans, farmers, pastry chefs, musicians, and festive lights will surely put you in the festive spirit.
Take a ride on the Renon cable car. Take the city's cable car through the surrounding Dolomites and see scenery that you've only read about. The destination at the top is Soprabolzano. It's a tiny village with local food shops, a few hotels, and views of a lifetime.
Sicily in South Italy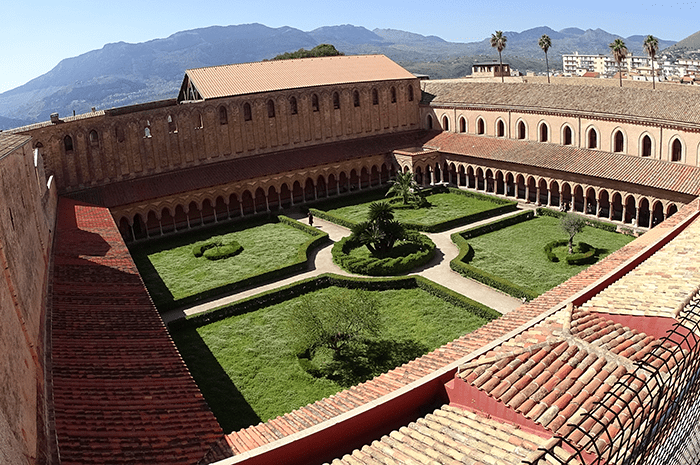 Sicily is the exception to the southern rule of rainy days. While drizzle is possible, it's not common. Instead, the winter months are actually a very pleasant time to visit the island.
Cooler but not frigid temperatures give you a new way to experience Christmas and the winter season. Plus, the Italian island is way off the radar of most tourists after September.
Things to do in Sicily:
Leave plenty of time for aimless walking! Around Christmas time, visit one of the nativity scenes that occupy all the main squares and churches.
Eat your heart out! The summer months weigh you down even just after one panino. Luckily, colder months encourage more eating and Sicily is the place where you want to do that. Check out Palermo's food and street markets.
Depending on the length of your stay, take a train to the north-east corner of the island and go skiing at Mount Etna.
Palermo is a good home base as there are many ways to fill your itinerary. Palermo is one of those cool cities that thrive on its authenticity. They don't put on a show for tourists. Instead, they have a take it or leave it kind of attitude.
Aosta Valley Region
Aosta is the capital of the Valley region. It's considered the most "Roman" outside of Rome because of the number of ruins. The area was conquered by Rome in 25 BC. They founded Augusta Prætoria Salassorum (modern-day Aosta) and they went on to build bridges and roads through the mountains.
Thus, the name Valle d'Aosta literally means "Valley of Augustus."
Now, the town is enclosed by an ancient Roman wall and the streets are decorated with charming cobblestones. Above, you have views of snow-capped mountains glittering in the distance.
Essentially, a winter wonderland with a Roman twist! This makes Aosta a perfect spot to visit during winter in Italy.
Things to do in Aosta:
Visit Sant'Orso Church. It is famous for its 11th-century crypt and its annual fair on January 30th and 31st. It's a craft and music festival with, to no surprise, seasonal yummies.
Take the cable car to Pila ski resort.
Check the Aosta town website for more.
Cortina d'Ampezzo in the Dolomites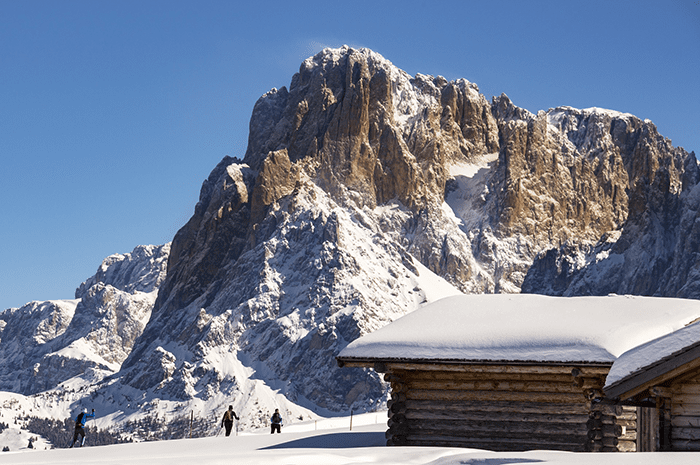 Commonly considered the "Queen of the Dolomites", Cortina has a thousand-year-old history with testimonies of ancient Roman settlements and traces of Barbarians.
Nowadays, it's all about world-class skiing for locals and travelers. It was the scene of the 1956 Winter Games and is the proud host of the Alpine Ski World Championships of 2021.
What's more, the town offers a great local atmosphere with charming bars.
Things to do in Cortina:
Ski! Cortina is part of the Dolomiti Superski, one of the world's largest ski circuits with 745 miles of slopes across 12 ski regions. With just one ski-pass!
Biking. Bikers don't have to surrender to the snow in Cortina!
Eat! Local specialties include Puccia (a type of bread perfumed with aromatic herbs), Casunziei (ravioli stuffed with beetroot) and apple strudel.
Turin in the North of Italy
In the winter months, Turin is renowned for holiday lights. Suspended over streets and strung between buildings, the twinkling and glow make you physically feel the magic in the air.
There is also a strong food culture in Turin. In fact, we must thank the geniuses in this northern city for starting aperitivo. So, it makes perfect sense that Torino has the greatest number of cafés per capita.
Things to do in Turin:
Christmas Market from December 1st to Christmas Day in Piazza Borga Dora.
Eat, drink, and be merry! One institution that you cannot miss is Caffe al Bicerin. It's named after a local drink made of hot espresso, chocolate, and cream. Other seasonal treats include homemade pasta served with mushrooms or truffles and bagna cauda, a garlic, oil, and anchovy dip served with veggies.
---
I Want More Italy!