Piazza del Popolo marks the northern gates of Rome and is the largest square in the city. Connecting many parts of the Eternal City, it's a good base for some sightseeing. In this article, our local Rome tour guide has put together a list of the top things to see near Piazza del Popolo.
---
Pro Tip: Bookmark this article in a "Rome" folder in your browser, so you can circle back to it while planning. One of the best ways to see a city with as much history as Rome is to join a local guide. Check out our best Rome tours so you can see the Eternal City as few others do. Also, see our guide to Rome for more resources to help you plan your trip.
What To See Near Piazza del Popolo in Rome
Rome is such an incredible city and this is highlighted by just how much there is to see. We've created this list of top things to see near Piazza del Popolo, along with others covering popular areas, to help guide you through the city. This way, you won't end up walking past something incredible without noticing it—which is really easy to do in Rome!
9. Fountain of Neptune and Goddess of Rome
In Piazza del Popolo, stand with the twin churches at your back and then turn left. You'll see this monumental statue of Neptune holding a trident in classic style and riding some dolphins and mermen. On the opposite side of the piazza, you'll see the statue of Dea Roma mirroring Neptune. Dea Roma, meaning goddess of Rome, is also the terminus of the Acqua Vergine Nuovo aqueduct.
The statues and aqueduct were built in the 19th century to bring water to the ever-expanding city. Both statues celebrate this fact. Neptune, as god of the sea, celebrates water and Dea Roma celebrates the glory of Rome.
Address: Piazza del Popolo
8. Villa Medici
As you walk up Viale della Trinità dei Monti, you'll see a rather awkward-looking building on your right-hand side. Even though it's very close to the city's iconic Spanish Steps, it doesn't look like it belongs in Rome. That's because it's Villa Medici of the famous dynasty of Florence. The building's facade would fit in much better in Florence, where the famous Medici family were from. 
However, the rear of the palace looks more like it could be in France because of the glorious gardens and architecture. This amazing estate is owned by the French State. You can easily visit and take a tour.
Or, you can spend the night at Villa Medici. It's easily the most exclusive B&B in Rome. If you're interested in the famed Medici dynasty, this would be a great experience. To make reservations, you'll have to book directly through Villa Medici. 
Address: Viale della Trinità dei Monti, 1
7. Via Margutta
There are three roads stemming from Piazza del Popolo forming a sort of trident into Rome. One of those roads is the bustling Via del Babuino, normally full of people. Lateral to this street is Via Margutta, which is a very quaint and much quieter street.
It's a lovely reprieve in an otherwise crowded area. If you're looking for a decent meal and a beautiful stroll, Via Margutta is a nice little detour while sightseeing near Piazza del Popolo.
Address: Via Margutta
6. Ara Pacis and Mausoleum of Augustus
Ever wondered what a pagan altar from Roman times looked like? The Ara Pacis, or Altar of Peace, is your best chance of seeing one up close and personal. The altar celebrates Emperor Augustus' return to Rome from Spain and Gaul after a three-year absence. It took three and a half years to build and was dedicated on the birthday of Augustus' wife, Livia
Interestingly, the goddess Pax (Peace) was fairly unknown before 13 B.C. However, Augustus became famous for the Pax Romana (Roman Peace) and as a result, the goddess Pax increased in popularity.
Giant white marble blocks, known as Luna, form the alter. The friezes describe typical Augustan imagery like the acanthus plants and the mythical founders of Rome, Aeneas and Romulus, for example. If you visit today, you need to bear in mind that the structure has been reconstructed and the original structure was actually built 450 meters from the current spot. Having said that, it is still an imposing structure and a must-see near Piazza del Popolo.
Address: Lungotevere in Augusta
5. Villa Borghese and the Borghese Gallery
The Borghese family was one of the most powerful families in Roman history. Much like the Medici in Florence, the Borghese amassed great wealth and power. And they did it under just one 16-year hold over the papacy.
During that 16-year run, they made some important acquisitions like the purchase of a plot of land just north of the walls of Rome. This area is now known as the Borghese Gardens and is home to the famed Galleria Borghese.
The Borghese family still exists today, but without much claim to their former wealth. That said, their name is on the front of St. Peter's Basilica and their garden, the Borghese garden, remains the most beautiful in Rome.
Address: Villa Borghese | Borghese Gallery
4. Il Pincio
If you love viewpoints, they don't get much better than this one. This is one of my favorite spots to visit in Rome. Located above Piazza del Popolo at the edge of Villa Borghese, Il Pincio is named after the hill it was carved from, the Pincian Hill. Technically, it lies outside the ancient boundaries of Rome, so it isn't one of the original seven hills of Rome. For me, though, it takes the top spot.
Come up here for views that not only overlook the city's largest square, Piazza del Popolo, but the whole of Rome. You can see the twin churches below, along with the Flaminian Gate of Rome, and St. Peter's Basilica off in the distance. It's a great spot for that Instagram selfie in Rome.
Address: Salita del Pincio
3. Piazza Del Popolo
Piazza del Popolo is the largest square in Rome and a must-see. It's about a 10-minute walk from Piazza di Spagna. In the square, you'll see the twin churches, featured in the image above. There's also a statue of a lion on the base of the Flaminio Obelisk, one of the largest of Rome's 13 obelisks (the largest is the Lateran Obelisk in front of St. John Lateran Church).
You'll also see the namesake church, Santa Maria del Popolo. While the church was already much-loved by history buffs, it gained global fame after it was featured in Dan Brown's "Angels and Demons" novel.
The church is famous for many things. Among them are the Cosmati floors, which can be found throughout Rome, including the Sistine Chapel. They are also in the Westminster Abbey in London. This church also has two must-see Caravaggio paintings that are free to see (all Rome churches are free to enter). You'll also find the hand of Bernini on almost every single part of this church, but most famously the statue of Daniel in the Chigi Chapel.
Address: Piazza del Popolo
2. The Twin Churches
Piazza del Popolo is the northern entrance to Rome and what a scene it is. Imagine walking into the gate of Rome for the first time and seeing the image above—you immediately understand you are somewhere special!
The square culminates in three streets that course their way through the city: Via Ripetta, Via del Corso, and Via del Babuino. Dividing these three roads are what we refer to as the Gemelli churches or twin churches. They are, in fact, not twin churches, which you'll see upon inspection. However, they do look quite similar and form a beautiful entranceway to the city.
Address: Chiesa Santa Maria dei Miracoli and Santa Maria in Montesanto Church
1. Santa Maria del Popolo
Santa Maria del Popolo is an incredible church, famous among Rome tour guides for its beauty and the treasures it contains. Few realize that churches in Rome are free to visit and that they often contain masterpieces that you'd normally have to pay admission to see in most museums.
Walking by this unassuming church, you'd never guess from its exterior that it had such marvels on the inside. The church has felt the hands of Bramante, Bernini, Raphael, Caravaggio, and of course the hand of God!
When visiting, be sure to see the Chigi Chapel (left side nave) by Raphael, which features a statue of Daniel by Bernini. In the nave to the left of the main alter, you'll find three paintings. Caravaggio is responsible for the two on the left and the right side wall. Caravaggio painted the crucifixion of St. Peter, which took place upside down. Why? Peter, who Nero put to death, did not feel worthy of the same death as Jesus. For this reason, Nero crucified him upside down.
You'll also see the painting of St. Paul falling off his horse on the way to Damascus. This scene was crucial to the survival of Christianity since this was the moment when Paul began promoting Christianity. Paul spoke Aramaic and Greek, which was key to the spread of Christianity.
It is important to note that the basilica itself suggests that it was built on top of the tomb of Emperor Nero in 1099. It is said its very purpose was to cast away the spirit of Nero, who was haunting the area. Interessante!
Address: Piazza del Popolo, 12
Next Stop…
If you're doing a walking tour of Rome, your next stop should be the Spanish Steps since it is so close to the Piazza del Popolo. We show you how to do a DIY walking tour of Rome in the video below or see the DIY Rome itinerary.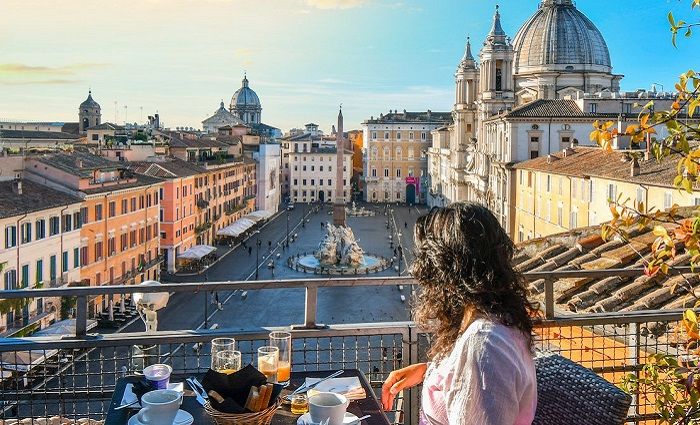 Find the best places to stay
Where To Stay in Rome
Rome has a rich cultural history and many iconic landmarks to explore. Plan where to stay in the magnificent Eternal City in the best neighborhoods.