As an American, there is nothing more cherished to me than waking up on the fourth Thursday of November- I hear the sound of football on TV downstairs with the heavenly sweet and savory smells of mashed potatoes, turkey, and pumpkin pie wafting through the air. However, as an expat in Italy I haven't had that experience in a while, so what's a girl to do? Luckily, the seasonal ingredients in Italy allow me to combine my favorite thanksgiving traditions with the best of Italian cuisine!
Here are some mouthwatering recipes to inspire you for the best day of the year and to give you a glimpse of what the table would look like at an Italian-American thanksgiving dinner!
---
1. Pumpkin Risotto
Yes, American's love pumpkin-flavored everything. It's true. Luckily for us, pumpkin or zucca, is also very popular and seasonal in Italy. While they aren't as extreme as pumpkin lattes, muffins, and Oreos (too far America?), Italians use zucca in their first courses. Imagine pumpkin tortellini, ravioli, zuppa (soup), and the fan favorite, risotto.
The season for pumpkin in Italy starts around late September and lasts till about the end of December. With the expansive agriculture in Italy's 20 regions, you'll find different varieties, for example, there is the marina di Chioggia (pronounced kee-ohj'-jah) in the northern Veneto region. Regardless of the region, you'll find your pumpkins at the local markets.
For a traditional pumpkin risotto that will satisfy all your cravings, check out our very own Roman Foodie blog recipe!
---
2. Cranberry Almond Crostata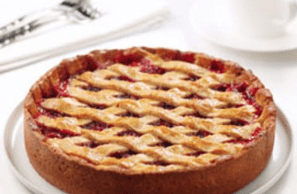 Cranberries (mirtilli rossi) as we think of them in Northern America, don't exist in Italy. Instead, they have red currants (ribes), which are bursting with flavor and begging to be used in your Thanksgiving feast.
The crostata is the closest thing to an Italian pie and is found mostly in central Italy. It is most commonly filled with marmalade or sweet ricotta, a perfect fusion of many Thanksgiving dishes.
Technically the season in Italy for these flavor bombs is the summer. However, many nonne  harvest them for marmalade, that they can then use year round. Plus, what could be better than blending the Thanksgiving favorite of cranberries with a traditional Italian crostata? Not much!
Our favorite Cranberry Almond Crostata recipe comes from Jovina Cooks Italian.
---
3. Tortellini in Brodo
It's very possible you've had this classic dish at home without even knowing you were indulging in an Italian favorite. It originates from Emilia-Romagna, the region of Bologna. This northern region is often called the "culinary heart" of Italy so it's safe to say they know how to jazz up a soup.
With routes in a colder part of Italy, brodo, broth is the Italian solution for when you're chilled to the bones or feeling a bit under the weather. However, tortellini in brodo is also a traditional dish for many winter holidays in Italy.  For instance, it's often used as a "lighter" dinner after a big Christmas lunch.
So when is it socially acceptable to start boiling your brodo? Northern Italian homes start earlier simply due to the difference in climate. Central Italy, on the other hand, starts incorporating the seasonal dish in October and it proudly dominates through until December or even January.
For a classic Tortellini in Brodo recipe look no further than Gianni's North Beach.
---
4. Fennel
Finocchio is a widespread crop in la cucina italiana. They enjoy the crispness and refreshing taste of it in salads during the summer months.  Come autumn, Italians use it to warm their body and soul with more savory dishes.  For example, it's a common ingredient in Sicilian pastas, while in Rome you'll often find it baked with fresh spices and local olive oil. Who else is already dreaming of their sides on Thanksgiving day?
The stagione of fennel starts in May and remains available through December.  Best of all? We have a simple yet creative recipe to flawlessly accompany any dish on Feast Day.
Deborah from Italian Food Forever is here to save the day with her delicious Fennel in Béchamel Sauce With Parmesan Cheese recipe.
---
There you have it! Let's cheer for our favorite football teams and bring a little bit of Italy to our Thanksgiving table this year. 
Buon appetito!
---
Discover More
Share your favorite foodie and travel experiences with us on Facebook, Twitter, Instagram and YouTube! See you there!
Up next: Using traditional Italian food is a priority. Check out our food map of the country and learn about "American Italian" food you're eating wrong.