Rome is packed with countless attractions – ancient wonders are around every corner. With so much to see and do in the Eternal City, the best way to break up your travel itinerary is by neighborhood. No matter where you're staying, don't miss out on the opportunity to branch out and explore the rest of Rome's best neighborhoods. We've already covered Monti, Trastevere and Campo de' Fiori – now it's time to discover the hidden gems of the Vatican Neighborhood. 
---
The Best Rome Tours
Are you planning a Roman holiday? While you're setting your travel itinerary and planning out where to stay in Rome , make sure you look over our impressive selection of Rome tours. Don't miss out on the chance to skip the lines at the Colosseum and Vatican, eat the best local food and experience the Eternal City the way it was meant to be.
Rome's Vatican Neighborhood Guide
The Vatican neighborhood is actually made up of three different areas. Out of all the fantastic Rome neighborhoods to explore, this area is a good one to visit. Especially since you're almost guaranteed to visit the Vatican during your trip to Rome. Thee three areas that comprise this Rome neighborhood are:
1. Borgo – the 14th historical district of Rome.
2. Prati – an attractive residential neighborhood of Rome.
3. Vaticano – the Vatican State.
Where is it?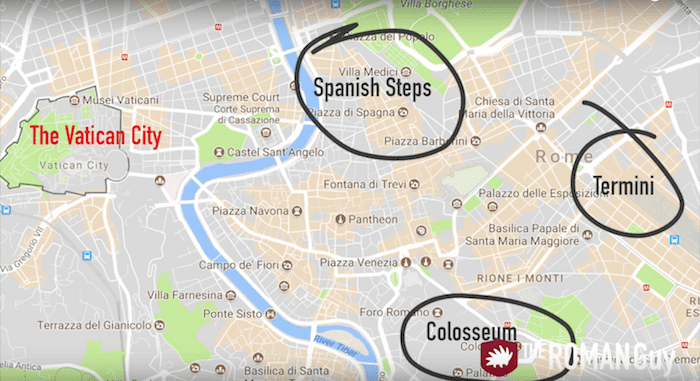 The Vatican neighborhood is on the top left of the map, just on the other side of the river to the historical center. You can walk between the two neighborhoods in about 15 minutes. The adjacent map highlights Vatican City in red. Southeast of the neighborhood is the Colosseum and Roman Forum,  a 30-40 minute walk. Northeast are the Spanish Steps, a 15-20 minute walk. Directly East of the Vatican neighborhood is Termini train station, Rome's central station. If you're coming from the area by Termini, there's a Metro directly across from Termini to the Vatican on the line A. Get off at the "Ottaviano" stop. 
Things to Do in Prati, Rome
St. Peter's Basilica



St. Peter's Basilica took approximately 120 years to build, spanning 20 popes. Almost every famous Renaissance architect that you can think of, including Bramante, Raphael and Michelangelo worked on the basilica. Filled with artwork from some of the most celebrated artists in history, the church's highlights include the Il Baldacchino, La Pieta and the statue of St. Peter. If you're not an art fanatic, that's ok. Just the size of this place will leave you speechless. While it's free to enter, sometimes there are long queues.  If you want to skip the lines, reserve a Vatican and St. Peter's Basilica tour. You'll walk in through the massive front entrance, without waiting in line, and see the best highlights with your guide.
Address: Piazza San Pietro, 00120 Città del Vaticano | Hours: Everyday 7a.m. to 7p.m. (summer) & 7a.m. – 6p.m. (winter) | see website for closures | Cost: Free or guided tour
Vatican Museums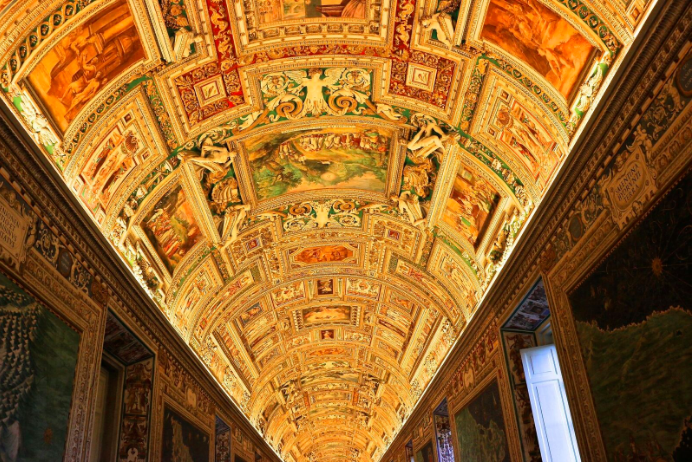 The Vatican Museums are a haven of priceless artwork and religious artifacts in Rome. In fact, it's the biggest collection of art in the world. Be prepared to set aside at least two hours to visit. You can buy tickets inside the museums, but we do not recommend it. If you don't purchase your tickets in advance, be prepared to face long lines. If you reserve tickets ahead of time on the Vatican website, you can skip most of the lines. However, if you book a guided Vatican tour, not only do you get to  skip the lines, but you also get to see the best collections of the museums with an art history expert by your side. Most of our Vatican Museums tours also include skip the line access to St. Peter's Basilica.
Address: Musei Vaticani, Viale Vaticano, Roma, RM, Italia | Hours: See Vatican website for exact opening times as they may vary | Cost: €16 (without tour) or €69 (with tour and St peter's Basilica)
Michelangelo's Sistine Chapel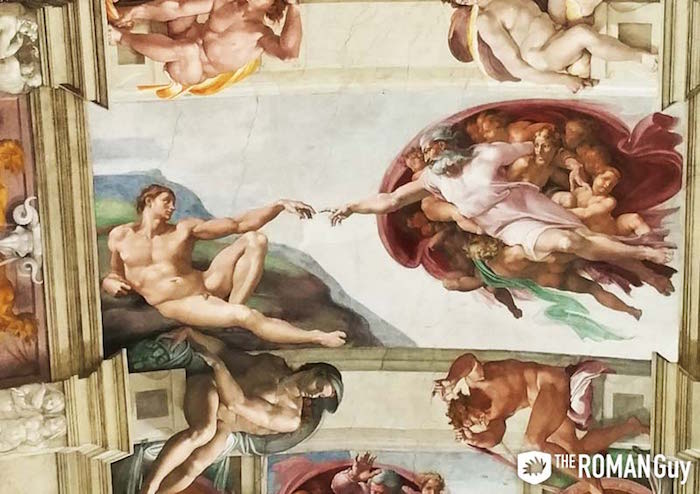 Many people think that the Sistine Chapel is inside St. Peter's Basilica. The chapel and all its spectacular frescoes is actually inside the Vatican Museums. This means that entrance to the Sistine Chapel is included in your Vatican Museums tickets. So, if you want to see the famous "Creation of Adam" and Michelangelo's other frescoes, you must visit the the museums. Now that the chapel is restored, every detail and color is splendid to behold.
Address: Musei Vaticani, Viale Vaticano, Roma, RM, Italia | Hours: see Vatican website for exact opening times as they may vary | Cost: €16 (without tour) 
Castel Sant'Angelo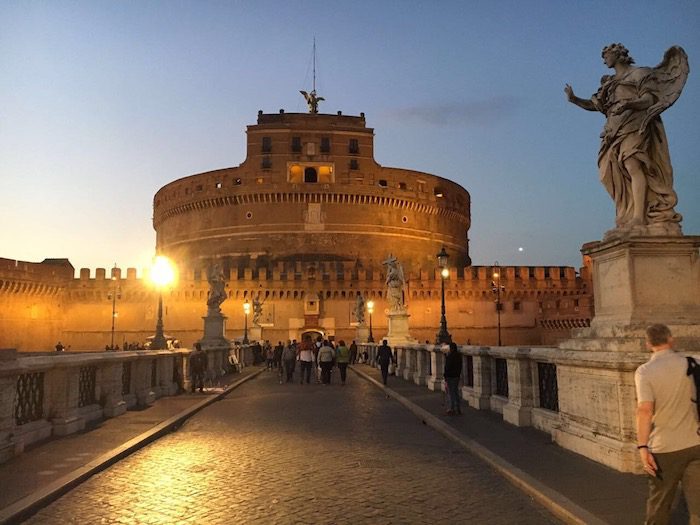 When you think of Rome, ancient ruins, the Vatican and narrow cobbled streets come to mind. Did you know the Eternal City also has a castle in it's city center? Well, it does! Castel Sant'Angelo, also known as the Mausoleum of Hadrian, was initially commissioned by Roman Emperor Hadrian. Hadrian built the castle as a mausoleum for his family – later it was used as a castle by the popes around A.D. 400. Now it's a museum with one an amazing view of the Vatican.
Address: Castel Sant'Angelo, Lungotevere Castello, Roma, RM, Italia | Hours:  See the Castle website | Cost: €14
Prati Rome Restaurants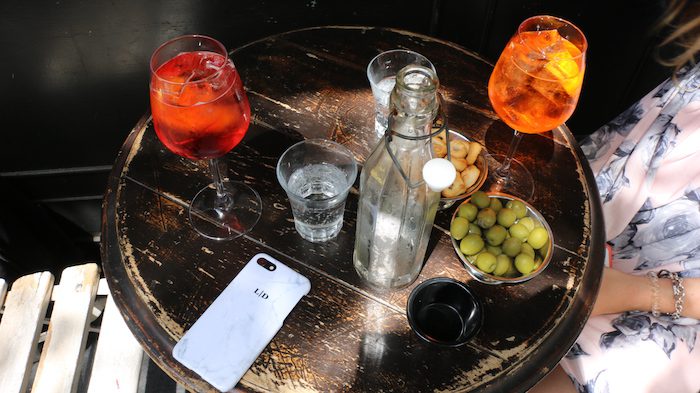 The Vatican neighborhood is full of outstanding places to eat and drink, from breakfast to midnight snacks. Romans recognize Prati, or the Vatican neighborhood, as a residential area. Home to many families, schools and mom and pop shops, Prati is a relaxed and welcoming place. However, be aware that because the Vatican attracts so many tourists, not all the bars and restaurants are top-quality. Here are the places we suggest to eat near the Vatican.
Bar Giulio Cesare for Breakfast



If you're exploring the Vatican neighborhood in a day, you might as well make the most of everything it has to offer, including breakfast.  One of our favorite places for breakfast is Bar Giulio Cesare. This little unassuming bar (bar means cafe in Italian) serves up some of the tastiest cornetto (Italian pastry) in the neighborhood. Make sure you get there early, on the way to your Vatican tour, and pick up a cornetto (€1), espresso (€0.90) and a bottle of water (€1). You'll need the energy for the the rest of your Vatican explorations.
Address: Viale Giulio Cesare, 00192 Roma RM | Price: € | Hours: 6:30a.m -10p.m.
Trionfale Market for Snacks
The local food market in the Vatican neighborhood is one of the biggest in Rome. From apples to pizza, this place offers a little of everything. We suggest swinging by in the late afternoon. Pick up some pizza bianca (pizza bread with olive oil and salt) or snacks to keep you going as you wander around the area. There's also a stall that sells vino sfuso (wine from the tank). This is an excellent cheap alternative to frequenting wine bars every night. If you're staying nearby, keep your water bottles to bring to the market to fill with wine. Just hand the vendor your bottle and tell them the wine you'd like. Enjoy it when you get back to your hotel at night, a liter usually only costs about €2!
Address: Mercato Trionfale, Via Doria Andrea, 00192 Roma RM | Price: € | Hours: Mon-Sat 7a.m. – 7p.m.
Tre Pupazzi – Pasta and Pizza
Stop here for a pizza or a quick bowl of pasta. Founded in 1950, the restaurant takes its original name "Tre Pupazzi" (Three Puppets) from its location. Situated at the intersection between Borgo Pio and Tre Pupazzi Street, Vatican clergy often stop by here for traditional Italian fare. Pizza is a good choice here, especially their Capricciosa.
Address: Borgo Pio, 183, 00193 Roma RM | Phone: +39 06 68803220 | Price: €€ | Hours: Mon-Sat 10a.m. – 3p.m. and 6:30a.m. -11p.m. | Website
Duecento Gradi – Panini
If you're pressed for time, grab lunch on the go from our favorite panino shop in Rome – Duecento Gradi. These guys know how to make a good panino. Choose form a variety of fresh, seasonal toppings, meats, cheeses, salads and dressings.
Address: Piazza del Risorgimento, 3, 00192 Roma RM | Phone: +39 06 3975 4239 | Price: €€ | Hours: 11a.m. – 2p.m. (Friday and Saturday open until 5a.m.) | Website
Bar Sotto il Mare 
Literally translating as "bar under the sea", you probably guessed correctly that this place serves excellent seafood. Hidden away in a backstreet, this is the perfect place to mingle with the locals at lunchtime. Of course, we suggest seafood pasta if you choose this place for lunch. It's fresh and delish, wash it down with a crisp white wine (or vino bianco to all you Italian linguists out there).
Address: Via Tunisi, 27, 00192 Roma RM  | Phone: +39 06 3972 8413 | Price: €€  | Hours: 12:30a.m. -12:30p.m. (except Mondays) & 7:30 p.m. -11p.m. | Website
Dino e Toni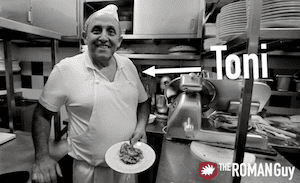 You may have seen this place in our Vatican Neighborhood video, and that's because this is our favorite Roman trattoria!  With no menu, wine by the liter, antipasti to feed a family of 10, two pasta courses, meat and a bottle of limoncello left on your table, there's nothing better than this place. We've been recommending this place to our clients for years in exchange for some Dino and Toni hugs when we walk inside. The food is spectacular, the prices are honest and the staff will be the highlight of your holiday.
Address: Via Leone IV, 60, 00192 Roma RM | Phone: +39 06 3973 3284 | Price: €€ | Hours: Mon-Sat 12:30a.m. – 3p.m. and 7:30 p.m. – 11p.m.
Ma Va'? – Vegan!
Another one of the best restaurants near Vatican City is Fa-bìo. An organic eaterie that serves fresh and tasty food, everything is made right in front of your eyes. Enjoy salads, sandwiches, juices, smoothies, snacks and more. They have it all. If you're vegetarian, try the tofu salad. For omnivores, there's high-quality meat dishes and panini. If you're looking for a grab a bite to eat on the go, this is the place for you. If you want to rest your feet from touring the Vatican, there also some some tables outside.
Address: Via Euclide Turba, 6/8, 00195 Roma RM | Phone: +39 06 372 9134 | Price: €€  | Hours: Mon-Sat 12a.m. – 3p.m. and 10p.m. – 11p.m. | Website
Old Bridge Gelato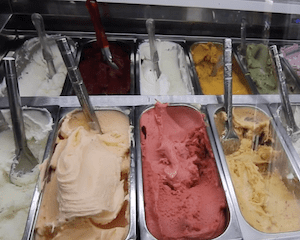 As seen in our Vatican Neighborhood video, Old Bridge is an favorite in Prati. Its location is perfect, smack bang in the middle of the route between the Vatican museums and St. Peter's Basilica.
When USA Today listed Old Bridge as one of the best gelato parlors in in Rome, they wrote:
Visiting the Vatican Museums and not making a top at Old Bridge gelateria is like breaking one of the ten commandments here in Rome
Address: Viale dei Bastioni Di Michelangelo, 00192 Roma RM | Phone: +39 328 411 9478 | Price: € | Hours: 10a.m. – 2p.m. (except Sundays 2:30p.m. – 2p.m.) | Website
Lemongrass Gelato
Lemongrass uses only fresh ingredients in their gelato – and  it's obvious when you taste it. This is real gelato – make sure you try their weird and wonderful seasonal flavors like chestnut. There's also vegan options. Lemongrass Gelato sources quality ingredients for their daily-made gelato.
Address: Via Barletta, 1, 00192 Roma RM | Phone: +39 06 372 5774  | Price:  € | Hours: 7a.m.-11p.m. | Website
Best Aperitivo in the Vatican Neighborhood
Aperitivo in Italy is a special tradition. A light combination of food and drink before dinner, partaking in aperitivo is the perfect way to experience the local culture of Rome. We suggest ordering some traditional Italian cocktails, like a Negroni, Bellini or Aperol Spritz, sitting outside and doing some people watching with a selection of finger foods as the sun sets over the Eternal City.
La Zanzara
The word zanzara, in Italian, means mosquito. But the only thing you'll complain about when you go here is that you're too full to eat everything on the menu. Whether you're stopping for Breakfast, lunch dinner or just cocktails for aperitivo, this trendy place is a favorite with locals. Enjoy savory dishes like eggplant parmigiana (served in true Italian style without pasta), high-quality meat dishes, homemade pasta and salads. If you aren't starving, opt for one of the small "pick-me ups" dishes, a perfect choice to pair with a glass of wine in the afternoon.
Tip: If you're planning on visiting on a weekend, call ahead to book a table.
Address: Via Crescenzio, 84, 00193 Roma RM | Phone: +39 06 6839 2227 | Price: €€  | Hours: 8a.m. – 2a.m. |
Jet Lag 64
Jet Lag is a bar and restaurant run by three Roman friends, Gianluca, Nichola and Elvis. Just around the corner from the Vatican, this restaurant is in the perfect location. Plus, Jet Lag is open all day, from breakfast to after-dinner cocktails. Choose from delicious Italian fusion dishes  and creative cocktails. Plus, no matter what the weather, there's indoor and outdoor seating. The reason they're called "Jetlag" is because of the owners' love travel. The owners speak English and will be happy to give you recommendations during your stay in Rome. Visit Jet Lag at lunch or for aperitivo (they have a buffet-style aperitivo with a cocktail for just €10!). The food here is Italian, but many dishes have an international influence.
Via Leone IV, 64 | +39 06 3972 2618 | Mon-Sat 10a.m. – 1a.m.| Price: €-€€
---
I Want More Italy!