Italians are proud and passionate about their gastronomic superiority. They celebrate this in the form of sagre, or festivals dedicated solely to food and drink. I know I know, it literally doesn't get better than that. One of the most famed and glorious sagre, particulary near Rome, is the Sagra dell'Uva di Marino – The Grape Festival of Marino. This year it celebrates the 93rd edition of the Marino Wine Festival.
When I moved to Italy four years ago and stumbled upon this festival on google, I thought surely they must be mistaken.  A festival dedicated to wine? It's free? It's not in a fantasy land? Well friends, it most surely is real and fabulous. Here's my guide to the Sagra dell'Uva
---
Where?

Medieval Marino is one of 13 wine-producing towns in the Castelli Romani, a collection of towns in the Alban Hills about 20 km southeast of Rome.  Marino used to be the summer resort hub for Roman nobility.  To give you a point of reference, Castel Gandolfo, the Pope's summer residence, is possibly the most well-known town in the Castelli Romani.
---
What?

Besides living your most la dolce vita life, there is a historical connection to this sagra.  It began in 1925 by local poet Leone Ciprelli. The grapes and the wine they produce have been famous since the time Roman nobility vacationed in Marino. Plus, unsurprisingly, they considerably boost the local economy.
There's more to this sagra than just smooth white wine, though.  On the Sunday, there is always a procession commemorating the return of admiral Marcantonio Colonnato to his hometown of Marino after his impressive victory over the Turks in the Battle of Lepanto in 1571. Marino sent more than 250 sailors to the battle and every year they celebrate their safe return home. This procession is complete with music and period costume.
---
When?

This year's festival takes place from 30th September to 2nd October, with the procession and other major events on Sunday 1st October.
As you can imagine, the festival has grown in fame and flare since 1925.  On average, the small hilltop town attracts 100,000 people from around the region who come to together to drink the local wine…I mean celebrate.
---
Why?

Why is a small-town wine festival in Italy so great? Because it is a small-town wine festival in Italy.
Any sagra worth its grit in Italy will come bearing local food and performances.  This region of Italy is well-known for its porchetta so there will be many stalls serving panini with the famous pork roast. Local sausages, potatoes, olives, veggies, bread, and sweets will also be served around the town.
Walking around the streets you'll see groups of young Italians singing national tunes in large groups, some even in period costume.  Drinking in the streets is permitted here so take your plastic cup and wander freely, tasting the local food, participating in the singing and dancing, and taking in the reality of being in an Italian wine festival.
Something particularly special about the Sagra dell'Uva is that it is not designed for the tourists.  While they enthusiastically welcome everyone, this festival is a true local experience where the Italians don't hold back on anything.  If you're looking for more of a calm day of tasting a glass or two accompanied by a sampling of porchetta, it's better to leave before or immediately after the Wine Fountain.  What's the Wine Fountain, you ask? Read on.
---
See/Do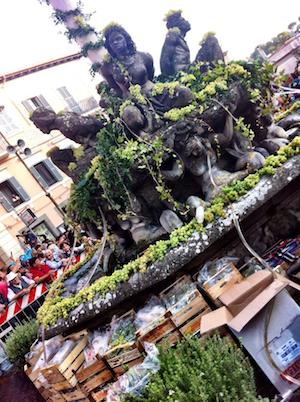 The highlight of this grape festival happens at the town's central fountain, the Fountain of the Four Moors. Around roughly 3pm, the town redirects its water supply and the fountain begins to freely gush white wine. Brave and heroic volunteers take the plastic cups of thirsty bystanders and fill them to the brim with white wine.  Full disclosure- you might get a small wine shower. The crowds are big, and people shove their cups as the flow of traffic moves in and out of the fountain. But, the crowds come, sing, push, and scream in excitement as all the wine here is free. You read that correctly- it's a wine fountain that floods the town with FREE WINE. You'll even see people with water bottles trying to stock up.
This is why I mentioned that if you're not up for a rowdy afternoon or evening you should hop back on the train to Rome either right before this, or take your chances with one free cup of wine and then skedaddle. As a whole, Italians don't drink in excess.  But when there's a festival and a wine fountain, they find some exceptions to the rule and get pretty boisterous. All in good fun of course, but there is a big difference between the first half and second half of the day.
Other than the fountain, take advantage of the free street performances, fill yourself up at the food stalls, and even try your best in the dancing that will break out in the squares.  Some people will start their own grape throwing contests in the streets, as well.
The complete Marino Wine Festival 2017 festival program will be released on 13th September.
---
Go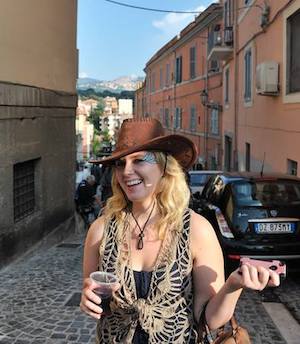 The cheapest option from Rome is to take the train from Roma Termini to Marino Laziale. The trains run every hour.
Duration: 35 minutes
Tickets: €2.10
For the festival, the environment of the trains is a bit different than a normal day.  To get a seat, you need to take the train before 11am if not earlier.  After that, you run the risk of standing shoulder-to-shoulder the entire time.
Another option would be driving.  Instead of driving yourself and having to think about parking, I recommend hiring a driver for the short drive. Contact our trip planning for more details.
---
Discover More
Up next:  Learn about other exciting Italian festivals and traditions.
With some unbeatable photo ops at these festivals, be sure to share all your memories with us on Facebook, Twitter, and Instagram!