Looking into visiting Florence? Good choice. Florence is home to countless classic artworks, beautiful architecture and delicious local cuisine. With so many to choose from, it can be difficult to decide which Florence tours to experience during your visit. In this guide, discover our best Florence tours and pick which one is best for you.
---
What are you looking to experience in Florence?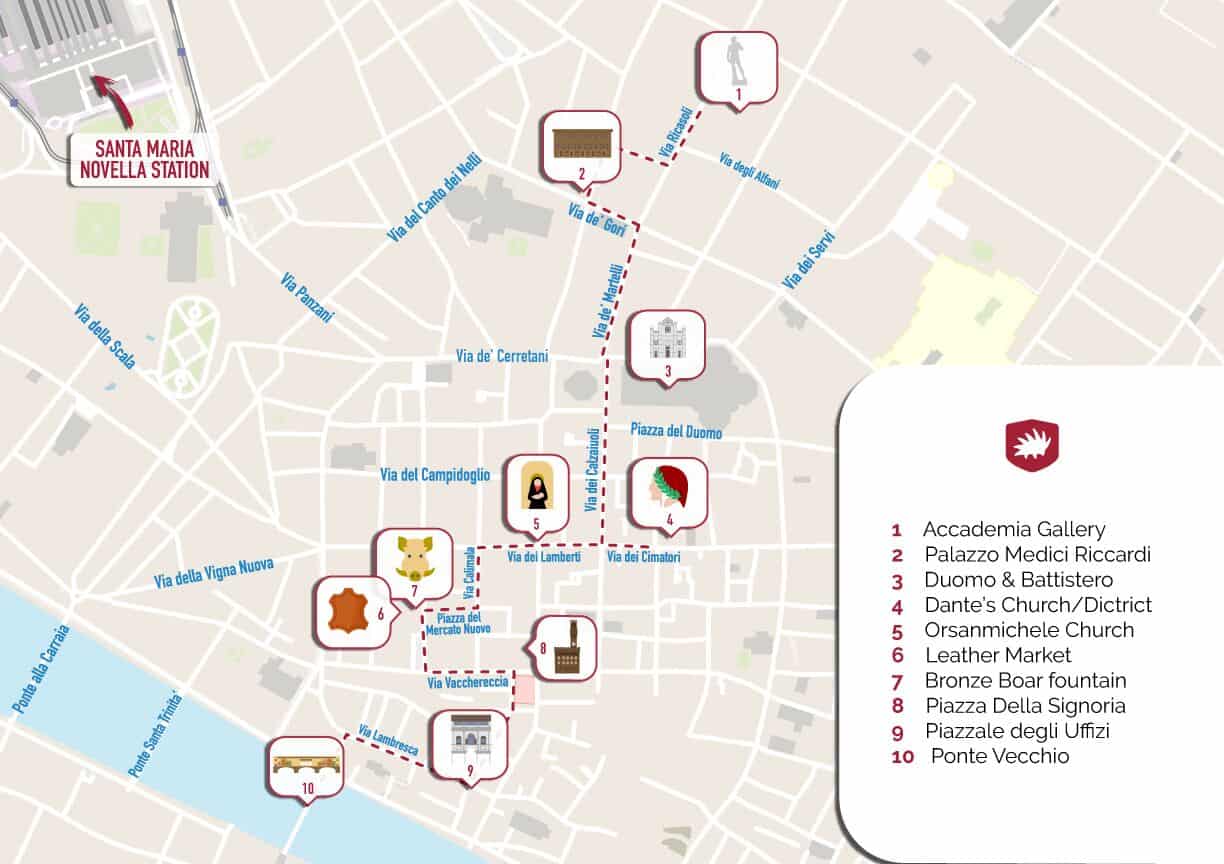 As one of our top sellers, this experience is definitely one of our best Florence tours. Explore the heart of Florence with your local, expert guide who will fill you with interesting stories and local folklore of their city.
You will start by discovering, probably the most famous statue on the planet-Michelangelo's David
You will skip the long lines of the Accademia Museum and nothing will prepare you for the size and beauty of one of the most renowned statues of the Renaissance.
After the David, a quick stroll will take you to the very center of the city where you will struck by an imposing church of Gothic beauty- The Duomo. This is the main church of Florence and is crowned by the famous dome of Brunelleschi.
Our tour continues on to pass through the famous leather market, charming squares and even the part of the city where Dante grew up. We will leave you at the unique Ponte Vecchio which is famous today for it's great views of the river Arno and also known for its jewelry shops.
Our Florence City Walking Tour with Statue of David is best for travelers looking to see the main highlights of the city (with the exception of the Uffizi Gallery) in a morning.
Highlights:
3 Hours Long
Maximum group size of 16
Includes skip the line guided visit to the Accademia Gallery
Accademia Gallery tickets included
If you're looking to see the David with almost no crowds at all, our Statue of David Evening Tour is a great option. This tour focuses solely on the Accademia Gallery, home of Michelangelo's 17-foot tall masterpiece- The David.
During this tour, you won't only see the David with no crowds, but at least four lesser known statues by Michelangelo that were never finished completely. This will give you a true sense of appreciation of the work that goes in to making some thing beautiful with just a hammer and chisel!
Your expert guide will explain Michelangelo's life and upbringing and techniques of how to carve. But don't worry, it won't be too technical, just the fun stuff!
Because most visitors go to the Accademia in the morning, this tour provides an exclusive experience, entering the museum after closing time.
Highlights:
1.5 Hours Long
Maximum group size of 15
Includes skip the line guided visit to the Accademia Gallery
Accademia Gallery tickets included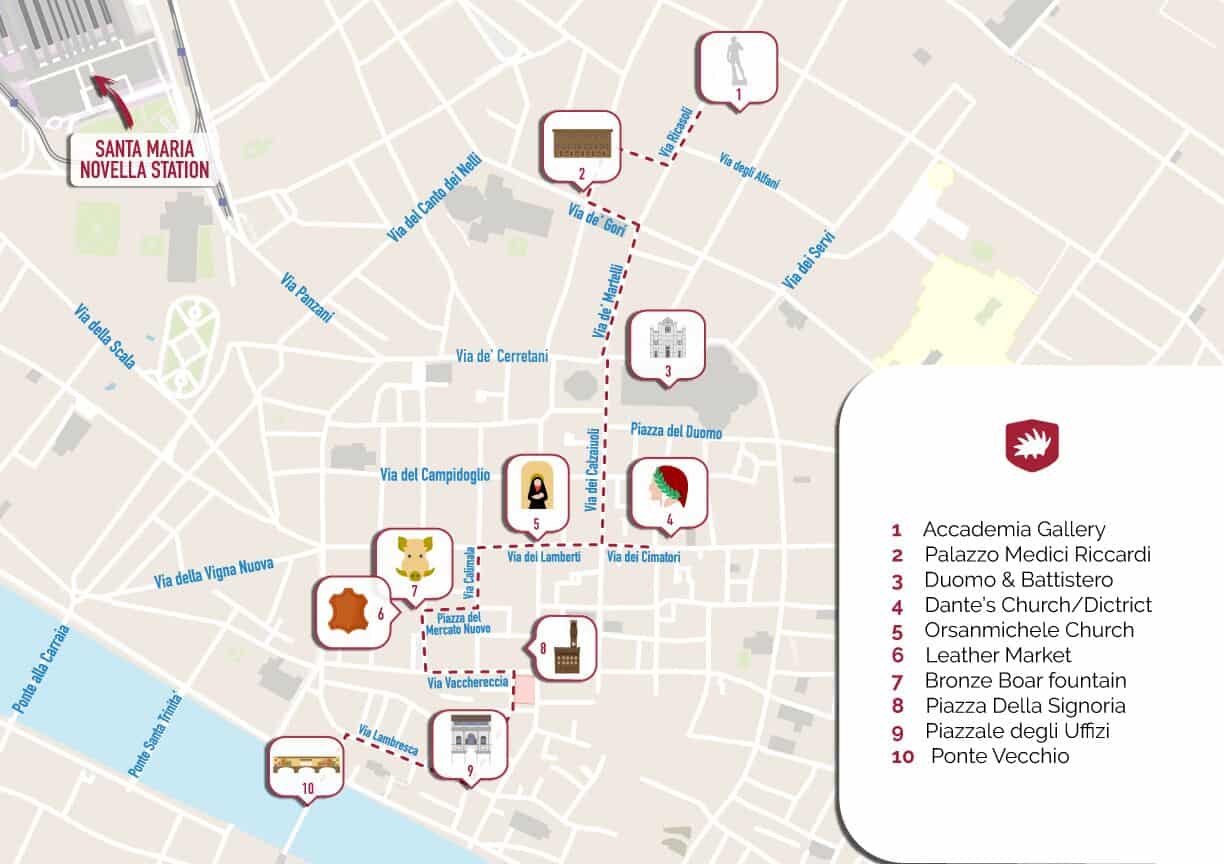 Looking to experience Florence in a Day? This tour is fine tuned for those who don't have a ton of time to spend in Florence, but want to hit all the main stops.
Your one day adventure begins in the morning where you will skip the line of the Accademia Gallery and immerse yourself into the life of Michelangelo and one of his most famous statues- The David.
After the Accademia, you will take a stroll down to visit the city's main church, the Duomo, whose over the top Gothic exterior and imposing, red dome by Brunelleschi will make it a sight you never forget. You will also see in this square the Baptistry whose golden doors by Ghiberti are the most famous in the world.
Your adventure continues as you take a stroll through the leather market and various little piazza's that make Florence so charming to finish up for lunch at the Ponte Vecchio. At this point you will have about an hour free time to sit down in a restaurant or grab a panino and simply people watch.
Once your lunch is done, you and your expert guide will skip the lines and head into the Uffizi Gallery. If you love Renaissance art or really just beautiful things in general, then you won't be disappointed. During your walk through the pinnacle of Renaissance art history, you will encounter paintings by Raphael, Michelangelo, Botticelli and Caravaggio.
Once you have finished you can say with confidence that you hit all the main sights of Florence in one day!
Highlights:
6.5 Hours Long
Break in the middle for lunch
Maxium group size of 16
Includes skip the line guided visit to the Accademia Gallery & Uffizi Gallery
Accademia Gallery & Uffizi Gallery tickets included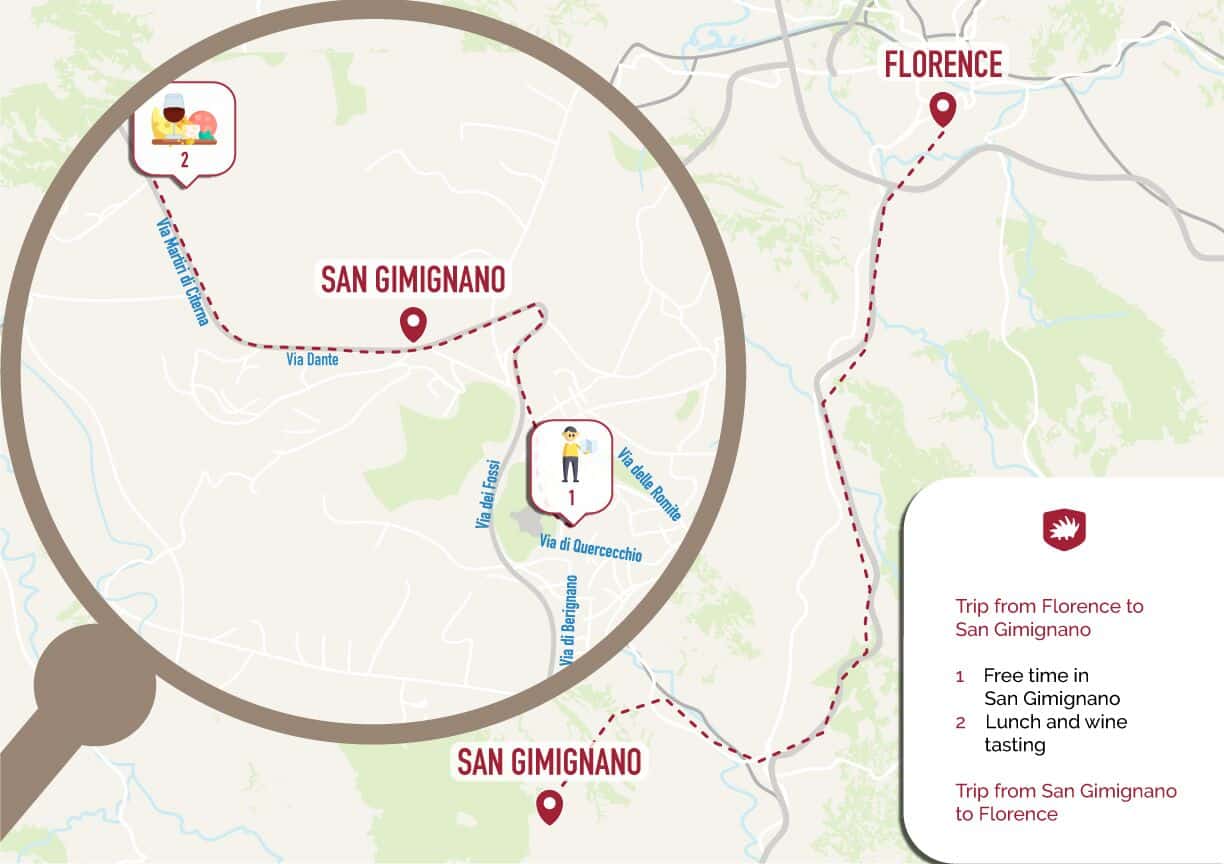 On this day trip, Venture from the city of Florence to the rolling hills of Chianti and Siena in a climate controlled luxury bus.
Your day starts with your expert guide who will be waiting, together with the driver, to take you on this awesome day for wine and culture!
Your first stop is the Mediaval town of Siena.
Historically always at war with Florence, you will fall in love with its small alleys and rich history. We take care of your tickets to the beautiful Siena cathedral so you can enjoy this gigantic work of art.
After Siena, we will be approaching lunch time, so it is off to a small, family owned organic farm and winery where you will taste not only a selection of their best wines, but also homemade dishes from their kitchen where many ingredients are grown directly on the farm. After lunch, you will tour the winery and have the opportunity to purchase wine to bring home to your friends and family.
Once your belly is full, our final stop will be San Gimignano. This picturesque town is known as the Manhattan of Italy due to all the Mediaval towers that you find throughout the town. You will have free time to wander a bit, do some shopping or just eat a gelato and people watch in the little square.
Highlights:
7 Hours Long
Maximum group size of 18
Delicious wine & lunch included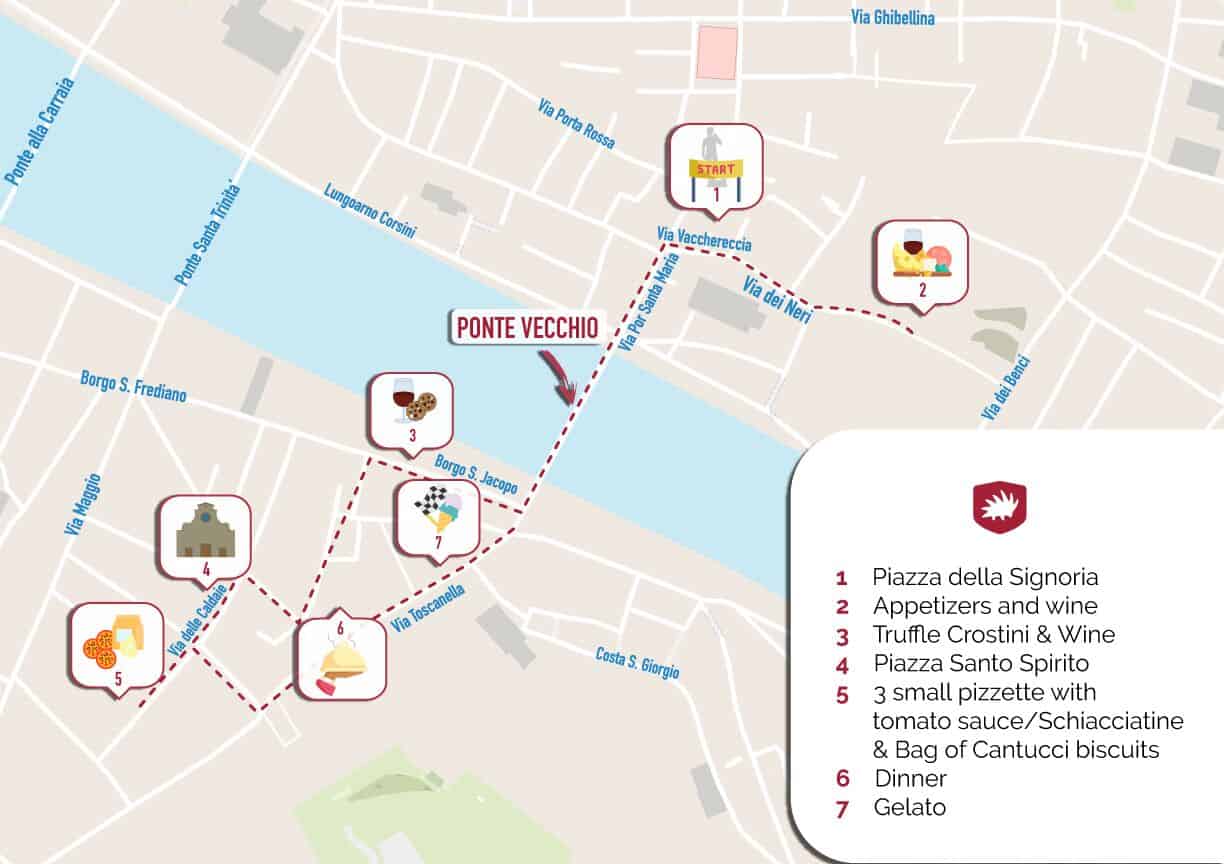 There is no country that takes food more seriously than Italy. Taste Florence's authentic flavors on this evening food tour through the local neighborhoods.
We have carefully handpicked each site to allow your taste buds to smile with the local meats, cheeses, pasta, wine, and of course the Bistecca Fiorentina or Florentine Steak!
Your tour guide will be a local foodie who will explain the intricate rules to follow when eating in Italy and also will tell you many funny anecdotes about food as well.
This is a great option for those who are looking to explore the local cuisine or have a structured activity in the evening.
Highlights:
3 Hours Long
Maximum group size of 14
Sit-down dinner included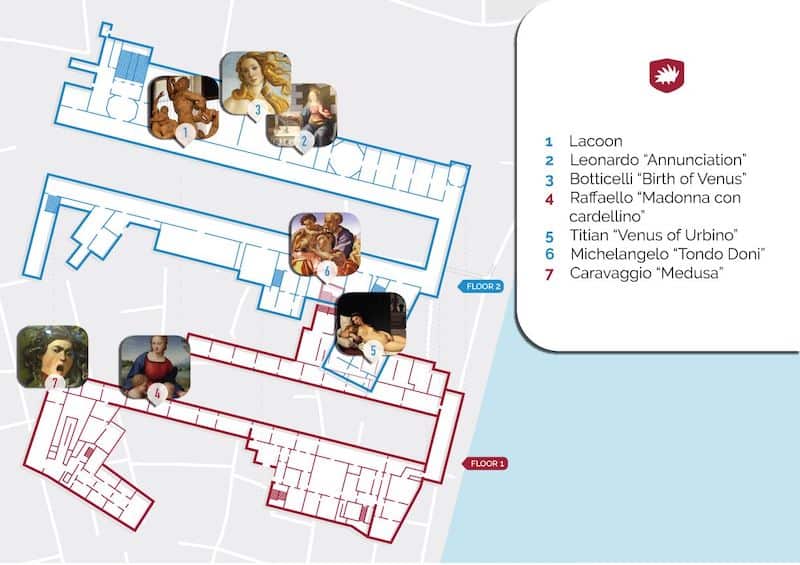 Discover the very thing that gives Florence the nickname "City of the Renaissance" — the artwork!
This Uffizi Gallery Tour will give you a great scope and appreciation of the renowned artwork produced by the Renaissance era's superstars, Michelangelo, Raphael, Botticelli and more.
Your expert guide is not here to give you a boring art history lesson, but rather to fill your mind with fascinating stories of the people behind the paintings. Time will fly by as you learn why MIchelangelo was so stubborn or how Caravaggio was a rebel without a cause!
We offer many tours that visit the Uffizi Gallery. However, this one is specifically focused on the Uffizi and does not visit other areas of Florence.
Highlights:
2 Hours Long
Maximum group size of 16
Uffizi Gallery tickets included