Michelangelo is not only considered one of the premiere artists of the Renaissance, but one of the greatest artists to have ever lived. His work across a variety of mediums, but especially sculpture, are some of the most popularly visited pieces in Italy.  Before you go see his David, take a moment to appreciate how Michelangelo's time in Florence impacted his greatest works.
Hey, we sell tours too!
We're here to provide you with all of the information you need for a great vacation, but more than anything, we'd love to show you around once you get to Italy. Check out our Florence and Venice tours and pick which ones are best for your itinerary.
An Unhappy Childhood
Michelangelo di Lodovico Buonarroti Simoni was born on March 6th 1475 in the Tuscan village of Caprese to a family of bankers. He was set to enjoy a privileged upbringing and his parents could hardly have predicted that their son would go on to a celebrated artistic career.
This all changed, however, when Michelangelo's mother took ill and died of a prolonged illness. This forced Michelangelo to live away from his father with a nanny and her husband in a town near to Florence. Suddenly at six years old, Michelangelo had no one around him to call family.
Young Up-Start
As luck would have it, that nanny's husband was a stonecutter. He worked just out of town, and would sometimes bring Michelangelo along to watch the quarrying of limestone, granite and marble. And it was by this strange twist of fate that Michelangelo first fell in love with stone.
To be an artist, Michelangelo could not have been in a better place at a better time. Florence was an explosion of art and culture (and food!) He would have seen many great works, such as Ghiberti Chosen's Doors for the Florence Baptistery and Brunelleschi's Dome, which can still be seen today.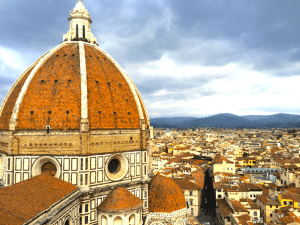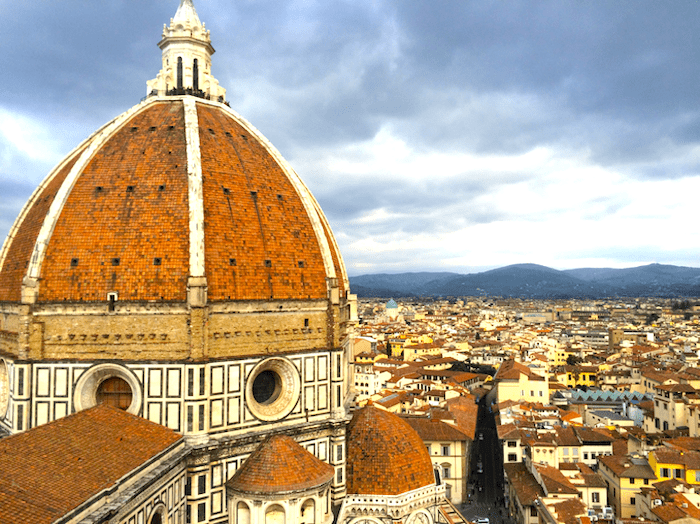 Michelangelo's father eventually conceded to his son's passion, and apprenticed him to the painter Domenico Ghirlandaio. Michelangelo learned quickly, completing his three-year apprenticeship in one year. His work soon caught the eye and patronage of the powerful Lorenzo de Medici.
Working in Florence
For two years, Michelangelo lived in the palace of the Medici, where he studied the greatest art of his day. It was the perfect education to create a master artist. The Medici family ran a humanist university, teaching their students the recovered philosophy of the great ancient Greek philosophers. This education would lend Michelangelo's work its deeply humanistic themes, which hold up the natural beauty and grandeur of the human body.
Some of his classmates would become great artists in their own right, including Francesco Granacci and Pietro Torrigiano, the latter of whom was known for his violent temper and once struck a young Michelangelo in the face after a dispute. Michelangelo would carry slight scarring on his nose for the rest of his life.
In Florence, Michelangelo sculpted works that betrayed the mastery he would attain later in his career. These include two stone reliefs: Madonna of the Steps (1490-92) and Battle of the Centaurs (1491-92). The Battle of the Centaurs in particular shows Michelangelo's early mastery of the human form, depicting a swirling mass of wrestling figures.
Fortunes Change
Michelangelo's apprenticeship came to an abrupt halt when Lorenzo de Medici died in April 1492. He temporarily had to move out of the city and back to his hometown, where he crafted sculpture for the local church. He was, however, able to return to Florence temporarily to sculpt a figure for Piero de Medici, heir to the Medici fortune.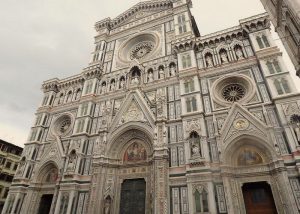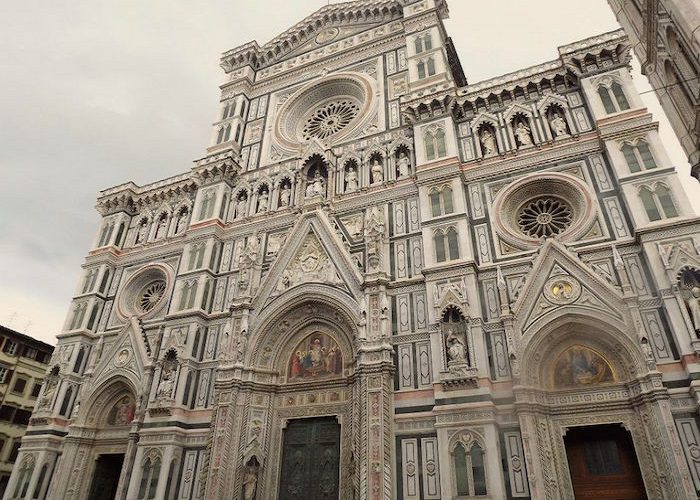 This turn in luck would unfortunately prove to be short lived, though. Only a few months after his return to Florence, the Medici's were removed from power in a coup headed by the preacher Savanarola. The preacher's fundamentalist rhetoric assailed against what he considered the artistic excess of the Medici family.
It was no place for an artist of Michelangelo's caliber, so he moved to Venice and then to Bologna. It would be several more years before he crafted his great masterpieces, the Statue of David and the Sistine Chapel Ceiling, but his time in Florence was certainly a foundational period in the life of the young artist. Without the patronage of the Medici family, we might never see these great works of art come to fruition. 
I Want More Italy!
If you want us to arrange the entertainment in Florence (and beyond!), contact our 

Trip Planning Team

 to coordinate an unforgettable Italian experience.

Check out our YouTube video and step-by-step guide about how to do 

Florence in a Day

. If you'd rather let us guide you, check out our 

Florence tours

.
Follow our adventures in Italy on Facebook, Instagram, and YouTube. Then, comment and tell us what you want us to cover next.