So it's decided, you're going to Florence, Italy. You've heard endless stories about the Cradle of the Renaissance and the amazing architecture and incredible art. Now, it's time to experience it with your own eyes! In this guide, we show you the best ways to visit the Uffizi Gallery.
---
Pro Tip: Planning your visit to the Uffizi in Florence? Bookmark this post in your browser so you can easily find it when you need it. Check out our Uffizi Gallery guide for more planning resources, our best Uffizi tours for a memorable trip, and how to see Florence in a day (with itinerary).
The Uffizi Gallery in Florence
Did you know that the Uffizi is one of the most visited museums in Italy? Packed with artwork from renowned Italian Renaissance artists, the Uffizi Gallery is a must-see attraction for any art-lover. For good reason, you could wait in line for up to five hours to buy Uffizi Gallery tickets during the high season.
This is why it's vital to plan ahead. Whether you decide to go it alone or join one of our English-speaking tour guides on a Uffizi Gallery guided tour, here are some useful tips to ensure that your visit is a success.
Uffizi Opening Hours and Tickets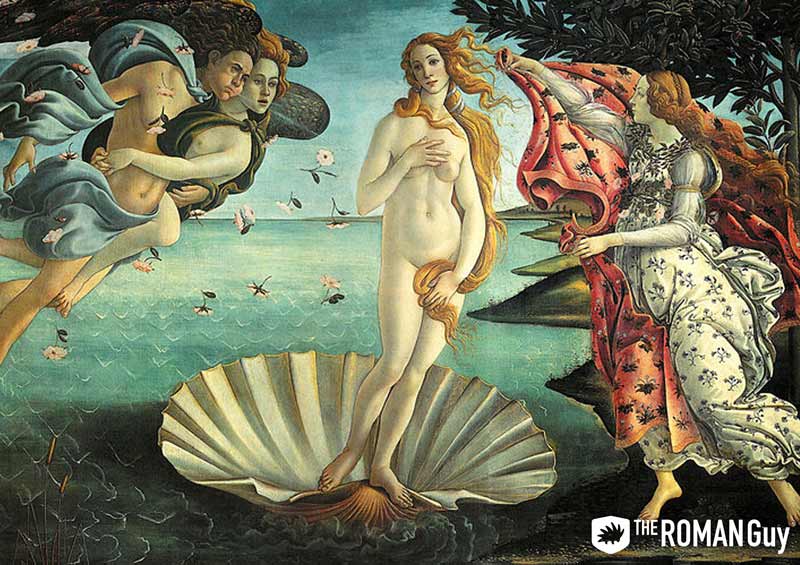 Opening Hours:
Open Tuesday – Sunday, 8:15 am – 6:30 pm.
Closed on Mondays, January 1st, May 1st, and December 25th.
Address: Piazzale degli Uffizi, 6
How To Get Uffizi Tickets:
If you consider that the Uffizi Gallery sees millions of visitors a year, it's almost guaranteed that there will be a long queue at the entrance. Then again, if you visit during the low season, you might be lucky enough to just walk in. It's unwise to expect this though. Here are three ways to see the Uffizi Gallery without standing in line.
1. Buy your tickets online
If you want to make the most of your time in Florence, book your Uffizi tickets in advance. This way, you can pick a time and date on the official Uffizi Gallery website. Please note: if you book your tickets online, there's an additional €4 fee.
Although you might still have to stand in a short queue to collect your tickets, it's still much quicker than waiting in the general line. There's also an option to rent an audio guide from the Uffizi for an extra €6.
Ticket Prices Online: €16.50 for adults, €10.25 for reduced tickets. To find out if you qualify for a reduced or free ticket, consult the website.
2. Join a Small Group Uffizi Gallery Tour
While visiting the Uffizi Gallery by yourself is fantastic, there's an even better option. If you want to make the most of your visit and see all the best highlights, consider joining a guided small group tour. Led by an English-speaking guide, learn even more about the masterpieces inside the museum and the context in which they were created.
On the Uffizi Gallery Renaissance Florence Tour, skip the lines and walk straight on in! Learn about the significance of each painting and sculpture and the stories behind them. This tour is the perfect way to learn about Florence's Renaissance art, history, and culture in a comfortable and stress-free way.
3. Have Your Own Private Tour
If you want a more intimate experience, a private Uffizi tour is the best way to visit the gallery. It'll feel just like a knowledgeable friend showing you around town. You can ask endless questions and by the end of the tour, you'll feel like a Renaissance expert.
Not ready to book a tour? Check out our Uffizi Gallery guide for more info.
History of the Uffizi Gallery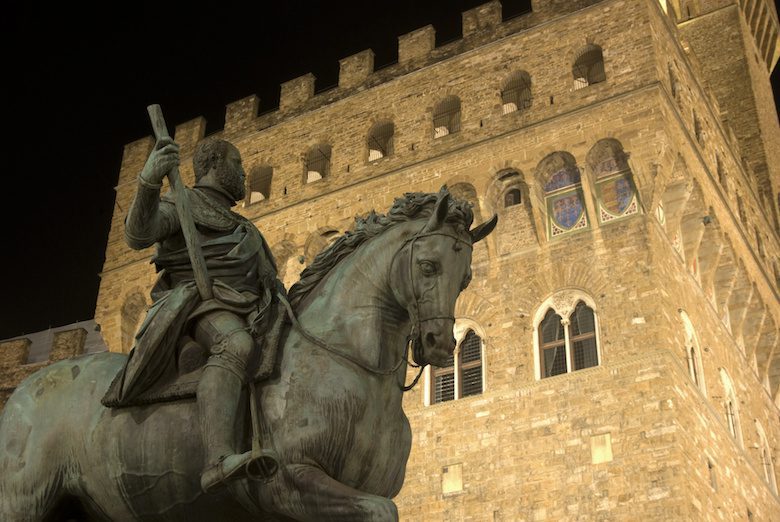 Giorgio Vasari began construction of the Uffizi building in 1560 to house the offices of Cosimo I de' Medici (the guy on the horse pictured above), Florence's first Grand Duke of Tuscany. You've almost certainly heard of the Medici family. This wealthy Florentine family started the Medici Bank of Florence, the most important financial institution in 15th-century Europe.
Following the completion of the building, the Medici family began to add their collection of artwork to the building, creating their own private gallery. But beyond art collectors, the Medicis were also important patrons of art. Without their financial support, many of the most renowned works of art housed in the Uffizi Gallery might never have been created.
With the end of the Medici Dynasty in the 18th century, the last heir of the family, Anna Maria Luisa de Medici, signed a family pact with the Lorraine family. This declared that all of the Medici collection should remain in Florence and that it should only be used for decorative purposes and for the utility of the public. Ultimately, the Uffizi Gallery opened its doors to the public in 1769.
Of course, during the 19th and 20th centuries, the Uffizi Gallery was enriched with new sculptures and paintings. To this day, the Florence museum continues to expand its collections to include more artwork.
Uffizi Gallery Tours
The Uffizi Gallery is one of a number of incredible places located in the Cradle of the Renaissance, and it's popular for that very reason. We offer several outstanding Florence tours to help you make the most of your time in Italy, and our Uffizi Gallery Tour in particular will help you skip the long lines and get you exploring the paintings and sculptures that helped define the Italian Renaissance faster.
Accompanied by an expert in art history, you'll discover the stories behind the Uffizi's great masterpieces—an enriching experience for any art lover and a great way to make the most of your visit to the gallery.
Not ready to book a tour? Find out if an Uffizi Gallery tour is worth it.
Uffizi Tips For Visitors

Wear comfortable shoes. You will most likely spend three to four hours walking around the museum, depending on how much you want to see.
Umbrellas, big bags, and backpacks must be left in the cloakroom. This service is free.
Take a rest and have a drink at the Uffizi terrace cafeteria—the panoramic views are spectacular!
Photography with flash and selfie sticks is prohibited! Make sure your camera and phone are charged, you wouldn't want to run out of battery.