Florence is an ideal Renaissance city, covered in quintessential stone towers and winding cobblestone streets. Rich in history, art and hidden gems, it's a dream destination for adults everywhere. But, that dream doesn't need to be lost on your mini-travelers. The magic of Florence instantly captures people of all ages, whether you're in a stroller or wandering on two adventurous legs. To help you plan something for everyone, here is our guide to Florence for Families!
---
1. Palazzo Vecchio
I know what you're thinking – an art museum? Seriously? But yes! Palazzo Vecchio hosts several art exhibits for your mini-me's. For Children 8+, join in the fun at the Fresco Painting workshop to experiment with the different phases of making their own fresco, which they then take home at the end of the class. For younger travelers from 3-7, The Story of the Turtle and the Sail is the perfect interactive activity. Following a video about an old turtle that Cosimo I de Medici met when he was a child, the adventurous kids commence in a treasure hunt through Palazzo Vecchio in search of the symbol of Cosimo I – a turtle with a sail hunt.
After you and your family have toured one of the best art museums in Florence, round out the afternoon for your gang at the antique (and family operated) carousel in Piazza della Repubblica, a mere 4-minute walk from Palazzo Vecchio.
Address: Piazza della Signoria | Hours: October-March, Mon-Wed, Fri-Sun: 9am-7pm, Thurs 9am-2pm. April-September, Mon-Wed, Fri-Sun: 9am-11pm, Thurs 9am-2pm | Price: General admittance to museum is €10, all family workshops are €4
---
2. Boboli Gardens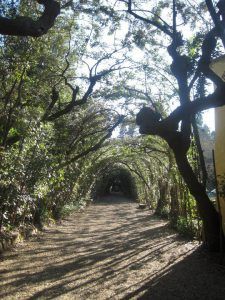 Tucked behind Pitti Palace in a quieter but still central neighborhood called Oltrarno, a gem in which your whole family will rejoice.  The Boboli Gardens, which was once part of the residence of the famous Medici family, was created over a span of 400 years from the 15th to the 19th centuries. With Roman and 16th-18th-century statues, it is essentially a giant open-air museum sprinkled with hidden paths, secret alleys, grottoes, and vast open space for you and your mini-travelers to run around and stretch those legs without the stress of city drivers popping out.
After an afternoon of fun in the sun, head across the street to Gelateria Pitti for a heaped cup of what your children have been looking forward to since the plane ride – gelato!
Address: Piazza Pitti 1 | Hours: Nov-Feb 8:15am-4:30pm, March 8:15am-5:30pm, April-May, Sept-Oct 8:15am-6:30pm, June-Aug 8:15am-6:50pm, Oct 8:15am-5:30pm (after Daylight Saving's Time) | Price: €7, last admission is one hour before closing.
---
3. Galileo Museum
Seemingly designed with your children's curiosity in mind, the Galileo Museum provides an interactive experience where the guides demonstrate how electricity works. Your mini-travelers can get up close and personal with Galileo's creations and original instruments, and even touch the Museum's replicas. If you leave the museum with future scientists by your side, they can explore more with the website's online science games. Starting this Spring, they're even offering a "Cerca Trova", or a treasure hunt, throughout the museum for children 7+ (€3 + entrance fee).
Perhaps two of the most exciting displays at the museum are the first telescopes made by Galileo himself, as well as his middle finger which the Church cut off in 1737, 95 years after his death, for not adhering to the church doctrine.
Address: Piazza dei Giudici 1 | Hours: Wed-Mon 9:30am-8pm, Tues 9:30am-1pm | Price: €9 for adults, €5.50 6-18 years old, under 6 free entry.
---
4. Fattoria di Maiano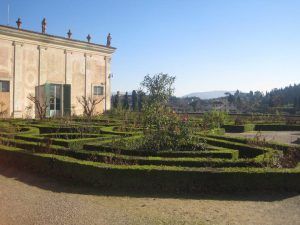 If your youngsters are anything like I was, they'll love seeing and playing with animals in the country air. If you're anything like I am now, you'll love those combined with locally produced olive oil and food. Fattoria di Maiano is a rustic paradise just 5km above the center of Florence in the charming hill town of Fiesole.
Make new furry and feathered friends during their jeep "safari" tour which guarantees incomparable views of Florence below, as well as witnessing animals in their natural habitat. Frolic through the olive groves, stroll around the lake, and give your family the taste of the Tuscan countryside without having to drive for miles and miles.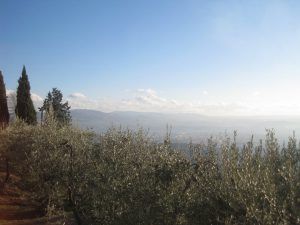 Reach Fattoria di Maiano: Take the 17 bus from Firenze Santa Maria Novella train station. Get off at Venezia, 4 stops for about 9 minutes. Take the 7 bus from Fiesole Piazza Mino to Regresso, 17 stops for about 15 minutes. From here it is a 15-minute walk to the estate. Total travel time is about 45 minutes. You can buy tickets in any Tabacchi shop and it'll only cost €1.20 each way – be sure to validate them on the bus to avoid fines.
Address: Via Benedetto da Maiano 11, Fiesole | Hours: 9:30am-6:30pm daily Price: €7 for adults, free for children under the age of 4 | Email
---
5. Kid Approved Walking Tour
We believe that Florence is one of the top Italian cities for kids, and we want to share that with you! Experience the best of this Renaissance gem with The Roman Guy's Kid Friendly Walking Tour. You'll experience 9 Different city highlights! From the famous David statue to chocolate tasting and making, to the central market that hosts local artisans with food you've never seen in your neighborhood grocery store! You will be led by our part guide, part entertainer that allows mamma and papa to dive into the art and history of Florence while the youngsters enjoy a scavenger hunt and receive a prize at the end of the tour!
Address: Meeting point provided after booking on our website | Hours: Monthly with morning and afternoon times | Price: $69 for adults, $59 for 7-17 years old, $25 for 6 years or under, free for children under 3 years.
---
Discover More
Continuing your Italian adventure in Rome? Check out our kid-approved activities for The Eternal City and learn why Italy is the #1 Destination for 2017!
Sharing our Italian experiences with you is what we love, so we want you to do the same! Follow us on Facebook, Twitter, Instagram and Pinterest, to post your favorite memories of your Italian holiday! And don't hesitate to contact our Trip Planning to ensure quality family time without the stress.