What comes to mind when you think of traveling to Florence? Of course, the city is recognized as the quintessence of 14th century Renaissance art, with pioneers such as Giotto, Michelangelo, Dante and Donatello leading the revolution. As Florentine culture has flourished over the past 500 years, so has the popularity of authentic wine bars. Overlooking the city's streets, skyline and even the famous Ponte Vecchio, many wine bars bring a fresh perspective to classic Tuscan favorites. Here's a guide to the best wine bars in Florence.
---
Hey, we sell tours too!

While the information we provide here is free, we also sell tours at very reasonable prices. If thinking of Tuscan wine, pasta and gelato makes your stomach grumble, you definitely should try out some local Florentine cuisine. Luckily, we have some sensational Florence tours that will teach you about the local culture, while also allowing you to feast on delicious Florentine goods. Try out our Evening Food Tour for some of the best Florence eats, or our Tuscan Wine Outing for a step into the Tuscan countryside.
Italian Wine Culture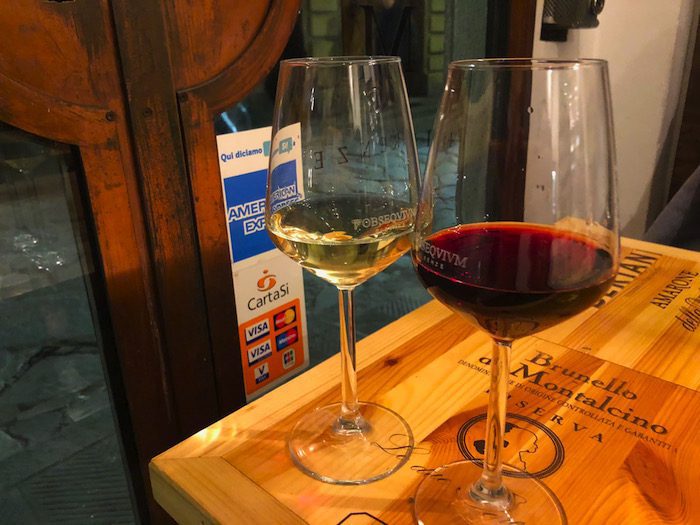 Wine has been an essential part of the Italian culture, even dating back to the Roman era. The Romans believed the consumption of wine was imperative to their daily routines, which meant that everybody, regardless of class or wealth, was encouraged to drink. This makes sense, seeing that a classic Italian proverb says that "a meal without wine is like a day without sunshine." Quite the life, right?
What is so unique about Italian wine production is the difference in the product based on region. For centuries, each region of Italy has cultivated and perfected their own type of wine, which has led to the establishment of traditional wines in specific locations. Over hundreds of years, many families remained in the same regions to continue producing and perfecting their recipe. Once the recipes were finalized, many families began opening restaurants to sell the wine, leading to the popularity of wine bars, otherwise known as enoteche. Today, enoteche allow locals and visitors to admire the past while relishing in the present.
Best Wine Bars
Similar to the rest of Italy, Florence is a city filled with wine bars on every corner. We've narrowed down our list to some of the best places you can find to drink wine, indulge in aperitivo and enjoy the atmosphere of this beautiful city.
Fiaschetteria Nuvoli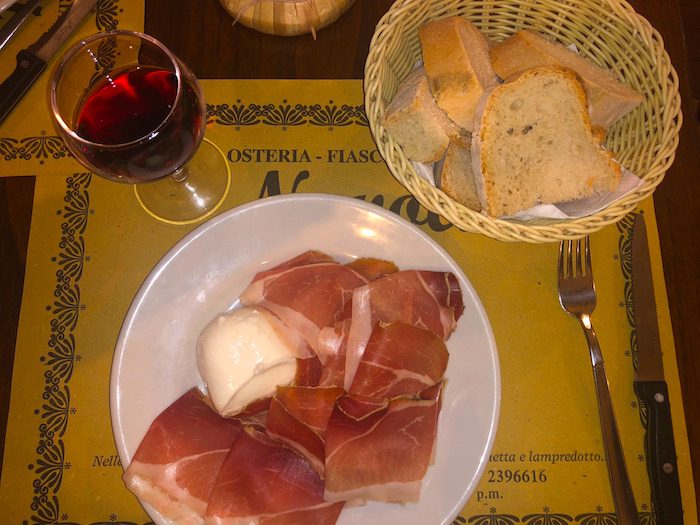 Located just a few blocks away from the Florence Duomo, this hidden gem is one of the most authentic wine bars still operating in Florence. With a quaint upstairs bar and room for large parties and intimate gatherings in the basement, Fiaschetteria Nuvoli is the perfect getaway from your normal dining experience. They have an impeccable combination of rustic and classic Florentine vibes, with wine bottles placed side by side on every wooden shelf.
Here you will find an inexpensive and local wine selection, with popular choices such as their house Chianti wine, a classic Cabernet or any other white or red wine available by the glass or bottle.
To top off the evening, diners have the choice to pair wine with delicious aperitivo options, ranging from local prosciutto and mozzarella to large tuna fillets with cooked beans. If you're looking for a charming, traditional wine bar to relax in for hours, this is your place.
Address: Piazza dell'Olio, 15 Phone: 055 2396616 Hours: 8 a.m. to 9 p.m. Monday to Saturday, 9:30 a.m. to 5:30 a.m. Sunday
Sei Divino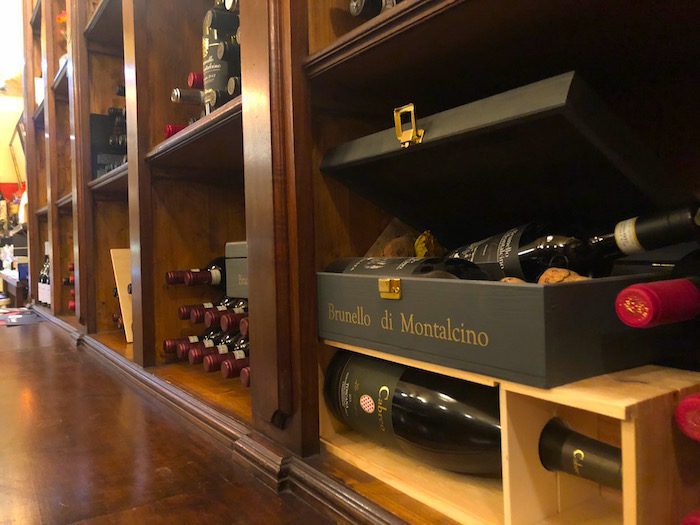 With impeccable service, a Tuscan atmosphere and wine galore, this elegant enoteca is one you won't want to miss. Since 2003, Sei Divino has been serving customers renowned bottles of wine, ranging from classic reds to exquisite whites. Indicated by their phrase "drinking a glass of wine is like enjoying an elaborate meal," their staff provides the most intricate recommendations to ensure satisfaction with your every sip.
The roots of the wine correspond to that of the building, which was constructed in the 14th century. This gives the atmosphere and each glass of wine a special link to the past. In addition, a bountiful assortment of meats, cheeses and other aperitivo options pair flawlessly with each sip.
That's not all. To increase engagement with customers, they offer many specials on their Facebook page. Consider this place a must-try if you're looking for a delightful and uplifting wine-filled evening.
Address: Via Borgo Ognissanti, 42r Phone: 055 215794 Hours: Every day from 6 p.m. to 1 a.m. Website: www.seidivinofirenze.com/en/
Signorvino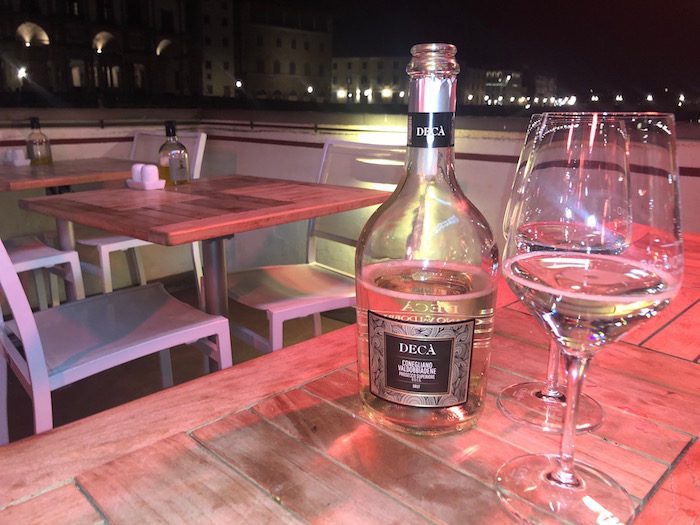 Their exclusive selection of wines paired with their outdoor deck overlooking Ponte Vecchio contributes to their unique ambiance. Considered as one of the best views in Florence, this wine bar provides outdoor heating to ensure their customers can enjoy the atmosphere all year long.
Positioned as a wine shop and bar, customers are invited to shop around the store, choose a bottle of wine, and sit at their table, where a waiter will pour the wine and take their order. This distinctive characteristic of Signorvino has built fun into the art of choosing delicious wines. Along with the hundreds of bottles in their collection, they have exquisite aperitivo selections such as meats, cheeses, focaccia and other Italian classics.
For an all-encompassing wine and dine experience, consider Signorvino as your place to go.
Address: Via dei Bardi, 46/r Phone: 055 286258 Hours: Every day from 9:30 a.m. to midnight Website: www.signorvino.com

Casa del Vino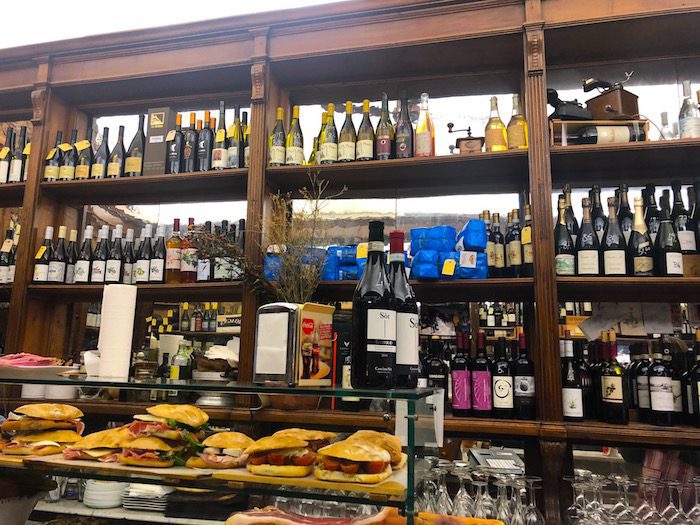 Recognized for its collection of wine paired with authentic panini, this famous wine bar has the best prices for the best quality of product. Customers are invited to eat inside their bar or purchase wine for a meal of their own. Either way, their friendly staff will answer any questions from their top-notch wine list, especially if you don't know which wine pairs best with meat, chicken or fish.
Most popularly known for its mid-morning and afternoon crowd, Casa del Vino has many distinguished Italian wines on its list created to be consumed in Italy, which includes Barolo, Faccoli and Brunello.
This is the perfect, quaint place to go for the inexpensive yet classic Florentine atmosphere, especially if you want to spend hours discovering wines you've never tried before. Who knows, maybe you'll find a new Italian favorite.
Address: Via dell'Ariento, 16r Phone: 055 215609 Hours: 9:30 a.m. to 3:30 p.m. Monday to Thursday, 10 a.m. to 10:30 p.m. Friday to Saturday, closed on Sundays Website: www.casadelvino.it/
Il Santino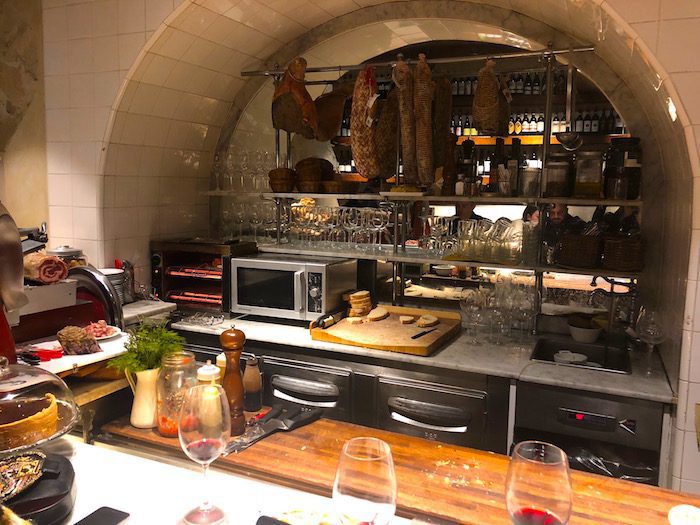 This last place provides a traditional, intimate Italian atmosphere, located within a short walking distance from Santa Spirito. Many locals along with travelers enjoy the rustic, earthy vibe of this classic hot spot. Customers are encouraged to sit at the bar or a table in addition to standing outside and appreciating Florence's scenic sidewalks and cobblestone streets.
The unique ambiance stems from the lively music, friendly staff, and excellent meat and cheese platters. It's the perfect place for a date night or drinks with friends looking for charming intimacy, delicious aperitivo and limitless options for wine and other house-made drinks.
Address: Via Santo Spirito, 60 Phone: 055 2302820 Hours: Every day from 12:30 p.m. to 11 p.m. Website: www.ilsantobevitore.com/
---
I Want More Italy!