We've already covered Trastevere on our Hidden Gems Guide to Rome – Trastevere, Monti in our Hidden Gems Guide to Rome – Monti, Campo de' Fiori in our Hidden Gems of Rome – Campo de' Fiori and Rome's Jewish Ghetto in our Hidden Gems of Rome – Jewish Ghetto blog posts. Now, it's time to focus in on an area that many of you have requested…a Vatican neighborhood Guide! Did you know that Rome is divided into many different neighborhoods, or as the Italians call them Rioni? We recommend that visitors to segment their vacations to Rome by spending time in one or more neighborhood per day. Within these neighborhoods you can find Rome's main attractions along with some of the city's best hidden gems! 
---
Rome's Vatican Neighborhood Guide
The Vatican neighborhood, as The Roman Guy likes to call it, is actually made up of three different areas:
1. "Borgo" – the 14th historical district of Rome.
2. "Prati" – an attractive residential neighborhood of Rome.
3. "Vaticano" – the Vatican State.
Together, we collectively call this the Vatican neighborhood, as each of these places border the Vatican state and are full of things to see and place to eat, before and after you visit the Vatican.
---
Where
The Vatican neighborhood is top left on the map, just on the other side of the river to the historical center. You can walk between the two neighborhoods in about 15 minutes. 
The adjacent map highlights the "Vaticano" in red. South-East of the neighborhood you can see the "Colosseo e Foro Romano" Colosseum & Roman Forum, which is a 30-40 minute walk away. North-East you can see the Spanish steps – about a 15-20 minute walk away. Directly East is Termini train station, Rome's central station. You can get the metro directly from Termini to the Vaticanon the line "A". Get off at the stop "Ottaviano".
If you're not a fan of getting around by foot, you can see our 'Roma How To: Using the Roman Bus System' video to help you learn how to use local transport in Rome.
---
See
The Vatican neighborhood is home to 4 major attractions that you're going to want to spend some time over. First, there is St Peter's Basilica. Next, we have the Vatican Museums. After that, there is the Sistine Chapel. And finally, Rome's castle – Castel Sant'Angelo.
St Peter's Basilica

Imagine walking into the biggest Basilica you've ever seen, filled with artwork from the most famous artists you've ever heard of!  It's hard to miss St Peter's Basilica, standing inside of St Peter's square, and staring down Via della Concillazione.  An impressive building on the outside, and even better inside.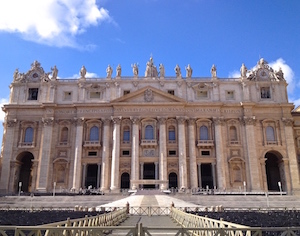 The Basilica is free to enter if you're visiting it without a guide and don't mind waiting in line. If you want to enter with a guide, it's a good idea to opt in and take a Vatican tour.  You'll walk in through the massive front entrance, without waiting in line, and see highlights with your guide. Look out for the Baldacchino, La Pieta, the Statue of St. Peter and other masterpieces.
St. Peter's Basilica took approximately 120 years to build, spanning 20 popes and almost every famous Renaissance architect that you can think of, including Bramante, Raphael and Michelangelo. Now you can better understand why it is hailed as the most beautiful church in the world!
Address: Piazza San Pietro, 00120 Città del Vaticano | Hours: Everyday 07:00-19:00 (summer) & 07:00 – 18:00 (winter) – see website for closures | Cost: Free or guided tour! 
---
Vatican Museums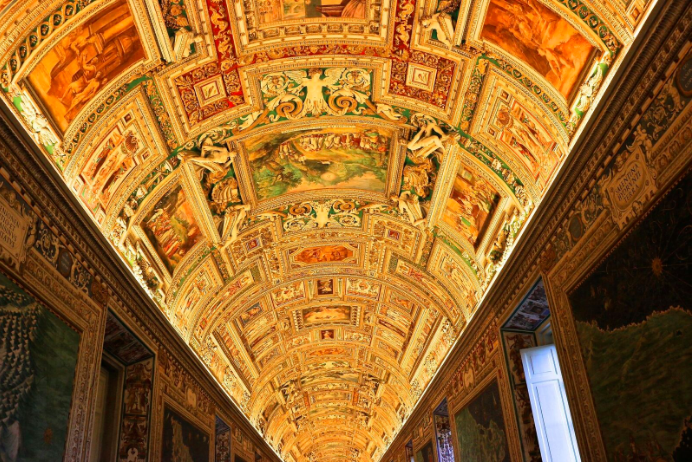 There is so much to see inside of the Vatican museums.  Be prepared to set aside at least two hours to visit them.  The museums' artwork is spread over miles! Popes have been collecting priceless masterpieces for centuries, now on display for everyone to see.  Not only that, but some of the world's greatest artists have decorated the actual walls of the rooms themselves!  These are some of the reasons as to why more than 5 million visitors come to see the Vatican each year!
You can buy tickets inside the museums, but we highly recommend against this as you'll be faced with long lines and it will most likely be crowded by the time you get inside. You can reserve a ticket beforehand on the Vatican website, which will allow you to skip most of the lines. However, if you want the Vatican museums to come alive, then you have to take a guided tour if the Vatican. This way you will get the most out of your experiences and know what you're looking at. Most of the time, these tours also include St Peter's Basilica!
Top Tip: St Peter's Basilica and the Vatican Museums are 12 minutes walking distance between each other. Make sure if you book a tour of the Vatican Museums, that you make your way to the museum entrance to meet your tour guide.
Address: Musei Vaticani, Viale Vaticano, Roma, RM, Italia | Hours: see Vatican website for exact opening times as they may vary | Cost: €16 (without tour) or €69 (with tour and St peter's Basilica)
---
Sistine Chapel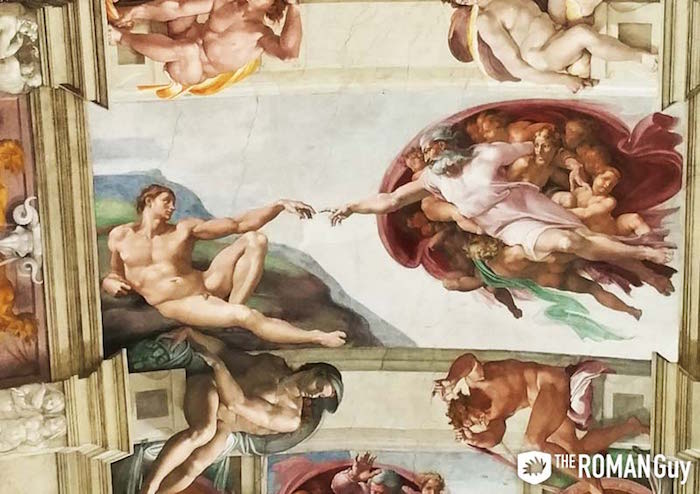 One common mistake people make when coming to Rome, is thinking that the Sistine Chapel is inside of St Peter's Basilica. It's actually inside the Vatican Museums! So, if you're wanting to see the famous 'Creation of Adam' and admire Michelangelo's masterpieces, you'll need to enter the museums.
Michelangelo dedicated 10 years of his life to this masterpiece and, as you'll find out, it wasn't easy.  Now that the Chapel has been restored, you can see every detail and color used to create one of the most treasured works of art ever created by man.
Address: Musei Vaticani, Viale Vaticano, Roma, RM, Italia | Hours: see Vatican website for exact opening times as they may vary | Cost: €16 (without tour) or €69 (with tour and St peter's Basilica)
---
Castel Sant'Angelo
When you think of Rome, it's natural to think of ancient ruins, the Vatican, cobbled streets. Perhaps you wouldn't expect Rome to have a castle in the centre. Well, it does!
Castel Sant'Angelo, also know as the Mausoleum of Hadrian, was initially commissioned by Roman Emperor Hadrian. Hadrian built the "castle" as a mausoleum for his family and it was only later that the building was used as a castle by the Popes around 400AD. Now it is a museum with one of the best views of the Vatican you'll ever see.
This castle is like a shapeshifter, as it has acted as a mausoleum, castle, residence, fortress, prison and museum over the years.  There is a lot of history held inside, so if you're in the Vatican neighborhood, make sure you check this place out!
Address: Castel Sant'Angelo, Lungotevere Castello, Roma, RM, Italia | Hours:  See Castle website for exact hours as they may vary | Cost: €14
---
Eat & Drink
The Vatican neighborhood is full of great places to eat and drink, from breakfast through to midnight snacks! This is because Romans recognize "Prati" (or the Vatican neighborhood" as a very residential area. It is home to many families, schools and family-operated shops & restaurants. All this, gives the area a very welcoming and relaxed feel, away from the larger crowds in the historical centre.
With the Vatican museums and St Peter's attracting so many tourist each day, some of the bars and restaurants surrounding the Vatican walls can be dear, and more often than not, poor quality.
Bar Giulio Cesare – Breakfast!

If you're exploring the Vatican neighborhood in a day, you might as well make the most of everything it has to offer, including breakfast! Got breakfast included in your accommodation deal? Have a second one – it only costs €2.
The Roman Guy's favorite place for breakfast is one close to his own heart. The Roman guy used to live right above it and the name of the bar is called "bar Giulio Cesare". This little unassuming bar may just make the tastiest cornetto (Italian pastry) in the neighborhood. Make sure you get there early, on the way to your Vatican tour, and pick up a cornetto (€1), espresso (€0.90) and a bottle of water (€1). You'll ned the energy for exploring!
Address: Viale Giulio Cesare, 00192 Roma RM | Price: € | Hours: 06:30am-20:00
---
Trionfale Market – Snacks!
The local food market in the Vatican neighborhood is one of the biggest in Rome. You can find everything from apples to pizza in this place and the vendors are very friendly! We suggest swinging by the market in the late afternoon. Pick up some pizza bianca (pizza bread with olive oil and salt) or snacks to keep you going as you wander around the area.
There is also a stall that sells vino sfuso (wine from the tank). This is a great cheap alternative to frequenting wine bars every night of your vacation. If you're staying nearby, keep your water bottles to bring to the market. You can fill them with wine! Just hand the vendor your bottle and tell them the wine you'd like. Then, you can put your feet up and enjoy a nice glass of local vino when you get back to your accommodation at night – best thing is, a litre normally costs you about €2!
Address: Mercato Trionfale, Via Doria Andrea, 00192 Roma RM | Price: € | Hours: Mon-Sat 07:00-14:00
---
Tre Pupazzi – Pasta & Pizza!
This restaurant is a good stop for a pizza or quick bowl of pasta.  Founded in 1950 the restaurant takes its original name "Tre Pupazzi" (Three Puppets) from its location, situated at the intersection between Borgo Pio and Tre Pupazzi Street.
Frequented by Vatican clergy, this place serves up some great traditional Italian fare, as well as some dishes with a modern twist. Pizza is a good choice here, especially their Capricciosa.
Address: Borgo Pio, 183, 00193 Roma RM | Phone: +39 06 68803220 | Price: €€ | Hours: Mon-Sat 10:00-15:00 & 18:30-23:00 | Website: http://ristorantetrepupazzi.it/
---
Duecento Gradi – Panini!
If you're pushed for time, or have an adventurous soul that just won't allow you to sit still, then grab lunch on the go from our favorite panino shop in Rome – Duecento Gradi. These guys know how to make a good panino. You can choose form a variety of fresh, seasonal toppings, meats, cheeses, salads and dressings. I'm hungry writing this!
Address: Piazza del Risorgimento, 3, 00192 Roma RM | Phone: +39 06 3975 4239 | Price: €€ |Hours: 11:00-02:00 (Fri & Sat open until 5am) | Website: http://www.duecentogradi.it/
---
Bar Sotto il Mare – Pasta!
Literally translating as "bar under the sea", you can guess what this place is good for…mmhmm…seafood!
Bara Sotto il Mar is hidden away in a backstreet away form the Vatican. It's the perfect place to mingle with the locals over lunchtime and you'll be in no danger of tourist traps. Of course, we suggest seafood pasta if you choose this place for lunch. It's fresh and delish, all washed down with a crisp white wine, or vino bianco to all you Italian linguists out there!
Address: Via Tunisi, 27, 00192 Roma RM  | Phone: +39 06 3972 8413 | Price: €€  | Hours: 12:30-14:30 (except Mondays) & 19:30-23:00 | Website: http://www.ilbarsottoilmare.it/
---
Dino e Toni
You may have seen this place in our Vatican Neighborhood video, and that's because this is our favorite Roman trattoria! The Roman Guy LOVES Dino and Toni, the two brothers and their restaurant!
No menu, wine by the litre, antipasti to feed a family of 10, two pasta courses, meat and a bottle of limoncello left on your table – could it get any better than this? We've been recommending this place to our clients for years in exchange for some Dino and Toni hugs when we walk inside, and that's all we want! The food is great, the prices are honest and the staff will be the highlight of your holiday.
Address: Via Leone IV, 60, 00192 Roma RM | Phone: +39 06 3973 3284 | Price: €€ | Hours: Mon-Sat12:30-15:00 & 19:30-23:00 
---
Ma Va'? – Vegan!
Ma Va' has a philosophy we will all enjoy:
Our philosophy is to re-propose recipes that are part of our culinary tradition and the Mediterranean tradition in general. With the least environmental impact, with regard to the choice of raw materials, wherever possible, biological origin and zero miles.
So, when eating here, you know you're eating well, and doing good. They welcome everyone, even dogs (as long as they are not huge – the place is quite small). Our vegetarian friends recommend trying the Amatriciana pasta with tomato and smoked tofu. #nomnom.
Address: Via Euclide Turba, 6/8, 00195 Roma RM | Phone: +39 06 372 9134 | Price: €€  |Hours: Mon-Sat 12:00-15:00 & 20:00-23:00 | Website:http://www.ristomava.com/
---
Old Bridge – Gelato!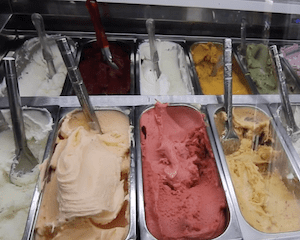 As seen in our Vatican Neighborhood video, Old Bridge is an old favorite in Prati. Its location is perfect, smack bang in the middle of the route between the Vatican museums and St Peter's Basilica.
When USA Today listed Old Bridge as one of the best gelato parlors in in Rome, they wrote:
Visiting the Vatican Museums and not making a top at Old Bridge gelateria is like breaking one of the ten commandments here in Rome
We couldn't agree more, but we do acknowledge that the line at Old Bridge can sometimes be painfully long. So, we've hunted down another two nearby options that we think are just as good, if not better!
Address: Viale dei Bastioni Di Michelangelo, 00192 Roma RM | Phone: +39 328 411 9478 | Price: € | Hours: 10:00-02:00 (except Sundays 14:30-02:00) | Website: http://gelateriaoldbridge.com/
---
Lemongrass – Gelato!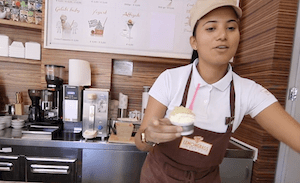 Lemongrass have one of the best philosophy for a gelateria: Tasty by tradition. Healthy by nature. They only use fresh ingredients in their gelato and oh my goodness you can taste the difference!
The three founders wanted to create a top quality gelato that was natural and could be enjoyed every day. If you've ever had real gelato in Italy before, then you'll understand why we support the creation of an "everyday" gelato.
If you stop by, make sure you try their weird and wonderful seasonal flavors, such as chestnut. The also serve delicious vegan gelato!
Address: Via Barletta, 1, 00192 Roma RM | Phone: +39 06 372 5774  | Price:  € | Hours: 07:00-23:00 | Website: http://lemongrass.it/
---
---
APERITIVO
A Roman Guy blog would never be complete without telling you where is best to drink and enjoy aperitivo! Our suggestions are listed below.
La Zanzara
This Italian bistrot has a little bit of an identity issue. The dishes are mostly Italian, yet its decor is somewhat Parisian. Regardless, they serve a great cocktail!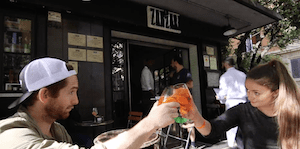 With outdoor seating for summer, and a good amount of space inside too, La Zanzara is the perfect place to relax after a day's sightseeing.  From breakfast through to last orders, you can choose from small snack dishes to delicious Italian-European main meals. We recommend you arrive here at about 6:30pm and enjoy an aperitivo as the sun goes down.
Top Tip: If you're planning on visiting on a weekend, make sure you call ahead to book a table.
Address: Via Crescenzio, 84, 00193 Roma RM | Phone: +39 06 6839 2227 | Price: €€  | Hours: 08:00-02:00 | Website: http://www.lazanzararoma.com/
---
Jetlag 64
We've always been an advocate of this bar. The three guys who own it are the friendliest faces in the Vatican neighborhood. What's better, they are also open all day!
The reason they're called 'Jetlag' is because of the owners' love of travel. So, it has that welcoming, holiday, relaxed kind of feel. The owners speak English and will be happy to give you recommendations during your stay in Rome.
Top Tip: The food here is yummy and Italian, but many dishes have an international influence. Make sure you visit here more than once so you can try their pizza, aperitivo buffet and smoked salmon with passion fruit sorbet.  #nomnomnom
Address: Via Leone IV, 64, 00192 Roma RM | Phone: +39 06 3972 2618 | Price: €€ | Hours: Mon-Sat 10:00-00:00
---
Watch

our Vatican Neighborhood YouTube video for more information