Rome is not short on restaurants.  Discerning from the good, the bad and the ugly, it can be a bit challenging for new comers. Your taste buds are too important to go to waste, especially in Italy. So where you spend your foodie euro should go under special consideration. There are a range of restaurant settings to choose from: family-owned trattorias, elegant Michelin stars, quick and tasty street food, pastry shops, pizzerias- oh my! Here is a comprehensive list of the best places to eat in Rome.
---
1. Trattoria da Cesare al Casaletto
Price: $$
As you approach the front, you may question why this is part of this group of restaurants. It's nondescript exterior in the residential neighborhood of Monteverde is not indicative of the quality within, I assure you.  Enter and you are welcomed by a local hotspot that keeps growing in popularity among Italian and expat foodies alike.
Serving up Roman classics in a home dining room setting, this is one of my go-to spots when I have friends or family visiting.  But be warned, go with an empty stomach that is growling for a feast.  I always start with their fritti appetizers, particularly the fried gnocchi and friend eggplant "meatballs". While I go with my favorite pasta, carbonara, the secondi are famous city-wide.  Eat on the wild side and try trippa alla romana (tripe with tomato and mint) or another Roman classic, coda all vaccinara (braised oxtail).
Address: Via del Casaletto, 45 | Hours: Thur-Tues 12:45-3pm, 7:45-11pm | Website | Tel: +39 06 536015
---
2. Armando al Pantheon
Price: $$
Eating in restaurants near major attractions is usually a golden ticket to tourist trap disaster.  Armando al Pantheon is one great exception to that rule. Located close to the monument, you can happily collapse in their comfy chairs after a long morning of sightseeing and selfie taking and know that you are in the caring hands of a family-owned and operated landmark. It's an old school trattoria — no frills, straight forward service, and soulful, comforting food.
Start with the parmigiana di melanzane (eggplant parm is not served with pasta in Italy), or affettati misti (regional assorted cold cuts). My go-to pasta here is the spaghetti with arugula, lemon, and shaved parmesan. For all the meat eaters out there, the grilled lamb chops have been known to change lives.
Address: Salita dei Crescenzi, 31 | Hours: Mon-Fri 12:30-2:45pm, 7-11pm, Sat 12-2:45 | Website | Tel: +39 06 68803034
---
3. Il Convivio Troiani
Price: $$$$
If you're in the mood to put on your finery, this Michelin-starred, family-run affair is just up your alley. Michelin star restaurants allow you to taste the local cuisine with an artistic and creative spin. This is no different to your experience here, but with an added "unique factor"- the three dining rooms showcase various fine art and authentic frescoes. Gasp!
The three Troiani brothers-Angelo manning the kitchen with Giuseppe and Massimo in the wine cellar and dining room- have created an imaginative foodie temple with their haute cuisine.  Not originally from Rome, they have used influence from their home region of Le Marche to blend flavors from both of these areas of Italy.  Try the risotto con funghi porcini e quaglia scaloppata (porcini mushrooms and quail scallops) or wafer di baccala (cod wafer served with black truffle and garlic)
Address: Vicolo dei Soldati, 31 | Hours: Mon-Sat8-11pm  | Website | Tel +39 06 6869432
---
4. Nuovo Mondo
Price: $
Wearing the crown of The Best Pizzeria in Rome can be a heavy load, but Nuovo Mondo is up for the job.  Serving the Roman crispy thin crust pizza in the foodie Testaccio neighborhood, you'll find locals waiting in line nightly.
The décor is another appeal for me.  It's the definition of no frills, yet cozy.  The walls are white with an occasional pizza stain from an impatient whipper snapper, and Roman football jerseys and Italian flags decorate the other spaces; that is, after you make your way past the wood-burning oven with the pizzaiolo (pizza maker) yelling that the pies are ready. Think big bang, small buck. I've never paid more than €15 for multiple appetizers, pizza, and yes, of course, vino (wine).
Don't miss the fritto misto verdure (fried mixed veggies) and suppli (roman fried rice balls stuffed with tomato sauce and mozzarella) for starters. For the pizzas try the classic margherita (mozzarella, tomatoes, a splash of olive oil, and scattering of basil) or capricciosa (egg, prosciutto, mushrooms, artichokes, and olives)
Address: Via Amerigo Vespucci, 9/12/15 | Hours: 7-12:30am daily  | Website | Tel: +39 06 5746004
---
5. Supplizio
Price: $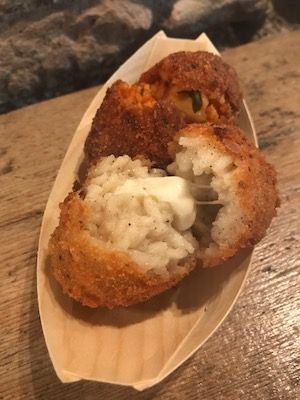 Who doesn't love street food? Better question- who doesn't love Italian street food? For a quick bite or to dabble your toes in the Roman cibo di strada (street food) scene, this is the place.
Suppli are common Roman street food munchies (and are seen on practically every pizza menu)- they are fried rice balls stuffed with savory tomato sauce and gooey mozzarella cheese. The classico is the traditional recipe just mentioned.  If the mood strikes and you find yourself ordering a second, try the cacio e pepe, a famous Roman pasta dish with pecorino and black pepper that they've reimagined into a rice ball.  What will they think of next?!
Address: Via dei Banchi Vecchi, 143 | Hours: Mon-Thur 12-9:30pm, Fri-Sat 12-3:30pm, 6:30-10:30pm, closed Sunday's  | Website | Tel: +39 06 89871920
---
6. Salumeria Roscioli
Price: $$$
Don't let the name fool you- this is not just a salami shop, but rather a gourmet restaurant/bar/food and wine shop in the center of Rome very popular among national/international food experts and enthusiasts.
Expect an extensive wine and spirit list to accompany the comprehensive food menu. Complete with traditional Roman favorites like la gricia (rigatoni with pork cheek, DOP Roman pecorino cheese, and Malesia pepper-highly recommended) and southern specialties like la burrata pugliese con alici (burrata from southern region Puglia with anchovies- another highlight I can't miss out on). Their specialties are the mixed cheese and meat plates so be sure to indulge on at least one during your meal.
Address: Via dei Giubbonari, 21/22| Hours: Mon-Sat 12:30-4pm (lunch) 4-12am (apperitivo/dinner) | Website | Tel: +39 06 6875287
---
7. Mercato Centrale
Price: $
Located on the side of Termini Train Station is possibly the most comprehensive dining option in Rome- The Central Market. The genius team behind Florence's Central Market worked together to pull the most popular and authentic chefs/restaurants in Rome. They've used the vast open space of a previous piano shop and transformed the building into a trendy, cozy cafeteria setting where you order at each specialty counter and then find a table amongst the other happy diners. As a vegetarian, I was stoked about there being a counter just of veggie/vegan (downright delicious) cuisine.
Try the famous Bonci Pizza, fresh pasta by chef Egidio Michelis, and fresh meat by Fausto Savigni.  If you're going with a group, I'd recommend spending some time and walk around to each of the stands first, and even consider getting a little bit from each one and sharing a great meal together. You can even take your meal away and eat it on your train headed to your next adventure- no one likes paying €7 for a disappointing train panino.
Address: Via Giovanni Giolitti, 36 (if you're facing termini it's a couple blocks down on the right hand side)| Hours: 8-12am daily | Website | Tel: +39 06 92939569
---
8. Pasticceria Regoli
Price: $
I never had a sweet tooth before I moved to Italy.  Now, I spend half of my day thinking of what pasty to try next. When that sweet tooth comes knocking, Regoli never disappoints.  Family-run since 1916, they've been popular amongst Romans and in-the-know expats for years. So popular, in fact, that they had to recently conduct a mild facelift and open an adjacent café with more seating options. Try their breakfast specialty- maritozzo (a sweet bun filled with heavy panna, cream)- or one of my all-time favorites- torte di fragoline (cake with chantilly cream topped with wild strawberries)
Address: Via dello Statuto, 60 | Hours: Wed-Mon 6:30am-8:30pm | Website | Tel: +39 06 4872812
---
9. Trattoria da Enzo
Price: $$
When I'm in the mood for a cozy, traditionally chaotic and authentic meal, this is always #1. Situated in a tiny dining room with a few tables out front, Da Enzo serves classic Roman dishes that keep people coming back, and waiting hungrily outside for their table.
Start with: the must-try burrata, which will inevitably drip down your chin at some point (embrace it) and their famous artichokes. Order the carbonara and melt-in-your-mouth coda alla vaccinara (braised oxtail)- one of the best in the city.  And please, I beg of you, do not leave without ordering dessert.  Their portions are very small, served in tiny glass cups, but after you've given yourself a food baby from the previous courses, it'll be just the right amount.  Go for the tiramisu and mascarpone mouse with wild strawberries- they're both life changers.
Address: Via dei Vascellari, 29 | Hours: Mon-Sat 12:30-3pm, 7:30-11pm | Website | Tel: +39 06 5812260
---
10. Capo Boi
Price: $$$
If it's refined seafood you're after, you've just struck gold, my friend. Tucked away in the whimsical Coppede district, you'll leave the tourist traps in the dust and instead treat yourself to an elegant meal situated in an equally sophisticated atmosphere. Start with the sautéed mussels, sea-bass carpaccio, and oysters. I'd go straight to the secondi (skipping the pasta dishes) and try the lobster, fried baby octopus, or Capo Boi mixed fish grill.
Address: Via Arno, 80 | Hours: Mon-Sat 12:30-3pm, 8-11:30pm | Website | Tel: +39 06 8415535
---
Discover More
Enjoyed what you read? Spread the word! And don't forget to follow us on Facebook, Twitter, Instagram and YouTube for some inspiring images and ideas for visiting Italy!
Read next: Get in the food spirit and check out Italy's Best Food Bloggers, and then learn some weird facts about the Colosseum.