If you're looking for the best Testaccio restaurants, you've come to the right place. Testaccio has a reputation for being one of Rome's most authentic foodie districts, and with good reason. This once working-class district grew up around the city's former slaughterhouse, where workers were often paid in off-cuts of meat. Roman housewives created ingenious dishes from the cheapest ingredients and some of the staples of Rome's cuisine were born in these streets, while local trattorias thrived serving the area's blue-collar clientele.
These days, the slaughterhouse is long gone, converted into a stunning modern art museum, but the trattorias are still here, serving up a taste of the past as well as inventing new recipes.  Here's our list of the best Testaccio restaurants in Rome.
---
Pasticceria Barberini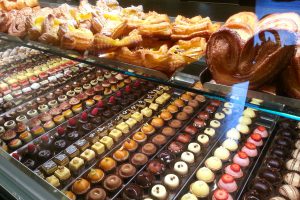 Barberini first opened its doors to the people of Testaccio in 1925 as a milk bar and ice-cream parlor, gaining a reputation over the years as a specialty bakery and confectioners. These days, it's one of the go-to places in Testaccio for handmade cakes, including freshly-baked croissants at breakfast, Austrian-inspired Sacher torte and French-style pastel colored macarons.
With miniature sandwiches and canapes available all day long featuring fish, meat and salad toppings, it's also an excellent choice if you prefer savory over sweet. In addition, Barberini makes and serves real Italian gelato.
Don't miss: Try a handmade croissant filled with pistachio cream alongside your morning cappuccino
Address: Via Marmorata 41a, Rome | Phone: +39 06 57250431 | Price: $ | Hours: Monday-Sunday 06.30 – 21.00 | Web: www.pasticceriabarberini.it
---
Da Felice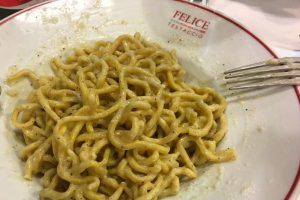 Da Felice, named after the restaurant's founder Felice Trivelloni, opened in 1936 and is still one of Testaccio's legendary trattorias. Felice, so the legend goes, would only let you stay and eat if he liked the look of you. Otherwise, he'd happily send away lunch or dinner guests whether they had booked or not and even if the restaurant was empty.
Felice sadly passed away a few years ago but this is still one of toughest Testaccio restaurants to actually dine in – sometimes you may need to book a week in advance to guarantee a table here. It is worth the wait to taste a piece of local history, and thankfully, they don't turn you away anymore for such capricious reasons!
Enjoy classic Roman dishes including agnolotti – a variant on ravioli – as well as carbonara and cacio e pepe. According to Roman tradition, each day of the week the menu changes slightly, including gnocchi on Thursdays and fish on Fridays.
Don't miss: Da Felice is famous all over Rome for its creamy, well-seasoned cacio e pepe – a classic Roman pasta dish made with salty pecorino cheese stirred into a thick cream, with lashings of black pepper
Address: Via Mastro Giorgio 29, Rome | Phone: +39 06 5746800 | Price: $$ | Hours: Monday-Sunday 12.30 – 15.00 19.30 – 23.15 | Web: www.feliceatestaccio.it
---
Taverna Volpetti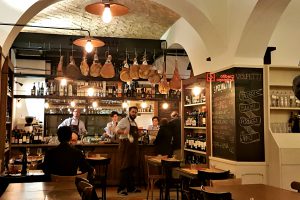 Testaccio's most famous and historical delicatessen is the princely Volpetti, which serves and sells an incredible range of specialty cheeses, breads, charcuterie, flans and pastries. For years, in the building next door it ran a simple canteen, cooking and serving food daily to the local workers of Testaccio.
The simple kitchen has recently been transformed into a smart lunch and dining spot called Taverna Volpetti. Of all the Testaccio restaurants, this is an ideal choice if you're looking for something a bit lighter than traditional Roman pasta dishes, and takes a broader, Mediterranean approach to food. Expect fresh salmon pasta, marinated octopus salad, as well as soups and snacking plates with cheeses and hams. Taverna Volpetti is also open all day, ideal if you have kids or prefer eating a little earlier at night.
Don't miss: Try Taverna Volpetti's handsome pizzas in the evenings, topped with fresh ingredients from the deli next door.
Address: Via Alessandro Volta 8, Rome | Phone: +39 06 5744306 | Price: $$ | Hours: Monday-Saturday 11.00 – 23.00 | Web: www.volpetti.com/taverna
---
Trapizzino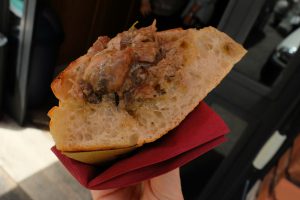 The brainchild of Roman pizza chef Stefano Callegari, Trapizzino in Testaccio is a street food joint with a unique product, the trapizzino, an artfully crafted pocket of pizza dough stuffed with the kinds of sauces you'd usually find on a plate of pasta. Try hunters' chicken – poultry stewed with fresh vegetables – or slices of eggplant in a rich tomato sauce. This essentially fast-food venue invites you to take your time with a fridge full of craft beers and makeshift packing-crate tables next door.
Don't miss: Try a trapizzino with the traditional Roman filling, picchiapò, boiled beef refried with onions and tomatoes. Just delicious.
Address: Via Giovanni Branca 88, Rome | Phone: +39 06 43419624 | Price: $ | Hours: Tuesday-Sunday 12.00 noon – 1.00 | Web: www.trapizzino.it
---
Trattoria Perilli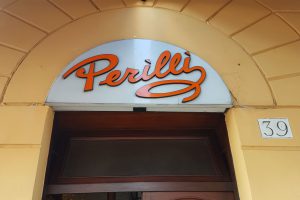 If Da Felice is the godfather of Testaccio restaurants, Perilli is its kindly grandfather, serving the people of Testaccio in style for over 100 years since first opening in 1911. This dim, windowless trattoria might look a bit intimidating from the outside, but within, it is warm and friendly, with an impressive menu that hasn't changed much in decades.
Famous all over Rome for its carbonara, in the winter, you can also enjoy exceptional artichokes, steamed until tender in the Roman style, as well as a rich choice of sweetbreads. Reservations necessary.
Don't miss: If you dare, order Perilli's famous offal dish animelle as a second course. This dish, made from the thymus gland of the veal calf, has a rich, roast flavour, and is typically served with stewed artichokes.
Address: Via Marmorata 39, Rome | Phone: +39 06 5755100 | Price: $$ | Hours: Thursday-Tuesday 12.30 – 15.00 19.30 – 23.00 | Web: Tripadvisor
---
Discover More!
This is just a sample of some of the best Testaccio restaurants.  Have fun wandering around and discovering places for yourself. For some suggestions for eating in another typical Roman neighborhood, Trastevere, read our guide to the best restaurants in Trastevere here.
Share this post on social media if you enjoyed it and don't forget to follow us on Facebook, Twitter, Instagram and YouTube for more top local tips on dining in Rome!