When planning a trip to Roma, you want to make the most of the precious time you have in the Eternal City. One of the key sites, if not The Site that everyone wants to visit when in Rome, is the Vatican Museums. Consequently, one of the most frequently asked question is, When are the Vatican Museums open? A good question indeed, as you wouldn't want to rock up to the Vatican Museums at 4:30PM to find out that the last entrance was at 4PM! Oh no!
So to avoid any similar situations, we want to share with you the Vatican Museums opening hours, planned closures and give you some suggestions on the best times to visit!
---
Vatican Museums opening hours 2017/2018
Monday – Saturday: 9:00AM – 6:00PM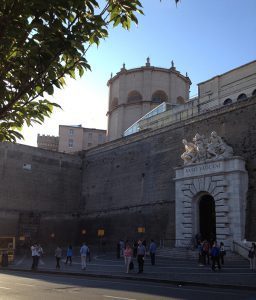 NOTE:
final entry is at 4PM and the museum closes at 6PM
Visitors are required to leave the halls 30mins before museum closing time i.e 5:30PM
Last Sunday of the month: 9:00AM – 2:00PM (Unless this coincides with Easter Sunday, 29th June, 25th or 26th December)
NOTE:
Entrance is FREE on the last Sunday of the month

If you visit on a Sunday, the Vatican Gardens and the Necropolis of the Via Triumphalis will be closed.
---
Vatican Museums closing hours 2017/2018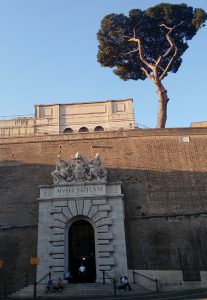 Sunday: CLOSED (Except the last Sunday of every month)
Closed on the following dates: 1st November 2017, 8th December 2017, 25th December and 26th December 2017, 31st December 2017, 1st January 2018, 6 January 2018, 19 March 2018, 2nd April 2018, 1st May 2018, 29th June 2018, 14th and 15th August 2018, 1st November 2018, 8th December 2018, 25th and 26th December 2018.
Temporary Sector Closures
Studio Azzurro Room – Closed from 17th July to 30th December
Pius-Christian Museum – 14th and 15th September – 09:00AM – 6:00PM and 09:00AM to 1:00PM respectively.
Sistine Chapel – 4:30PM – 6:00PM – LAST ENTRY AT 4:00PM
Gregoriano Profano Museum – Reopening date to be confirmed
Ethnological Museum – Reopening date to be confirmed
---
Best time to visit The Vatican Museums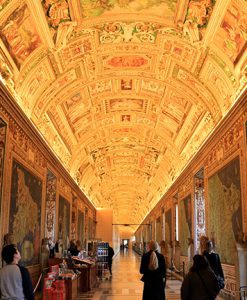 Now you've got the opening times and closure dates, you can plan your schedule accordingly and avoid any disappointments! Great!
Except now you're thinking… I wonder what time of day has less queues and less crowds? Am I Right?
Well the truth is the Vatican Museums have around 6 millions visitors a year, so finding a 'quiet' time is close to impossible. I say close to impossible, as there is a way you can enter the Vatican Museums a whole 1 hour before the general public!
How? By joining a Privileged Entrance Vatican Tour with Sistine Chapel! A lucky bunch of tour groups get to enter the Vatican Museums at 08:00AM, getting a head start on admiring the Sistine Chapel and Galleries with half as many people! Amazing!
If you're not an early bird, not to worry, you can do an Afternoon Vatican Tour with Sistine Chapel and still skip the lines!  You've already got plans during the day? Well there is an Evening Vatican Tour available on Friday's!
Whatever time of the day you decide to go, we definitely recommend taking skip the line tickets to avoid wasting your time in queues!
---
Discover more
To get you prepped for your visit to the Vatican Museums, check out these 5 Must-see Masterpieces on a Vatican Museum Tour!
Follow us on Facebook, Twitter, Instagram and Pinterest for everything ITALY!