The winter months rolling around mean one thing- it's time to cozy up and find a comfortable place to chill in Rome. As an expat, I'm constantly looking for places in Rome that won't kick you out after an hour or two.  Yes, this isn't the land of Starbucks.  Most bars, which are places you can get everything from espresso to cocktails, are for quicker refreshments.  While this is efficient, it's not always the coziest experience. Whether you're an expat in the same struggling boat, or if you're just searching for a comforting coffee, cocktail, or snuggly dinner, here are my favorite places to relax in Rome.
---
1. Barnum Café
The white-washed bricks are just the first inviting thing about Barnum. Just around the corner from Campo de' Fiori, it is a great place for studying or working, reading, catching up with friends or refueling for more adventures in Rome. From 6pm, enjoy your cocktail with aperitivo or their dinner menu. If you see the eggplant "meatballs", be sure to order them- they're to die for!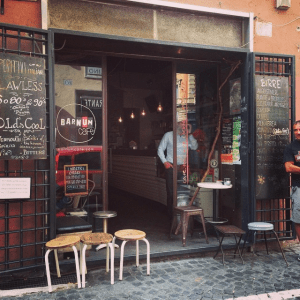 Address: Via del Pellegrino, 87 | Opening Hours: Mon-Sat 9am-2am | Website | Price: $ | Tel: +39 0664760483
---
2. Circus
This newly renovated bar – meets panino shop – meets floating office is just around the corner from Piazza Navona. If you're searching for a cozy couch you can sink into while you sip your drink, head to the back room.  But, if you're in the need of a work space or are eating a light lunch with friends, the front area is perfect for you.
Speaking from personal experience, the friendly staff won't bat an eye if you're so comfy you stay alllllllllll day. So sit, relax, read and enjoy the cozy atmosphere! Note that this is one of the few places that offers bagels in Rome… Let the celebrations begin!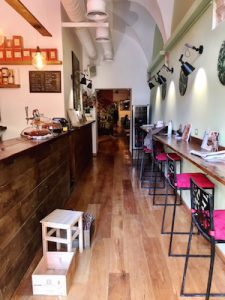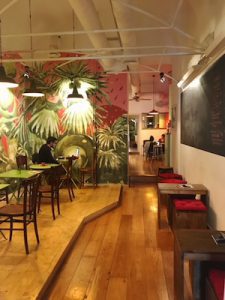 Address: Via della Vetrina, 15 | Opening Hours: Sun-Thur 10am-12am, Fri-Sat 10am-2am  | Website | Price: $ | Tel: +39 0697619258
---
3.Etablì
Ready for a chic French and Italian fusion? Satisfy your appetite and soul from morning to night. For breakfast they have fresh pastries and rich, empowering coffee.  In the evening, enjoy their full wine and food menu with elegant yet comforting dishes.  Plus, the distressed décor and furniture from the South of France instantly make you feel at home.  Basically, it's one of those places where you almost hope for rain or snow so you have an even bigger excuse for staying all afternoon.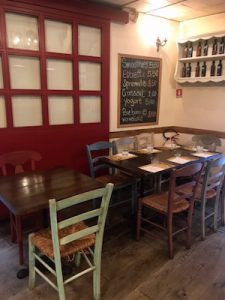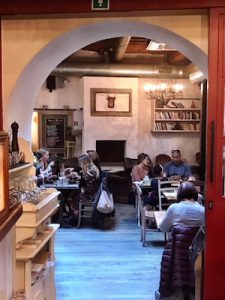 Address: Vicolo delle Vacche, 9 | Opening Hours: Mon-Sat 7am-1:30pm, Sun 9am-1am | Website | Price: $-$$| Tel: +39 0697616694
---
4. Alembic
This Trastevere hotspot is the perfect blend of an art gallery, bar, and restaurant.  In fact, the inviting Roman decadence was purposefully created to make the visitor feel like they're in an artist's residence.
A "cozy hangout" requirement for me is at least one couch, and they've got that covered here! Plus, the generous serving sizes of the cocktails are a real bonus. However, one of the coziest and most inviting qualities is their lunch buffet during the weekends.  You may walk in feeling like a customer, but after laughing with the bartenders over your cocktail and watching them float amongst the tables and art, you'll walk away feeling connected to the place.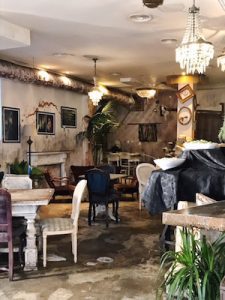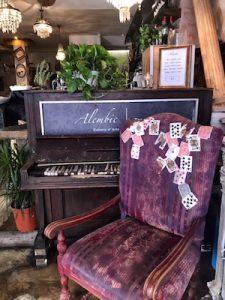 Address: Piazza in Piscinula | Opening Hours: Mon-Thur 10:30am-1:30am Fri-Sun 10:30am-2am | Website | Price: $-$$| Tel: +39 065800681
---
5. Bukowski's Bar
If you want to find a place to read in Rome, this place near the Vatican City is just for you.  It's the perfect fusion of a bookshop, wine bar and bistrot. If you don't have your own book to curl up with on the welcoming sofas, feel free to browse the full bookshelves inside. Combine that with the soulful jazz music that fills the space and you've got the recipe for cozy central. They offer aperitivo from 7-9pm and what's more, they have several vegetarian options on the menu!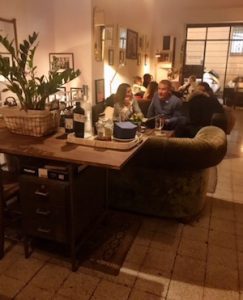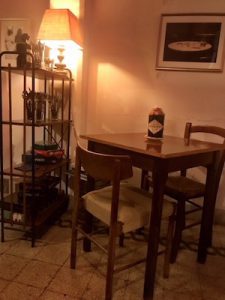 Address: Via degli Ombrellari, 25 | Opening Hours: Tues-Sun 11am-2am | Website | Price: $-$$| Tel: +39 0664760105
---
Discover More
Ready to publish that great photo of your wine or spritz? Share your favorites with us and follow along for more of our suggestions on Facebook, Twitter, Instagram and YouTube!
Up next: Find the best places to eat in Monti and check out the ultimate Christmas guide in Rome.