Hopes are high as I step off the plane into the Eternal City. Little did I know about the culture shock that was going to hit me square in the face within my first 24 hours in Rome. In my mind I thought that I had prepared myself for the idea of living in a strange country for two months, but the fact of the matter is, you cannot possibly prepare yourself until you are submerged face first into the country itself. That being said, there are a few observations about the culture in Rome that I quickly picked up on my first 24 hours.
---
Proceed with Caution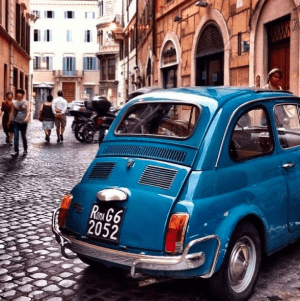 Walking the streets of Rome is something that can be absolutely breathtaking, but be warned… the cars will not stop for you when you cross the street.
I am from North Carolina, where the pedestrians always have right of away. With confidence I started to walk down the streets of the eternal city. I was quickly reminded that I am no longer home as the symphony of car horns honking at people trying to cross the street. As I cross the busy street, I notice that the cars are swerving around people without even tapping their brakes.
---
Meal Time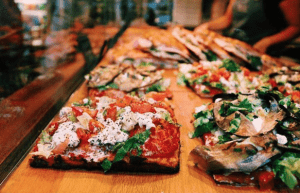 Now, meal time is something that is considered to be sacred within the Italian culture. As I sit down for my first meal in Rome, I notice a few differences with their restaurants.
The first observation I made is that there is no such thing as a free glass of water! Make sure that if you order water, you specify if you want still or sparkling. If you don't, the waiter will probably bring sparkling.
An upside to dining out in Italy is that you are not expected to leave a tip. They will however charge you a sitting fee, so you end up paying around the same amount of money.
As my first meal in Rome, I decide to go with the classic pizza! With confidence I can say that the pizza in Rome is the best pizza I have ever had! Although, I was somewhat confused when my pizza was put in front of me. It is just one large thin circle that has not been cut. I have never been served an uncut pizza before coming to Rome, so this was definitely new to me.
---
Little Adventures

I had no idea how large Rome really was until I arrived. I  decided to hit the ground running and walk around my new home for the next two months. Safe to say that I am learning very quickly that public transportation is going to be necessary. Also, I need to buy more comfortable shoes! Wearing cute shoes while trying to walk on the uneven cobble stone streets is something that I realize is not going to end well!
I have never had a good sense of direction, so it wass apparent that I would get lost often. During my first 24 hours in Rome, I got lost a couple of times, but it was definitely worth it! By being lost I was able to walk down little back streets, full of Italian culture. I hope that everyone experiences getting lost in this beautiful city I get to call home.
---
Hot, Hot, Hot
As I am venturing through the city I now call home, the sun is showing no mercy. As I look around, I notice that all the 'locals' are wearing pants, and I am wearing a loose dress. If I think I am hot, I can't imagine how it would feel to be wearing pants!! I decide to ask one of my new Italian friends, why everyone wears pants in this heat. She responds by saying, "It's only spring right now, so it's not that hot". This is a complete surprise to me because I can't imagine how much hotter it could get!
I have decided that pants are not an option for this summer. This heat is something I am going to have to get used to really fast and accept that I will constantly be sweaty. This is just part of the Roman culture I am going to have to embrace. It looks like I am going to have to invest in a fan for my apartment ASAP!
As I am walking done the cobblestone streets of Rome, I notice the water fountains on the street and my eyes open wide. Not only is that water clean to drink…it's free! I quickly fill up my water bottle and I could feel a small amount of relief from the heat. I continue to wonder around the city as I spot more of these water fountains around the city.
---
Discover More!
If you enjoyed this post you should read DIFFERENT TYPES OF ITALIAN COFFEE DRINKS to learn how to properly order coffee in Italy!
Share this post on social media if you enjoyed it and don't forget to follow us on Facebook, Twitter, Instagram, and YouTube for more great posts!