Verona is famously known as the home of Romeo and Juliet, but did you know the city also boasts a 1st century Roman amphitheater, where the annual summer opera festival takes place? Verona is a city full of secrets and wonders, with a delicious cuisine, impressive architecture and wonderful viewpoints, you are bound to fall in love with the city.
---
A Romantic getaway to Verona

Verona is a northern Italian town in the region of Veneto, founded in the 1st century B.C. It is relatively small but teaming with charming history, and many cool modern traditions to keep the love going!
Home to the most romantic story in the world (Romeo and Juliet), we think it's the perfect place for your romantic getaway.
The location that inspired Shakespeare to conjure up some of the most passionate stories worldwide also has a strong Roman influence, making this small city a must on your bucket list! As soon as you enter the historic city walls you will be overcome with beauty and a special atmosphere. It's in a great position too, just a short train ride will bring you to the beautiful Northern Italian mountains and the famous Lake Garda!
---
How to get to Verona?
From Rome
Verona can be accessed either by train or plane. Both ways are direct, easy to book and may not be as expensive as you think.
A train trip will take you just under 3 hours from Roma Termini train station. You can even find a 1st class ticket from €40 one way. Have a look at Tren Italia or Italo Treno that often have discounts and offers.
A flight will take you only 1 hour from Rome Fiumicino airport. Depending on the month, you can even get a one way ticket for less than €50.
From Milan
You can reach Verona by train in just over an hour and a quarter with ticket prices starting at just €13 one way. (Check the websites mentioned above for Rome)
If you're renting a car and traveling around Italy, it's just over 2 hours from Milan.
---
Fun things to do in Verona
The city is turned into a romantic wonderland in February, but you'll find that no matter what time of year you visit, the city still manages to keep that magical atmosphere.
Here are a few suggestions of things you can do in Verona with your amore.
---
1. Climb up the Tower of Love – Torre dei Lamberti
If you are in Verona, the best way to see the beautifully lit city and giant heart shaped market is by climbing up Torre dei Lamberti.
Buy your ticket and make your way up the 84 meter high tower. Luckily there is a lift that can take you right to the top, allowing you to skip the 368 steps! Keep your ticket safe as it also gives you access to the Gallery of Modern Art adjacent to the tower.*
*Note: Between 14 till 18 February 2018 the ticket entrance to the Lamberti Tower will cost only 5 € and will not include the admission to the Modern Art Gallery as it's temporary closed.
Address: Via della Costa 1 | Opening hours: Weekdays 10am-6pm Weekends 11am-7pm | Price: Standard €8, Mondays €5 | Website
---
2. Walk to the top of Castel St Pietro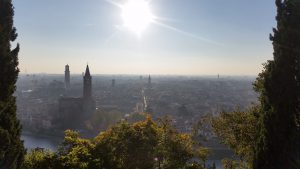 Make your way up to Castel St Pietro for amazing views across the city.
If you don't have the energy to walk, you can also get there by car and still enjoy the amazing views.
Just at the bottom of the hill, you will find the ancient Roman theatre, it is one of the best preserved Roman theaters in northern Italy.
Unfortunately, the official website is only in Italian, the full price ticket is €4.50.
Address: Piazzale Castel S. Pietro, 1 | Opening hours: Always | Price: FREE | Website
---
3. Castelvecchio
All along the city's river you will find yourself in peaceful romance, there are multiple bridges that cross the river, but make sure to check out Castelvecchio Bridge lit up in the night sky. This bridge is connected to the middle ages Castelvecchio that you can explore too.
You can access the Castle and Bridge for free, only paying for the museum inside the castle walls.
Address: Corso Castelvecchio 2 | Opening hours: Monday 1.30pm-7.30pm & other days 8.30am-7.30pm| Price: Free for the Castle, €6 for the museum | Website
---
4. Juliet's house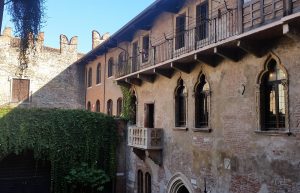 Last but certainly not least, head to the most Romantic address in the world, Juliet's house with the world famous balcony.
This balcony overlooking a small courtyard is the inspiration that William Shakespeare needed to make the famous love story of Romeo & Juliet.
Interesting fact – unmarried people touch Juliet's statue in the hope of finding the love of their life. You never know…
Tip – Bring a pen! And don't forget to write a love note on the wall leading to the courtyard!
Address: Via Cappello 23 | Opening hours: Monday 1.30pm-7.30pm Tuesday-Sunday 8.30am -1.30pm | Price: Standard ticket €6 | Website
---
Where to eat in Verona?
1. Osteria Dogana Vecia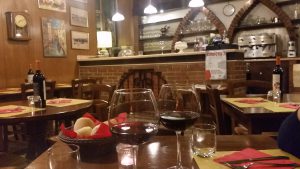 I nicknamed this restaurant "Nonna Verona" translated to Verona Nan/Grandma! The reason being is this place is a very small family run restaurant, and the nan is the chef!
The location is down a quiet side street and once inside, you will find only 6 tables. The menu is non-existent and is relaid to you by the owner (and daughter of the chef).
There aren't many options to choose from but whatever dish you choose, it will be delicious! I recommend trying any meat dish and if you feel adventurous, try the Gnocchi d'Asino (Donkey Gnocchi).
Address: Via Filippini 3 | Opening Times: Tuesday – Sunday 6pm – 12am | Phone: +39 377 426 0417 | Price: $$ – $$$ | Website
---
2. La Griglia
I walked past this place every day, and every day it was full! So I decided I had to try it out. It's also very convenient if you want to have a few glasses of vino…
There's a romantic atmosphere, maybe due to the cozy open fire place but it could be that the menu is full of great Italian dishes! Their specialty is steak and a good wine to pair with it. Make sure to try the wine, Amarone, legend has it that after one sip, you & your partner will have eternal love!
Address: Via Leoncino, 29 | Opening Times: 12PM – 3PM & 6:30PM – 12:00AM | Phone: 045 803 1212 | Price: $$-$$$ | Website
---
Where to stay in Verona?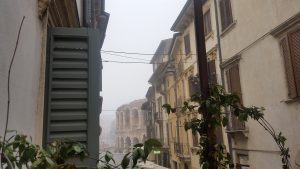 I stayed at a great place just a few steps from the Arena di Verona. Palazzo Gelmi only has 3 rooms, with two out of the three including a beautiful balcony where you can admire a partial view of the ancient Roman amphitheater.
The rooms have a very old feel with medieval frescoes decorating the walls and ceilings but paired with a very modern style bathroom. In the morning enjoy the buffet breakfast, it's small but has a nice sweet and savory range.
Address: Via Don Enrico Tazzoli 2 | Phone: +39 339 7808775 | Price: €84 – €141 | Website
---
Discover more