It's coming up to the most wonderful time of the year… Christmas! So let's raise our glass of Prosecco and let's enjoy a special Christmas in Italy!
Christmas season in Italy is traditionally celebrated from Christmas Eve through to Epiphany on 6th January. Unlike other countries, Italy tries to stray away from the commercial aspects of the holiday and instead focuses on family, spirituality, and of course, food. To give you some inspiration on where to spend this magical time of year, here are the best cities to spend Christmas in Italy!
---
Rome
You can't say you've spent Christmas in Italy without visiting Rome.
Because the Vatican City is literally inside of Rome, there is a strong Catholic presence in the Eternal City. It wasn't until recently that the city started putting up Christmas trees and lights because locals feared it would take away the true meaning of Christmas. Now, you can walk through main streets, such as Via del Corso, and enjoy colorful lights, eat roasted chestnuts as you shop your last minute christmas presents from a local market. Rome is already a very romantic city but it is absolutely breathtaking during Christmas time.
---
Christmas Eve Mass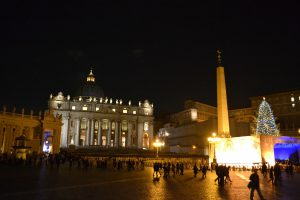 Whether you're hearing the hum of nuns singing Christmas carols, or viewing the Pope deliver mass in front of Saint Peter's Basilica, you will definitely get a sense of the spiritual presence in the city.
On Christmas Eve, the pope delivers a special mass at St Peter's Basilica. Capacity is limited and it's fairly difficult to get tickets. But never impossible! Here are some tips on how to reserve tickets for the Christmas Eve Mass:
The sooner you make the reservation, the more chance you have of getting tickets. The Vatican recommends booking between 6 and 2 months in advance.
If you request a small amount of tickets (2-6 tickets), you will have a bigger chance of getting them.
The best way to get tickets is by sending a fax directly to the Vatican (Fax: +39 06 6988 5863) requesting tickets for the Christmas Eve Mass.
The Vatican will then send you a letter to your home address to notify that they have received your request. You must take this letter to the Vatican. Note: This does not mean that you have guaranteed tickets for the event!
When you arrive to the Vatican City, head to the Preffetura Vaticana (4-5 days before Christmas Eve), located just after the 'Bronze Doors' at St Peter's Basilica. They will hand you either your tickets or a letter to notify you that there was no availability.
Tickets are always free!
---
Ice Skating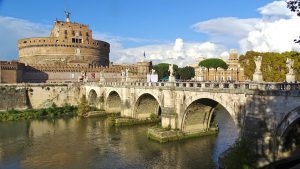 Hoping to glide your way through Rome? The Grinzing Village skating rink is cold, uncrowded, and most of all, magical! This dreamy ice rink lies right next to Castel Sant'Angelo which gives skaters the perfect combination of history and Christmas fun!
---
Florence
Florence's charm is multiplied at Christmas, with a beautiful Christmas tree lit up in the Piazza del Duomo as well as a a life-size nativity that's made with terracota from a local artisan. There are several Christmas markets across the city and shops stay open that little bit later so locals and tourists can get all their Christmas shopping done.
The city's year-round beauty along with the amazing food and Christmas decorations, will definitely bring you the warmth of the Christmas spirit.
---
Traditional Florentine Food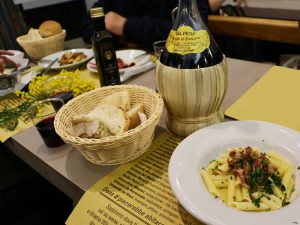 Food is such an important part of Italian culture, and of course, it's also one of the main reasons we all have Italy on our bucket list!
However, there is much more than what meets the eye and you'll quickly discover that each region has its own dishes and specialities. Make the most of the Christmas season to indulge in some of Florence's most delicious and seasonal dishes!
---
Wine Tasting Day

There's no way you can spend Christmas in Italy without tasting the best wine in the Tuscan region. Take a day trip from Florence and explore the Chianti Hills on our Wine Day Tour. You'll visit a local farmhouse, where you'll be invited to taste some of their amazing produce; local Balsamic Vinegar, Italian Extra-Virgin Olive Oil and of course their exquisite wine! They will even cook you a homemade lunch! Don't worry, you're private driver will make sure you get back to your hotel safe and sound!
The picturesque Florentine villages, the delicious wine and food, and the cozy atmosphere of the holiday season will make this an experience to remember!
---
Christmas Concert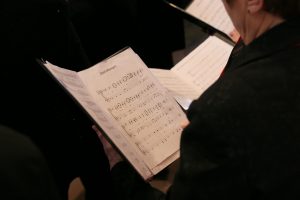 Enjoy singing Christmas carols? Well you don't have to miss out in Italy! Join the locals at their annual Christmas Concert at Teatro Verdi on December 24th.
This year, the Orchestra della Toscana & Alessandro Taverna will be hosting the concert. Tickets are 20 euros and available to book online!
---
Venice
Christmas in Venice is misty, beautiful and truly magical. The city is enchanting year-round but especially during the holiday season. The city is surprisingly free of tourists and full of locals shopping in seasonal markets. Most of the main piazzas in Venice have Christmas markets, which makes the atmosphere of the city extra special. You'll see the city decorated with gorgeous lights (even on gondolas!), festive concerts in churches, and carnivals in popular piazzas. Venice is also known for having a large Jewish community which makes the holiday season a mix of Christmas and Hanukkah celebrations.
---
The Glass Christmas Tree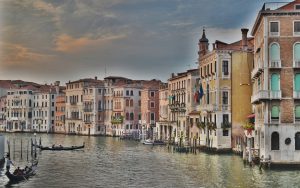 Murano is a suburb of Venice and is recognized for making some of the finest glass in the world. During the first week of December, the city presents its famous glass tree to announce the start of the holiday season. The tree is 8.5 meters high and 3 meters wide, making it the largest glass blown tree in the world!
---
Swimming in the Lido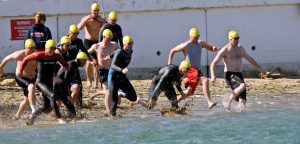 Every New Year's Day, brave locals dive into the Adriatic Sea for a winter swim— plunging into the New Year. This annual event is called the Polar Bear Plunge and is followed by a cheerful celebration on Lido beach. Everyone swimming always looks so carefree and happy, you might even be tempted to join!
---
Hanukkah in Venice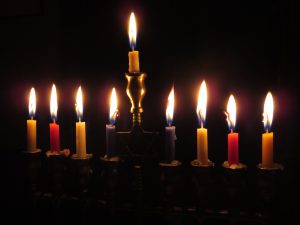 Hanukkah is celebrated just as passionately as Christmas in Venice. Every year, Venice hosts a Hanukkah Bash in the Ghetto Square. This festival is full of dancing, music, latkes (potato pancakes), and more treats. The celebration is centered in a perfectly intact part of the historical Ghetto which gives the festival a warm and traditional atmosphere!
---
Discover more
Where would you spend Christmas in Italy? If you have your heart set on an Italian Christmas, we promise you won't regret it!
If you need a hand with planning your trip, our Travel Experts are here to help! Be sure to follow us on Facebook, Instagram, and Twitter for more travel tips!
 (This Blog post is an update of the Christmas in Italy 2016 post)