This is your holiday in Rome. You're splashing out. You want grand hotels. You want glamour. You want luxury. You want pampering. This is the post for you. From a range of locations, prices and added bonuses, we are giving you all the best tips for those boutique places to stay at whilst you're in Rome. For the most part, be prepared to spend the extra pennies here. BUT, you only live once, as they say. So, go on! Enjoy! Splurge out! You've earned it! Here are our Top 7 Boutique Hotels in Rome. 
Boutique Hotels in Rome
1 – Boutique Hotel Trevi (Trevi Fountain)
So boutique that it's even in the name of the hotel (and so is "Trevi" so you can guess where it is in the city). A four-star luxury pad, Boutique Hotel Trevi gets massive bonus points from us.
Renovation works have transformed this stunning palace into a modern day hotel.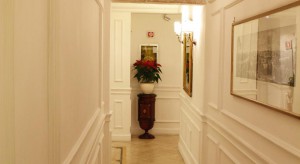 The definition of elegance, with its fine attention to detail and grand furnishings, it has cleverly managed to maintain its antique and unique feel to create a memorable experience during your visit. If you're looking for something luxurious at an arguably more affordable price, this is the place for you.
See Map below for details.
---
2 – Hassler Roma (Spanish Steps)
For those big spenders, Hassler Roma is undoubtedly for you. A five-star luxury hotel at the top of the Spanish Step and near other monuments such as the Trevi fountain and magnificent Villa Borghese, what more needs to be said?
With 96 unique luxury rooms and suites and a Michelin-starred restaurant, this place is chic, elegant and screams utter luxury.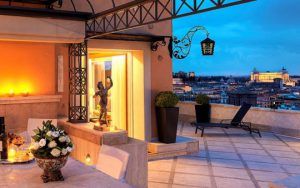 The most expensive rooms go for a whopping €3,500 however the cheaper rooms are debatably more affordable at around €350. This is definitely number one for the most indulgent treat on the list and it is owned by Roberto E Wirth, fifth generation of a famous Swiss dynasty of hoteliers. Swanky much?
See Map before for details.
---
3 – Nerva Boutique Hotel (Colosseum)
The family who run the Nerva Boutique Hotel, the Cirullis, have been doing so for over twenty years and they pride themselves on their family generations all contributing to the hotel. The son and daughter run the show now and are doing a fabulous job at it.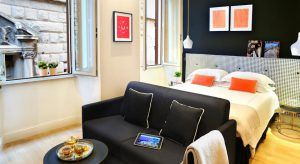 Welcoming, friendly and approachable, it is the staff that you will be raving about. Not to mention its ideal location! Located in Monti, Nerva Boutique Hotel proves extremely convenient for your neighborhood exploring and wandering to other parts of the city.There are also many different types of rooms available to book, from a Family to a Master Suite, providing you with just what you need. Where is the book button?
See Map below for details.
---
4 – Hotel Raphaël (Piazza Navona)
The Hotel Raphaël is so close to the Pantheon, Navona and St Peter's Basilica. This residence is like a museum with its grand facades, sculpture work, painting and lithographs on show. There are also collections of Picasso ceramics and Mayan art on display too. This means you're staying in a place with great culture and history, adding a certain unique feel to your stay in Rome.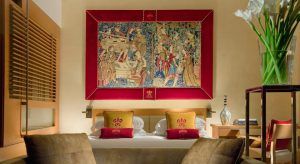 With panoramic views of the Eternal City form the rooftop bar, Hotel Raphaël is certainly something exceptional. You have many options to choose from the range of rooms on offer.Excellent reviews, impressive rooms, an incredible restaurant and a range of activities available such as horse riding and golf, this place is certainly for you if you're looking for a luxurious, more relaxing stay in Rome.
See Map below for details.
---
5 – Palazzo Manfredi (Colosseum)
Palazzo Manfredi boasts the most interesting historical background. The 17th century palace is built over the ruins of the Ludus Magnus, the gymnasium used by Roman gladiators. The palazzo was also once the hunting pavilion of the Guidi gardens. Now, Palazzo Manfredi is covered in 16th century antique paintings and contemporary artwork.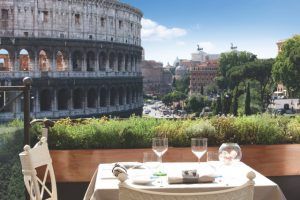 The hotel therefore offers a really unique stay to your time in Rome. With spectacular views, you can enjoy your meals whilst overlooking the Colosseum. That in itself is its best selling point.
There are other added touches to the hotel which you can book, such as a Rolls Royce and limousine service. This is of course, a Relais Chateaux property, so sophistication, elegance and luxury is just what we expect. Perfect for those top spenders. Booking is a minimum of two nights.
See Map below for details.
---
6 – Daphe Inn (Trevi Fountain)
Think stylish accommodation, comfort and personal service, all at amazingly affordable prices. Now think about finding all of this near the Trevi Fountain! This is where you'll find the Daphne Inn.
Run by husband and wife, the couple haven't changed their focus since they opened in 2001 – caring about the quality of their guests' vacations. But what helps them do this? Their undying love for Rome.
Daphne Inn's major focus is on customer service and not on unnecessary luxuries and expensive extras. Their staff will welcome you and make you feel at home, even sitting down with you over breakfast to help you plan your activities for the day. This boutique B&B is really all you could hope for when looking for the perfect little retreat in the heart of Rome.
See Map below for details.
---
7 – TreasureRome Collection (Various)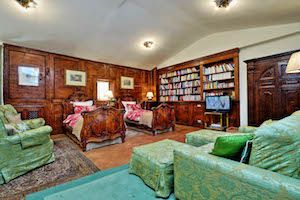 Now, I know this post concentrates on hotels, but we couldn't not mention these luxury apartments in Rome. TreasureRome Collection provide short and long stay accommodation across Rome for holiday goers visiting the Eternal City.
They have 3 fantastic apartments to choose from: Terrace Suite, Town House and Terrace Residence. Their townhouse is located slap bang in the center of Rome beside Piazza Navona, whereas the Terrace Suite and Terrace Residence are located closer to the Colosseum in the hipster neighborhood of Monti. More details on each can be found on their website.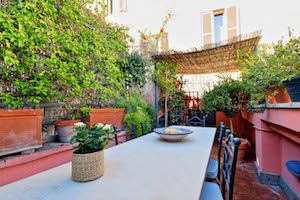 TreasureRome Collection have a philosophy that's bound to make your vacation in Rome unforgettable:
"We believe that the accommodation is organic part of the guest-experience and our love and passion for Rome drives us to make yours as memorable as possible in a positive way. Our mission is to contribute to your memories you'll treasure in a personal, professional and exclusive way."
[google_map_easy id="5″]
---
#ItalyOurWay
To add to the added elegance and luxury aspect of your visit to the boot, make use of our Italy Trip Planning Services. We'll book your hotels, restaurants, tours, experiences and private transfers to make sure your vacation in Italy is the vacation of a lifetime.