Last year, I decided to get out of my comfort zone and do something that has always been a dream of mine. I took the leap to study abroad and chose Rome as my temporary home, because I have always been fascinated by the Eternal City. Over the past four months, I have experienced a non-stop adventure in many different astounding places. The following 3 places are, in my opinion, the best places to go in Italy that are sure to create life lasting memories.
---
Home Sweet Rome
The Colosseum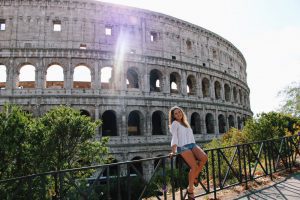 One of the first things I did when I arrived in Rome was a tour of the Colosseum. It was surreal to see the Colosseum in front of me, I had always learned about it in school and now I was actually there! Learning about the Colosseum, the gladiators, and the games that happened there was so fascinating to me. After this trip, I made it my goal to go back to the Colosseum at least once a month. This is my favorite site to see in all of Rome, and it also holds some of my most cherished memories.
Osteria Dell'Anima
Out of all the restaurants in Rome, Osteria dell'Anima will always be one of my favorites. Their best dish in my opinion is Fiocchetti di formaggio e pera su crema di carote. This pasta's stuffed with cheese and pear, and it has a creamy carrot sauce. The sweet and salty combination is so unique and out of this world! I have been to this restaurant several times while in Rome, and I order this dish every time. Although every kind of dish that I tried in Italy was amazing, I will miss this one the most.
Address: Via di Santa Maria dell'Anima, 8, 00186 Roma RM | Phone: 06 686 4661| Hours: Monday-Sunday 12pm-12am, | Website
The Trevi Fountain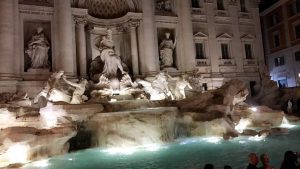 The first night I arrived in Rome, I made it my mission to go visit the Trevi Fountain. Unfortunately, I got lost with my friends and we walked around for over an hour trying to find it. After almost giving up, a nice Italian lady saw us struggling and she helped us find our way there. Seeing the fountain in person was surreal, and every time I catch myself there I make sure to throw a coin in and make a wish. A hidden gem that my friends and I stumbled upon is a hotel called Relais Fontana Di Trevi that has a rooftop bar. We went to the top and the bar gives you an aerial view of the Trevi Fountain – so cool! I will always remember that night and the wishes that I made throughout my time in Rome at the fountain. Hopefully they will come true!
Address: Via del Lavatore, 44, 00187 Roma RM | Phone: 06 679 7317 | Website
---
The Mesmeric Amalfi Coast
Boat Ride in Capri
In September, my friends and I decided to take a trip to the Amalfi Coast. During our stay, we spontaneously decided to take a boat ride to the island of Capri. We were even lucky to find a local man offering a two hour boat ride for a reasonable price, perfect! The only problem was that he told us that the sea was extra wavy that day. My friends and I thought that the man was exaggerating. Not long into the boat ride we felt exactly what he meant! The water was extremely wavy and our boat wouldn't stop rocking, easily causing my friend Maria to get sea-sick! Although this was unfortunate in the moment, it is something that my friends and I still laugh about today. Other than that, I will never forget seeing the astounding island of Capri and its beauty from our own personal boat.
Capri Chair Lift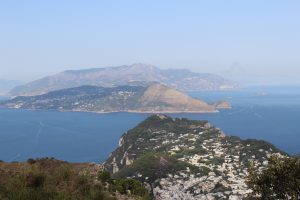 Just when we thought our adventures in Capri were finished, a local told us about a chairlift that brings you to the highest point on the island. My friends and I decided to take advantage of this amazing opportunity and go to the top. Once there, the views of Capri and its surrounding islands were out of this world. We stayed at the top of the island and had a picnic, and we even got to see the sunset. Once finished, we took the chairlift down and got some local gelato – yum!
Positano Beach
Something I will never forget was laying on Positano Beach and drinking fresh Limoncello. This literally made me feel like I was on Cloud 9! The view from this beach is one of the most photographed in the whole entire Amalfi Coast. The beautiful colors on the buildings that were on the edge of the cliff were memorizing, and seeing the sunset made everything even more beautiful. Just when we thought this day couldn't get better, a local band suddenly came to the beach. They started playing reggae music and everyone in the area came down to the beach for a dance party. I will never forget seeing the astounding scenery, the lovely music, and the happiness of everyone dancing during that moment!  
---
Exploring Venice
Gondola Ride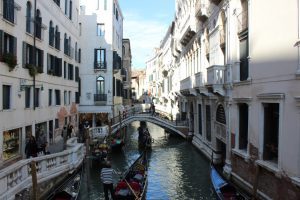 One thing that everyone must do while in Venice is to take a gondola ride! This is exactly what my friends and I did, and it was hands down one of my most favorite memories. Although it felt like the gondola was about to tip every couple of minutes, nothing compares to seeing all of Venice while on the water. Our gondola driver also made sure to show us famous sites on the island, like Marco Polo's house, Lorenzo Quinn's giant ceramic hands, and St Marco's church. I recommend you take a gondola ride through the beautiful canals, a must for anyone visiting Venice!
View from Venice Mall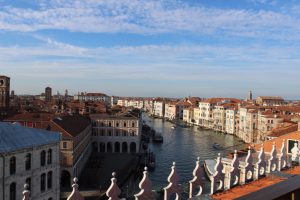 After our gondola ride, our driver Andrea suggested that we go to Fontego dei Tedeschi which is Venice's new mall. At the top, visitors can receive a once in a lifetime view of the whole city of Venice. Even better, it is completely free! At the top, everyone below looks like ants and it's amazing to see how many canals and bridges reside there. The top of Fontego dei Tedeschi is a hidden gem that I recommend you visit while visiting this amazing city.
Address: Calle del Fontego dei Tedeschi, Rialto Bridge, 30100 Venice, VE| Phone: 041 314 2000 | Website
St. Mark's Basilica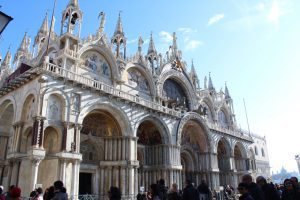 While in Venice, my friend Anna decided to meet up with her second cousin whom she'd never met. We met up with her cousin named Luigi who lives in Venice and he decided to show us around. This is nice because it was like we had our own personal tour guide, since he knew of all of the nice places to take us. One of the places that we went to was St. Mark's Basilica and it was incredibly beautiful. Entry to this church is completely free, unless you go to a different level that's closed off to the general public. The beautiful glass stained windows and the art inside were mesmerizing, and this is definitely one my favorite churches that I have ever seen while in Italy.
---
Discover More 
Studying abroad in Italy, hands down has been the best experience of my life. I will never forget all of the places I went to, the people I met, and the amazing food that I ate while abroad. Italy will always have a piece of my heart and I already cannot wait until the next time I return. To Italy and all of the people I met here – this is not a goodbye but a see you later. Ciao for now and thank you for reading about my most cherished memories in Italy!
While you're here, check out some of these amazing blogs by The Roman Guy!
Visit Venice – A Complete Guide to Venice 
7 Best Free Things to Do in Rome
Full Day Private Boat Tour to Capri: From Amalfi