Did you know that there are lots of delicious restaurants and trattorias by the Pantheon? In fact, there are many hidden gems in the surrounding area that aren't too touristy and won't cost you much. Whether it's lunch, a quick bite after your tour or a sit-down dinner, we offer you the best places to eat near the Pantheon.
---
Rome Food Tours Led by Foodies
In addition to sightseeing, eating the most outstanding food is vital to a complete Roman experience. We offer several Rome tours of all the best attractions in Rome including the Pantheon, the Colosseum and the Vatican Museums. And if eating  is on par with seeing those majestic sites, then a foodie-led Rome food tour in Trastevere is right up your alley.
Pietro al Pantheon
A small trattoria that serves house wine in ceramic carafes, the staff at Pietro al Pantheon is welcoming. We highly recommend their pizza, made Neapolitan-style. One of the best places to eat near the Pantheon,  prices are agreeable when you consider the restaurant's busy location. And to top it all off,  the wine here is locally-sourced.
The mark of a good restaurant in Rome is the presence of locals, and this place has them in spades. With an interior decorated like an antique emporium, the old world vibe here is romantic. But if you aren't with your bae, that's ok. You'll still get a fantastic meal.
Address: Via dei Pastini, 125, Roma | Phone: +39 06 678 9940 | Price: €€ | Website
Trattoria Antornio al Pantheon
Family-run for three generations, it's easy to see why this trattoria is successful. Located right around the corner from the Pantheon, Trattoria Antornio al Pantheon's interior is small and welcoming. During the warmer months, there's plenty of seating outside. With generous portions, this is by far one of the best places to eat near the Pantheon. We recommend the burrata as a starter and the boar pasta dish as a main course. You won't be disappointed.
Address: Via dei Pastini, 12 | Tel:+39066790798 | Price: €€€ | Website
Pizza Zazà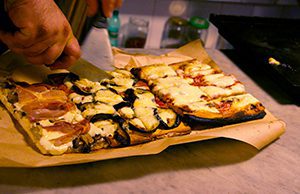 If you're strapped for time and you need to grab lunch on the go, Pizza Zaza is a hole in the wall that sells delicious pizza. With fresh and simple ingredients and fast service, this is the ultimate stop for pizza near the Pantheon. Try the porchetta or the truffle mushroom for a distinctly Roman experience. Plus, ordering pizza al taglio (cut-to-go) is a quintessential Roman experience.
Osteria del Sostegno
Hidden away down a quiet alley, this top Rome restaurant is widely-regarded as one of the best places to eat near the Pantheon. The staff here is always busy here, but service is fast and efficient. Different from the homey feel of the many trattorie in Rome, the interior of Osteria del Sostegno is stylish and modern. Since this restaurant is small and gets crowded, make a reservation to be on the safe side. See the number below.