Piazzas in Rome are about as plentiful as Starbucks in New York. However, not all piazzas are created equally and certainly not all restaurants, in the grandeur of la Città Eterna, are worthy of your euros.  So here is a list of the 6 best piazzas in Rome for a leisurely lunch.
---
1. Piazza Mattei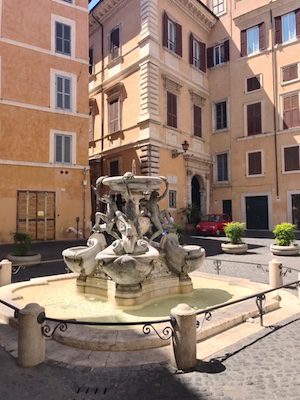 Tucked away behind the Jewish Ghetto is the quaint Piazza Mattei.  The famous fountain, Fontana delle Tartarughe, the Fountain of the Turtles, draws in the people who don't accidentally stumble upon this charming piazza. Legend has it that the 16th Century fountain was built in just a single night by a duke, in desperate hopes of impressing his future father-in-law. So overwhelmed by the beauty of the fountain, the duke was granted permission to marry the girl of his dreams.
Surrounding the fountain today are beautiful buildings in what I like to call the color of Rome. That dark golden yellow color that just makes you hear accordions in the background.  Best of all, the piazza is quiet as can be.  Considering its central location just off busy main streets, this is one of the miracles that occurs daily in Rome.
Take advantage of the serenity over lunch right in the piazza at Le Tartarughe Eat & Drink. Enjoy front row seats to the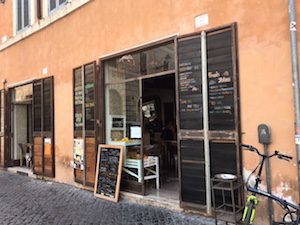 fountain over a tortino di verdure (savory veggie pie) and their meat/cheese platters.
Le Tartarughe:
Address: Piazza Mattei 7/8 | Hours: 8:30am-12 am daily | Website | Price: $$ | Tel: +39 0664760520
---
2. Piazza della Rotonda
Ok, I might be biased seeing as the home of the Pantheon is my favorite piazza in Rome, but this is one great beauty more than worthy of a long lunch. Immediately entering Piazza della Rotunda, you are hit with the striking structure, which just so happens to be Ancient Rome's best preserved monument.
The Pantheon as we see it today is actually the third version of the original structure, with the first one being built between 25-27 BC.  The current masterpiece is said to have been constructed between 118-125 AD during Hadrian's Empire.
The square itself was not always a meeting point.  In the 19th century it was used as a flourishing bird market with varying food stalls. According to travelers' diaries of the time, it was quite the hectic square. Now, thankfully, it is nothing shy of magic, wonder, and the ideal place to sit over a great plate and glass of Italy's finest. As you can imagine, such a popular place is full of tourist traps and hustler's trying to get you to pay €20 for a pizza.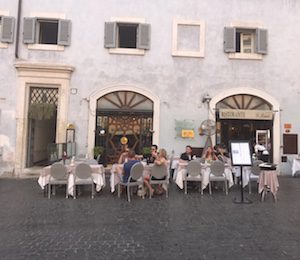 I say stop the madness and head straight for Ristorante di Rienzo. It started as a dairy shop in 1952 by Michele di Rienzo and his wife Adua, and remains family owned today.  With a wonderful front terrace facing the Pantheon, you'll think you've won the lottery.  Try the cacio e pepe (pasta with pecorino and black pepper) or spaghetti with clams. I always like to end meals in Rome with a healthy portion of tiramisu and of course espresso.  When in Rome, right?
Di Rienzo:
Address: Piazza della Rotunda 8/9 | Hours: 7am-2am daily | Website | Price: $$$ | Tel: +39 066869097
---
3. Piazza Navonna
Piazza Navonna is where Rome, in all her uninhibited glory, is showcased.  Artists, street performers, travelers, nuns, priests, and your classic Romans, all gather daily in this square. One thing they have in common- the appreciation of raw beauty.
The square as we know it today, was created in the 17th Century on the space of the previous Stadium of Domitian, a sports arena built in the 1st century AD, with an arena floor bigger than that of The Colosseum.
The remodeling of the square was commissioned by Pope Innocent X to give his family, the Pamphili's, the grandest square in the city.  Thus, an even grander fountain was necessary. Bernini's Fontana dei Quattro Fiumi, Fountain of the Four Rivers was created, showcasing muscular personifications of the Nile, Ganges, Danube, and Plate. It remains one of the most impressive works of art in the world and his own masterpiece.

Similar to Piazza della Rotunda, you won't struggle in seeing restaurants surrounding the square. However, your taste buds and euros shouldn't be wasted.  Make your way completely around the piazza and grab a terrace table at Bernini Ristorante.  It's location at the end of the piazza allows you to escape the crowds and gives you a view of the entire square.
Start with their zucchini flowers stuffed with mozzarella and fried anchovies, then move on to the carbonara or lasagna.  By now you know my take on ordering desserts, so go enjoy every bite of that tiramisu.
Bernini Ristorante
Address: Piazza Navonna 44 | Hours: 9:30am-11:30pm daily | Website | Price: $$$ | Tel: +39 0668192998
---
4. Campo de' Fiori
This bustling square has always been a place of high activity. Aside from being the common meeting place among ambassadors and cardinals, it was infamous for its tortuous executions. One of the more famous victims is seen today in his towering statue in the middle of the square. Giordano Bruno, a philosopher and Dominican Monk, was burned alive in 1600 for heresy.  In 1888, his bronze statue was erected at the exact spot of his execution, in a very deliberate position facing the Vatican.
Today, Campo is the only piazza in all of Rome without a church.  You can shop fresh produce as well as various trinkets in the market from Mon-Sat, 7am-1:30pm. Ignore the hustlers outside the restaurants lining the square and make a beeline for Obicà, a mozzarella bar.  Yes, you read that right.Because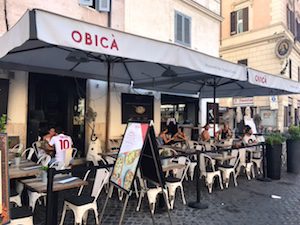 there's nothing better than fresh mozzarella from Campania,
I'd say order one of everything.  But, the absolute highlights are a cheese tasting, the focaccia, and one of their meat plates. To top of possibly the greatest lunch of all time, you can order a dessert tasting menu. Life is just that good.
Obicà:
Address: Piazza Campo de' Fiori 16 | Hours: 7:30am-2am daily | Website | Price: $$ | Tel: +39 0668802366
---
5. Piazza della Madonna dei Monti
The hip, and hipster, Monti neighborhood is tucked behind the Colosseum, and this appealing square is at its focal point. The fountain is the main attraction and serves as a resting/meeting point. At all hours of the day you can see people refueling on a panino or extra scoop of gelato and resting on the steps of the fountain, which was commissioned to Giacomo della Porta by Pope Sixtus the Fifth Peretti in 1588.
In Ancient Rome, Monti was the Suburra, a low-class slum with a shameful reputation.  In the 1930's, it emerged as an artist hub and has continued to be a place full of local artisans, village-like atmosphere, and about as cool and charming as it gets.

When lunch time rolls around, sink into the comfortable atmosphere of Gli Angeletti.  It's located on the back side of the piazza. While you still get a good and shaded view of the square, you're not getting pulled into the overly touristy options. Start with the rotoli di melanzane grigliate con crema di ceci (rolls of grilled eggplant with chickpea cream) or one of the multiple types of lasagna, all made in house.  If you're feeling adventurous, try the tris cucina romana, Roman tripe, pork rinds, and beans in a beef stew with porcini. For a view of the piazza make sure you ask for a side terrace table.
Gli Angeletti
Address: Via dell' Angeletto 3 | Hours: 12pm-12am daily | Website | Price: $$ | Tel: +39 064743374
---
6. Piazza di Pietra
Pietra translates to stone, which is fitting seeing that t
he square holds the massive Temple of Hadrian built in 144 AD. Not much of the temple remains today, just the impressive 11 Corinthian columns.  In 1696, Pope Innocent XII had the surviving parts of the temple incorporated into a building to house the Dogana di Terra. It was a customs office for all goods arriving in Rome by ground transport. Now, the building hosts various business events and conferences.
The piazza is surrounded by bars and restaurants, my favorite is Gran Caffè la Caffettiera. Imagine an elegant, old-world café decorated with dark wood and floral wallpaper.  The ambiance paired with the incomparable view of ruins makes it an ideal place for a leisurely lunch, of course complete with coffee and tiramisu.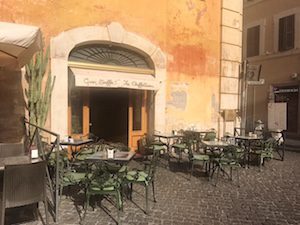 Before you satisfy your sweet tooth, splurge on one of their tempting meat and cheese platters- prosciutto crudo con melone e fichi (prosciutto with melon and figs) is particularly lip-smackin' good. There are also several vegetarian options like la parmigiana di melanzane (eggplant parmesan) and la parmigiana di zucchine.
Gran Caffè la Caffettiera
Address: Piazza di Pietra 65 | Hours: Mon-Fri 7:30am-9pm, Sat 8:30am-9pm, Sun 9am-9pm  | Website | Price: $$-$$$ | Tel: +39 06679814
---
Discover More
Enjoyed what you read? Spread the word! And don't forget to follow us on Facebook, Twitter, Instagram and YouTube for some inspiring images and ideas for visiting Italy!
Up next: find the best places to eat in Florence and Venice.
See you soon travelers!