Located around the city of Florence are hundreds of gelato shops, known as gelaterie, with flavorful, creamy gelato choices. Each gelateria specializes in its own traditional flavors, sizes and prices. Picking the perfect place to treat yourself after a memorable afternoon or evening in the lively city of Florence may seem like a daunting task. We've got you covered. Here's a guide to the best gelato in Florence to satisfy your sweet tooth cravings.
---
History of Gelato
The creation of gelato came from none other than the heart of Florence in the 16th century. Although the history of gelato is incessantly debated, many accredit the invention to Bernardo Buontalenti, who lived in Florence during the reign of the Medici family. Buontalenti was a jack of all trades, with significant influences on late Renaissance work through stage and theatrical design, art, math, architecture and military engineering.
When Cosimo I de' Medici, the Grand Duke, called upon Buontalenti to arrange a formal gathering for his Spanish guests, Buontalenti whipped together a new, velvety dessert. This sensational creation included ingredients such as lemon, bergamot, oranges, salt and sugar. However, this wasn't all. The royal family was primarily impressed with one key feature: the dessert's chilled nature. Buontalenti devised underground rooms to conserve ice and used this to dazzle the royal family's minds and stomachs.
The sweet, chilled delicacy quickly rose to fame and revolutionized many desserts in and around Italy, from Florence's renowned egg cream to ice cream and a variety of frozen treats around the world.
Best Gelato Shops in Florence
Where can you find authentic gelato in Florence with such an inundation of places around the city? Many gelaterie endorse their savory, rich flavors as the best, but only few stand out above the rest.
Edoardo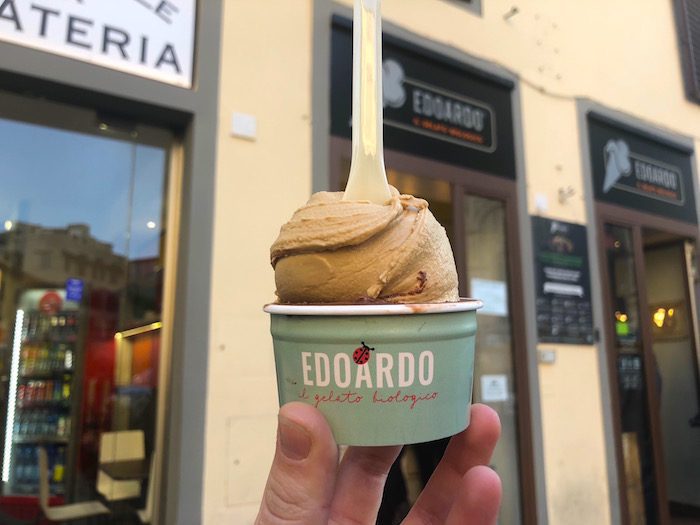 With hundreds of online reviews and travelers raving about their gelato, no wonder they are the first gelateria listed in this guide. Located at the Piazza del Duomo, Edoardo is renowned for their consistency of the gelato, "specialties of the day," and fresh, handmade cones.
If that isn't enough, their bountiful assortment of Florence vegan gelato options and organic ingredients attract customers from all over. As indicated on their website, their organic gelato promotes their efforts to act sustainably while delighting customers with heavenly flavors such as chocolate and hazelnut, honey and lavender, pistachio, and the Italian classic, stracciatella.
Customers are given the choice of a cup or cone for their gelato. Despite the option chosen, customers will experience the best quality gelato for the best price and size. Edoardo is a must-try for those looking for fresh, authentic gelato in the most central location.
Location: Piazza del Duomo 45/r Hours: Every day from 11 a.m. to 11:30 p.m.
La Cattedrale Bar Gelateria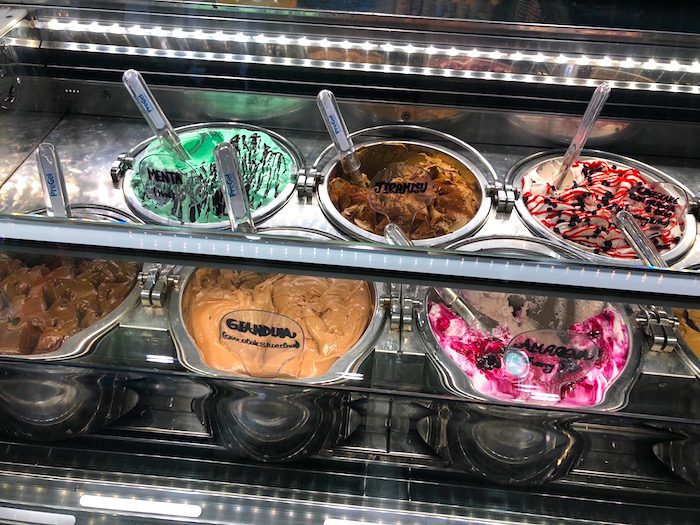 As the next-door neighbor to Edoardo, this gelateria triples as a bar and a pastry shop. While visiting the Duomo for an afternoon or evening stroll, La Cattedrale Bar Gelateria is the perfect stop to sit-down, relax and enjoy time with friends or family. Customers craving both gelato and other goodies can treat themselves to freshly baked pastries from the gelateria's pastry staff. With ice cream cakes, parfaits, mousses and scrumptious mini-pastries, the options are endless.
To start, customers choose between a cup or one of their several handmade cone options, from chocolate to hazelnut-coated cones. To top off any gelato, they offer crunchy options, such as hazelnuts, flaked almonds and grains, and sweet options, such as whipped cream. All of these ingredients are refreshing and substantial, leaving customers happily satisfied with their gelato experience.
Their cheerful, lively ambiance is complete with colorful wallpaper and table settings, a friendly staff and vibrant cup designs.
Location: Piazza del Duomo, 43/44 r Hours: Every day from 9 a.m. to midnight
Gelateria dei Neri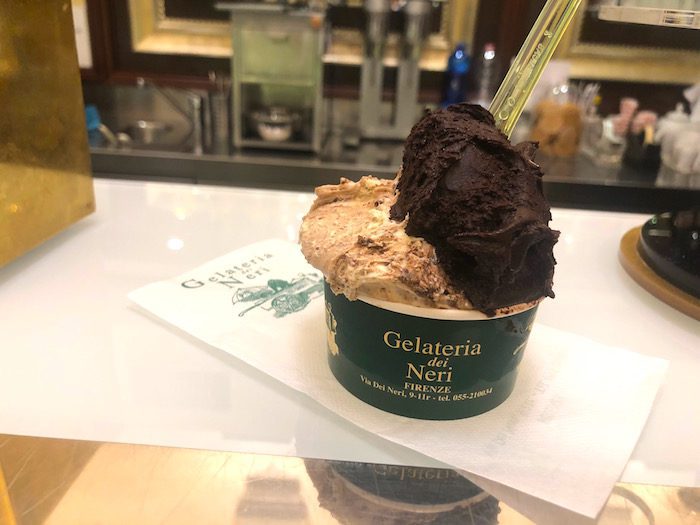 This gelateria offers an endless quantity of unique, savory flavors in a myriad of sizes. Located on the same street as Florence's most famous sandiwch shop, All'Antico Vinaio, Gelateria dei Neri provides an authentic taste of Italian culture. From caramel, cheesecake, passion fruit and Nutella to the classic chocolate, dark chocolate and pistachio, this shop has almost every flavor imaginable. It's worth trying a few flavors to discover some hidden gems in the mix.
They are also one of the sweetest deals due to their pricing. Luckily, customers can request many different sizes from a range of prices, all starting at roughly 2 euros. This allows customers to find the perfect size to meet their needs (and their stomachs)!
In addition to gelato, they offer granita, which is a frozen dessert similar to an American "Italian ice." This delicacy is the perfect summer treat for those looking for the taste of fresh, fruity goodness.
Location: Via dei Neri, 9 Hours: 10 a.m. to midnight Tuesday to Saturday, 10:30 a.m. to midnight on Sunday, closed on Mondays
Amalo Gelato e Passione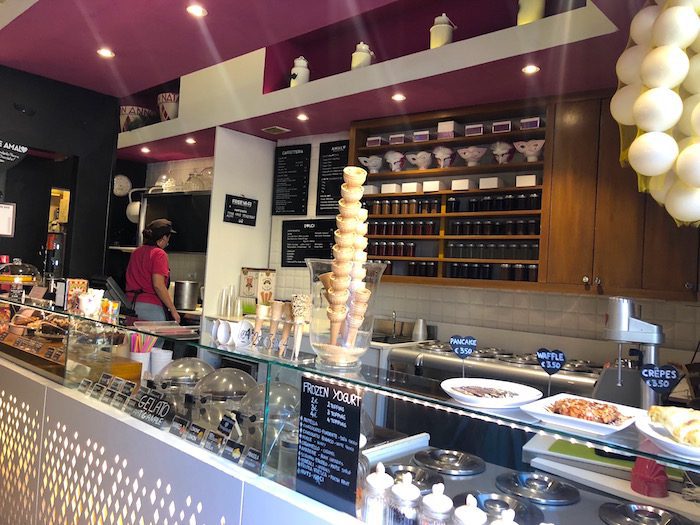 High-quality ingredients, organic farming and authentic gelato are key features of this next location. Amalo Gelato e Passione combines their love for gelato in their production of classic Italian gelato favorites, such as mango, coffee, pistachio and strawberry. Their love for the Italian treat goes beyond their flavors and enters the realm of ambiance and decoration. With pink "I love gelato" signs, a life-size plastic gelato, and a heart in their logo, their entire production exudes their creative passion for delighting their customers.
Beyond gelato, customers can find homemade cappuccinos, muffins, biscotti and crepes at this quaint shop. Even better, there are multiple locations—one in Florence and two in Milan—that customers can visit while staying in Italy.
For a charming, delicious gelato experience, consider Amalo Gelato e Passione as your go-to place.
Location: Piazza Gaetono Salvemini, 2 Hours: Every day from 9:30 a.m. to 1 a.m.
Gelateria de' Medici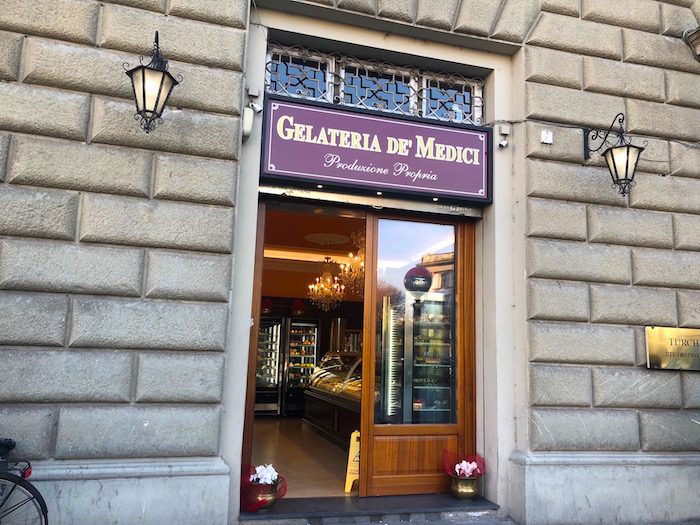 Elegance, class and style flawlessly describe this last gelateria in Florence. With chandeliers, marble counters and candle holders, Gelateria de' Medici allows customers to experience the exclusivity and high-class emanating from the Medici family in the 15th century. Similar to the decorations, the gelato is exquisite, with each bite better than the one before it. Customers are welcomed to try a myriad of options before selecting their desired flavor, and the warm, friendly staff is available to answer any questions about their options.
In addition to gelato, they offer traditional cakes and delectable pastry options, all created with mouthwatering ingredients and decorated with scrumptious toppings.
However, don't let the upscale atmosphere fool you—the prices are inexpensive and perfect for the quantity of product served.
For a luxurious, reasonably-priced gelato experience, choose Gelateria de' Medici as your next stop.
First Location: Via dello Statuto, 3/5r Hours: 9:30 a.m. to midnight Tuesday through Friday, 9:30 a.m. to 12:30 a.m. Saturday and Sunday, closed on Mondays
Second Location: Piazza Cesare Beccaria, 7r Hours: 9:30 a.m. to midnight Tuesday through Thursday and Sunday, 9:30 a.m. to 12:30 a.m. Friday and Saturday, closed on Mondays
Gelato Fun Facts
Congelato in English translates to "frozen."

Northern Italians feast on gelato with fruit, milk and sugar. The sorbet variety without milk stems from Southern Italian influence.

Is gelato healthy? Gelato is a healthy alternative to ice cream. Gelato consists of roughly 3-8 percent fat while traditional ice cream consists of 10-17 percent fat.

Italians store gelato at a whopping 5 to 10 degrees warmer than American ice cream.

If a gelateria serves gelato using a scooper, the shop is not authentic. Typical Italian gelaterie use paddles to serve their customers.
Hey, we sell tours too!
While the information we provide here is free, we also sell tours at pretty reasonable prices. After a exploring the city on one (or hopefully more) of our Florence tours, it's time to kick back and enjoy some authentic Florentine cuisine. We highly recommend our Florence Evening Food Tour, where you can explore the more local areas of Florence with an expert foodie guide.

---
I Want More Italy!