Every country has their seasonal produce king.  In the United States, people celebrate pumpkin from their coffee to Oreo flavor. However, the most anticipated treat in Italy are mushrooms, in particular porcini.  Italians don't go to extremes with their autumnal treats like in the good old USA, but I think we can agree that the authenticity and freshness is better. That's right, no mushroom flavored dishes here! Instead, they hunt and gather their porcini and use them in savory pasta, risotto, or soup dishes.
---
Porcini Culture: Italy's National Treasure
There is a boom of funghi porcini starting at the very end of August and lasts until the intense frost arrives, usually at the end of October.  However, the season can vary year to year, or even region to region, depending on rainfall, sun, and frost. But, there is one thing that all these regions have in common.  During these months, "the search" becomes a national pastime and topic of conversation at the local bar over the morning cappuccino.
While you find porcini in many regions of Italy, the most fruitful are in Tuscany, the hills that straddle Emilia-Romagna, Piedmont, the Alto Adige (near Austria), Umbria, and the Montello hills in the Veneto region. The markets revolve around this main act and pile the porcini high in baskets, dirt still clinging to their stems.  Restaurants in small towns and cities start to post signs featuring daily specials with porcini. However, be wary of ones with baskets of porcini tempting you at the entrance- they are most likely tourist traps. If you go to the countryside you may even see roadside stands with the farmers and family selling their porcini. Needless to say, Italians know how to celebrate their seasonal treasure.
There are many recipes out there for a traditional Italian porcini pasta, but some of them are simply stealing the crown.  So, I decided my Italian boyfriend's mamma was the perfect choice to find the real deal. I didn't know she had a family recipe from her nonna so I struck gold and knew I had to share the wealth with you.  So here it is: Mamma's authentic autumn recipe of pappardelle ai porcini.
---
Ingredients:

Yields: 4 servings
1 pound pappardelle
1 pound mixed mushrooms, stems removed and sliced. *Mamma used mostly porcini with some cremona and a pack of prepared wild varieties at the supermarket.
4 tablespoons extra virgin olive oil
1 medium Spanish onion, finely chopped
2 cloves garlic, finely chopped
1/2 cup dry white wine. (or veggie broth)
2 teaspoons thyme, freshly chopped
1 teaspoon fresh lemon juice
2 tablespoons parsley, chopped
salt and freshly-ground pepper, to taste
Parmigiano-Reggiano, freshly grated, for serving
---
Method:
1. In a large sauté pan, heat the extra virgin olive oil on high until it is smoking.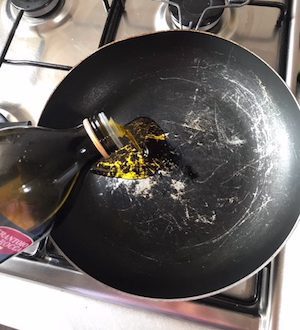 ---
---
Discover More
Share your pasta night with us and follow along for more adventures on Facebook, Twitter, Instagram and YouTube!
Up next: Plan your Italian American Thanksgiving with these traditional recipes and learn about Rome's newest wine tasting experience.