With a city that holds as much history as Rome, it's no surprise that the past is also found in its shopping, or treasure hunting as I like to call it. The city is jam-packed with vintage and second hand shops that hold as much mystery, magic, and appeal as the tales of Rome itself. Enjoy the thrill of the chase of sifting through racks, and walk out of the shop with a truly unique item, creating a new story for both you and your new treasure. That's the joy of vintage shopping. We've trotted the cobblestone streets and made our way through the buckets and racks to bring you a complete list of the best vintage stores in Rome. Let's shop till we drop!
---
1. Twice Vintage Shop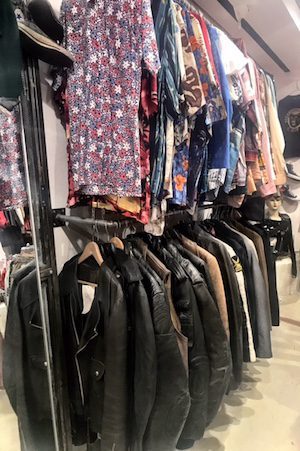 Twice is the brainchild of two like-minded individuals who wanted to create a masterpiece together. After meeting his now business partner and girlfriend Tania on a trip to Rome, Brando decided to close their respective shops and collaborate on a new project: Twice. You'll find a truly comprehensive selection of merchandise, keeping up with the modern trends from rustic American to high-end designer. From trendy and functional sportswear, military gear to preppy sundresses, Twice puts in the hours in selecting the right merchandise for their customers. When asked about their "unique factor", cheerful Brando smiled and said: "There is a different style here.  It's not a shop of just the 60's, 70's, or 80's.  There are clothes and accessories for every age and style from sports to work. Trends are cyclical, and we keep up with the modern looks created with pieces
from the past."
Via di San Francesco a Ripa 7 | 11am-8pm daily | Website | $$-$$$ | Phone: +39 065816859
---
2. Wynwood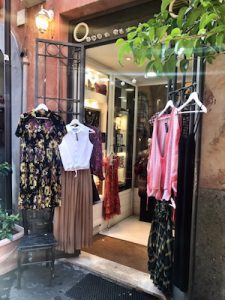 A tiny space with big character, Wynwood opened about five years ago. It's an artistic blend of one-of-a-kind handmade pieces by the owner, and vintage pieces she's collected.  Her handmade items are shown with a specific removable tag, and explain that there is only one of its kind. Mixed in the organized racks are pops of color, intriguing patterns, and a vintage chicness that will transport you to Paris circa 1940's/1950's. One of their employees took a break from styling a customer to speak with me for a few minutes.  With a giant smile of her face and an evident passion for her job, she said: "There is a mix of of tourists and locals that come in here, but I really enjoy speaking with the tourists and discovering their different tastes.  It's a beautiful thing to discover what they like."
Via di Santa Dorotea 22/a | Sun-Thurs 10:30am-8pm, Fri-Sat 10:30am-9pm | Website |$$-$$$ | Phone: +39 065881660
---
3. Omero & Cecilia Vestiti Vecchi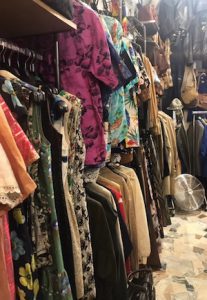 The name of the shop explains it all: vestiti vecchi means old clothes.  Husband and wife, Omero and Cecilia, don't just collect used clothes, they hunt and gather old wearable art with styles that you simply can't find in mainstream shops nowadays. In telling me about Omero's trip to Texas years ago and the inspiration he drew from the rustic American style, Cecilia chuckled and said, "Yes, he's the only cowboy in Rome". Omero wanted to show me one of his favorite pieces in the shop- a Gucci bag with brass accents, hand sewn from the 1950's. "Now the younger generations don't come in here that often because they don't recognize the style.  We don't show brands, we show looks, we show styles.  Now you can recognize Gucci bags only by the label thrown across them.  This is different. This is something that you can't find anymore.  We know because we are older and have the styles of the past. Adesso non c'é la cultura, amore mio ". (There isn't the culture anymore sweetie.)
Via del Governo Vecchio 110 | Mon-Sat 10am-8pm, Sun 12-8pm | Website |$$-$$$ | Phone: +39 066833506
---
4. Cinzia Vestiti Usati

Cinzia studied fashion design and opened this eclectic showcase in the 80's with her husband Elio. Not a space goes uncovered with their vibrant selection of clothes and accessories, all chosen from various warehouses and markets in Italy.  Blazers, cocktail dresses, athletic gear, high-end designers are mixed in with no-label pieces. Walking me around his shop he stopped near a rack of dresses and told me he had to explain something very important: "I love the relationship between the customer and the piece.  When they find a dress from let's say the 60's, and you see their expression and you're able to remember the original story of the piece and then create your own story with it, I get goosebumps.  It's not important if they buy it or not, that's doesn't matter. What's important is the experience."
Via del Governo Vecchio 45| Mon-Sat 10am-8pm, Sun 2-8pm | Website | $$-$$$ | Phone: +39 066832945    
---
5. Porta Portese Flea Market
This isn't so much one shop as it is a glorious collision of all of your vintage dreams. Every Sunday, the biggest flea market in Rome puts on a show of thousands of stalls! Selling everything from vintage clothes, household products, jewelry and accessories, designer knock-offs and miscellaneous treasures. Although I have found tons of high quality, low price pieces here, my favorite is a perfectly baggy cashmere cardigan with leather argyle detail that I bought for €5.  For the best deals and smallest crowds, get there first thing in the morning or right before they close up. As is true for any crowded area in a city, keep an eye on your belongings.
Via Ippolito Nievo and Via di Porta Portese are the two starting points | Sun 6:30am-2pm (some stalls will close a bit later) | $-$$$
---
6. King Size Vintage

Starting from just a great vision and a booth at Porta Portese, King Size is a massive collection of vintage men's and women's wear and accessories. Their research and gathering from European vintage markets, as well as incorporating a West Coast American flare has seen King Size happily making the dream of vintage lovers come true for about seven years.  Their focus is on pieces starting from the mid-1940's and ending in the first half of the 90's. One proud employee proudly boasted about his favorite part of his job. "Searching for the merchandise. We go to markets in and out of Italy and carefully hand select each item in the store. When someone sees something you've picked out and they walk out with a great piece that has a unique look and story, it's a great feeling."
Via Leonina 78/79 | 11am-8:30pm daily | Website | $-$$$ | Phone: +39 064817045
---
Discover More: