What comes to mind when you think of a trip to the Amalfi Coast? Luxury? Extravagance? Expensive? While this can certainly be true, don't let it discourage you. It's possible to travel to this beautiful part of Italy without blowing the bank. In this guide, we show you how to do the Amalfi Coast on a budget.
---
Pro Tip: Planning a trip to the Amalfi Coast? Bookmark this post in your browser so you can come back to it later. See our guide to the Amalfi Coast for more resources to help you plan your trip. Also, check out our article on how to visit Pompeii.
How To Visit The Amalfi Coast On A Budget
You don't need to be rolling in dough to be able to afford and make the most out of your trip to the Amalfi Coast. With a bit of planning and patience, you'll get to experience one of Italy's (and Europe's) most gorgeous coastlines. To help you do that, we've put together this guide covering everything you need to know to visit the Amalfi Coast on a budget.
Our Partnership with Booking.com. If you like our content, please book by clicking on our Booking.com links. The price is the same for you and we get a small commission that helps support our helpful blog content. We've partnered with Booking.com because they have the most options, great prices, and a solid loyalty program.
When To Go
The Amalfi Coast is high up on many people's summer destination wishlists for good reason. But here's the thing: If you want to go to the Amalfi Coast for cheap, avoid going during the high season (May 15th to October 10th).
I know, it can be a hard pill to swallow. The weather won't be as warm and you probably won't be lounging on the beach. But consider a late October or April trip if you want to enjoy this incredible place on a budget. Besides saving you money, you'll also get to enjoy your trip without the summer crowds and see what life is like on the Amalfi Coast for locals.
I went to Positano in the last week of March with my family and we stayed at a 4-star hotel in an amazing room with a balcony and beautiful view for $175/night. The weather was sunny, and even though we sat on the beach in sweaters we weren't at all cold. There were tons of locals out and we had an amazing time. We had the town to ourselves.
How To Get There
You can get to Sorrento, Positano, and other places along the Amalfi Coast by public transportation. So, unless you're taking a private car from Rome or Naples, a great way to save on expenses is to take advantage of the local trains and buses. Another option is to tie your transport needs in with the tours you're taking.
By Train
From Rome or Naples, take the slower train for as little as €12, which will get you there in about 2 to 2.5 hours. The fast train normally costs about €50 and takes an hour. Trenitalia and Italo are the two major train providers in Italy.
To get to Sorrento from Naples, hop on the Circumvesuviano, which is a small regional train. This will cost you another €4 per person.
By Bus
Once you're in Sorrento, my recommendation is to stay there for one night and one day before heading off to picturesque Positano for another couple of nights. To get to Positano, catch a bus via Sita bus. Buses leave about once an hour and will cost you around €4 to €7 (depending on if you want to take the bus farther than Positano).
By Tour Transport
Another option is to tie transport to your Amalfi Coast accommodation to a tour. If you're coming from Rome, we can tie your transport to the Amalfi Coast to a day trip to Pompeii and Sorrento from Rome, which costs roughly €170 per person.
The tour stops in Sorrento after Pompeii and some people arrange transport from Sorrento to their Amalfi Coast accommodation. You can organize secondary transport through your accommodation or we'll arrange it for you—wherever you can find the best price!
This is a great way to get from Rome to the Amalfi Coast and skip the line to see Pompeii followed by a lovely afternoon in Sorrento.
Tours of Capri & Pompeii
Best Selling Tour
Join us on an adventure from Rome to Pompeii and stunning Sorrento with comfortable, round-trip transportation. Skip the line access with an expert guide and make the most of your time in Italy and leave all the details to us. All you have to do is enjoy yourself!





See Prices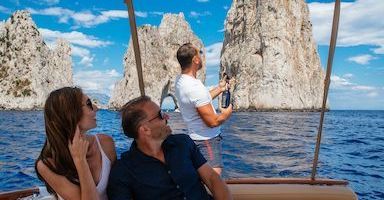 Amazing Experience
A full-day private boat tour to Capri from Amalfi, including the Island of Capri, is the best way to experience this world-famous coastline. Arrange a personalized boat tour along the Amalfi Coast and create unforgettable memories of Italy.





See Prices
Not ready to book a tour? Check out our Amalfi Coast Guide for more info.
Where To Stay
When it comes to choosing where to stay on the Amalfi Coast, Positano and Sorrento are popular choices. Positano is the most happening place on the coast with a great beach, and Sorrento, while not officially on the Amalfi coast, is the largest town in the area with Amalfi vibes and accessible by train from Naples.
But for those on a budget, I have another recommendation: Maiori and Minori—two small towns with a local feel, great food, and inexpensive accommodations. Maiori is the Amalfi Coast town for insiders. It's away from international tourism and close to the best beaches in the area. Here, you'll pay much less for your accommodation and find great restaurants with seriously authentic food.
Club 2 Torri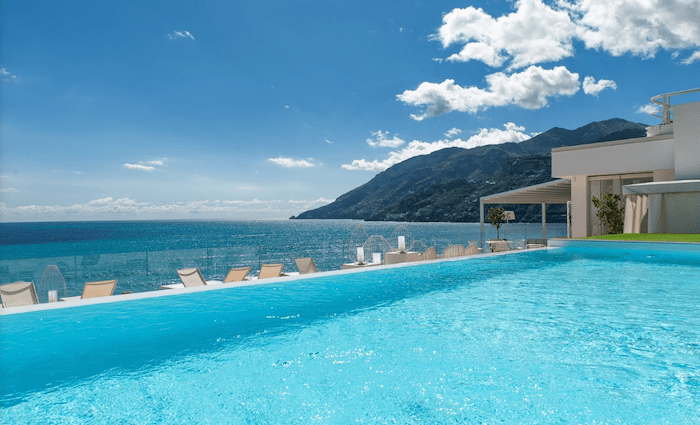 €€ | 4 Star | Maiori
This is my number one pick for Maiori for the price, location, and amenities. Beautiful hotel at a great price with a nice vibe to it. Most rooms come with private balconies for a luxe experience at a great price (especially off season).
Villa Isabella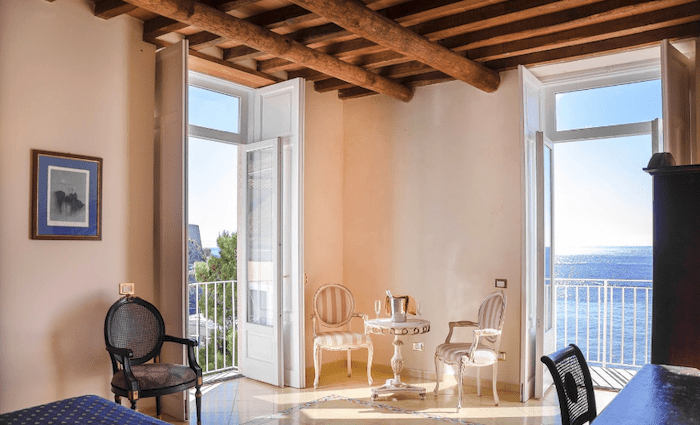 € | Guest House | Great Views and Wood Ceilings | Minori
Quaint and economic guest house with characteristic charm and stunning views. You're just steps from the beach here, and the rooms have wooden beams on the ceiling that make it feel cozy.
Hotel Ravello Art Marmorata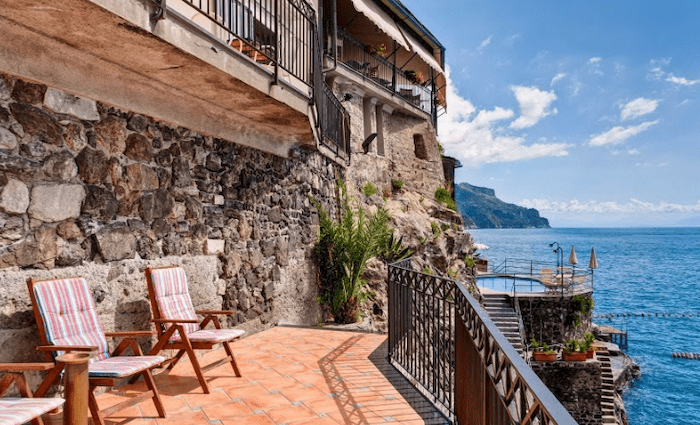 €€ | 4 Star | Pool Between Maiori and Amalfi
Reasonably priced and nice cliffside hotel with a hydromassage pool. The restaurant serves breakfast, lunch, and dinner, so you could spend your entire day here enjoying sea views that are unforgettable.
When planning your trip, make sure you book ahead. The Amalfi Coast sells out from May 1st through October 10th. So, to avoid disappointment, lock in your accommodation early. We recommend using apps like Booking.com and others to find accommodation. Trust the reviews about views and proximity to the beach.
As we mentioned earlier, the most budget-friendly time to go is just before and after the high season. But if your heart is set on a summer vacation, here are some minimum prices for the high season:
Bed and breakfast: €100/night
Cheap hotels: €120/night
Decent hotels: €200/night+
Nice hotels: €300/night +
Best hotels: €700/night+
Things To Do
Whether you're looking for a relaxing vacation or a bit of adventure, there's plenty to do on the Amalfi Coast. Here are some budget-friendly ways to enjoy Sorrento and Positano.
In Sorrento:
Head to Peter's Beach to enjoy a small beach and a sunbathing platform for free—perfect for a quick dip!
Visit the centrally-located Cathedral of Sorrento free of charge.
Stroll down the narrow streets of old Sorrento and admire the colorful buildings and shops. Walking around the main town won't cost you a dime—unless you're one for souvenirs. In which case, negotiate!
For a quick bite to eat, try a panino at Sorrento's best: N'hambu for about €8.50
Fancy a day trip? Ferries to Capri are quicker and cheaper if you take the day trip from Sorrento instead of Positano. The 25-minute ride will be about €20 to €25.
In Positano:
Looking for the perfect spot for your first Positano Instagram post? Casually stroll into the fancy Le Sirenuse and ask them if you can take a quick snap from the lobby balcony. They're very friendly and generous with their stunning viewpoint—it won't cost you a dime!
Skip the touristy main beach and take a 5-minute walk around the corner from the Hotel Covo dei Saraceni to the more hidden Spiaggia Fornillo. This is where you can catch the sun rays for free with the other insiders.
Where To Eat
There are so many great restaurants on the Amalfi Coast. But to help you dive into the local cuisine without sacrificing an arm and a leg, here are some recommended places to eat and what to try there.
In Sorrento:
In Positano: