When you think of Venice, you think of gondolas. The allure of this peculiar means of transport attracts millions of tourists every year wishing to take an unforgettable gondola ride. Here is all you need to know before taking a Venice gondola ride.
---
Hey, we sell tours too!

While the information we provide here is free, we also sell tours at very reasonable prices. When most people visit the Floating City, they often only stay for a day or two. This means you must really use your time wisely, as Venice provides tons of things to do and see. Discover our guided tours that will help you explore the city, learn its rich history, and make the most out of your Venetian vacation. We even have a Venice Highlights Tour that includes all the main attractions as wells as a picturesque gondola ride!
History of Venice Gondola and Gondolier
Before the gondola became the symbol of Venice and romanticism, it was just a boat and gondoliers were simple boatmen. We know what ancient gondolas looked like from some of the local paintings. From the 15th Century, they acquired the shape we recognize today. Riding this new special boat was considered an art and needed special training, so the figure of the gondolier arose. In fact, in Venetian dialect "gondolier" actually means "rowing master." With the rising popularity of gondolas, gondoliers became important for society and received many benefits. Today, becoming a gondolier is not that simple. The City of Venice only awards a very limited number of licences per year. That's to make sure gondoliers are not just rowers, but also knowledgeable storytellers and Venice history experts.
Why You Should Take a Gondola Ride in Venice
You'll find many comments on the internet saying gondolas are overpriced scams. Although some visitors might have had negative experiences, we assure you a gondola ride will make for an unforgettable memory of the Floating City. It can be a bit pricey, but definitely still a treat while on a romantic holiday. Taking a gondola ride is also a relaxing alternative to a water taxi and a way to find hidden gems and canals in Venice.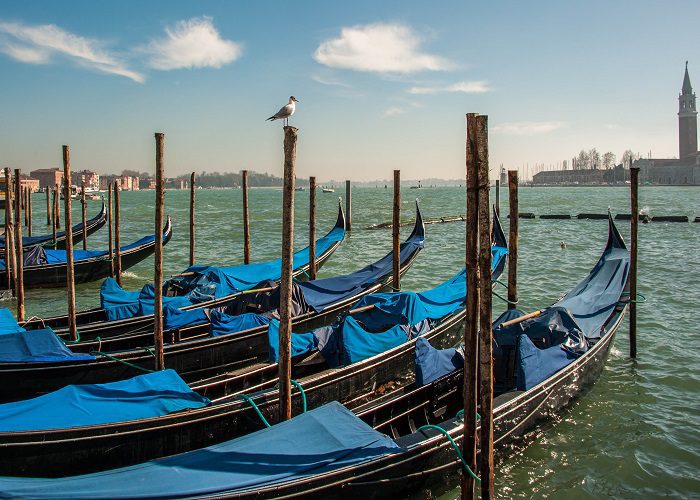 How Much Does it Cost to Take a Venice Gondola Ride?
This is a very common question among travelers visiting Venice. In fact, some gondoliers may try to inflate the price a bit when confronting confused foreigners, so here's some guidance as to how much you should pay. The day time rate for a 35-minute gondola ride is around €80, no matter the number of people. Keep in mind the maximum amount of people per gondola is 6. If you're on a romantic getaway, this could be the perfect treat or gift for your loved one. If traveling with the family instead, a higher number of people will divide up the price a bit more There is also a chance for solo travelers to enjoy a scenic gondola ride without draining their wallet. You can either embark on a Venice Highlights Tour and get a whole Venice Lagoon experience, or share the gondola with other solo travelers.
It's not uncommon to find other visitors looking to split the bill at the main gondola docks. Another tip is to settle on a price with the gondolier beforehand in order to avoid unpleasant surprises. Another picturesque way to see Venice is to take a night time gondola ride. The night time rate goes up to €100, but it's worth the magical atmosphere and surroundings. Take note  that this price is begins at 7 p.m. All of the rates are approved and regulated by the State and should be observed in any situation.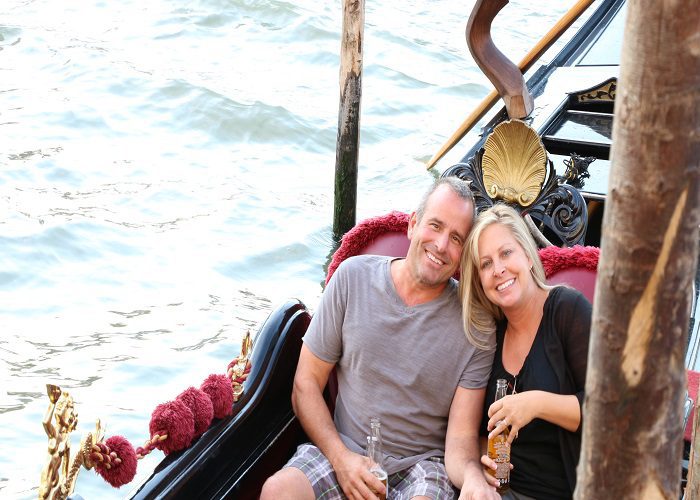 Venice Gondola route maps and main itineraries
Now that you have all the essential information, it's time to go for a ride. These are the most popular and breathtaking Venice gondola routes to try on your holiday:
Hotel Danieli Venice Gondola Itinerary (35min)
This is the perfect route for Venice first-time visitors as it covers all the most evocative and fascinating spots of the Floating City. You'll find the gondola dock in front of Hotel Danieli, next to the Ferry boat stop 1 "San Zaccaria". You'll ride though the most ancient canals of the city, pass under the famous Bridge of Sighs and cruise the central districts of Rio di Santa Maria Formosa and Rio di San Severo.
Traghetto Dogana Venice Gondola Itinerary (35min)
Another popular Venice gondola dock is situated on the Grand Canal in front of Harry's Bar Cipriani, a few steps from St. Mark's Square. On this experience, you'll feel like a movie star while cruising Canal Grande and passing famous landmarks such as Chiesa della Salute and Palazzo Cà Dario. You'll also explore narrow canals to spot Teatro della Fenice and the historical Mozart House.
Bacino Orseolo Romantic Venice Gondola Itinerary (35min)
If you're on a romantic holiday, this could be the perfect Venice gondola route map to follow. The itinerary starts at Bacino Orseolo, not far from St. Mark's, and goes through the quiet and scenic Rio dei Barcaioli and Rio dell'Ovo. It then reaches Canal Grande with a magnificent front view of the Rialto Bridge!
---
I Want More Italy!