With a destination as admirable as Florence, you wouldn't expect the city to consist of so many hidden gems.  That's the indisputable charm of Italy, though.  No matter how well you explore a place, there's always something more to discover.  Here are 8 recommended things to do in Florence – off the beaten path!
---
1. Giardino Bardini
Lesser known than the popular Boboli Gardens but just as beautiful (if not more) is the Giardino Bardini: a Renaissance garden complete with stunning baroque staircases, grove of olive trees, a tunnel full of vibrant and fragrant wisteria and the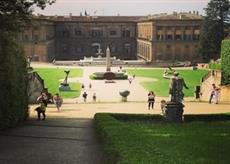 finest view of Florence out there.
The Mozzi family originally owned the garden in the 13th century. The famous antiquarian Stefano Bardini took over the garden in the early 20th century.
Upon entering the garden grounds, you climb a gravel slope to the top.  Your reward is a panoramic view overlooking the Duomo and cityscape framed by fresh flowers and greenery. Arriving at the entrance is a bit off the beaten path, as well.
Crossing to the other side of the Arno River is a magical portal to a less crowded side of the city. Try to get there first thing in the morning when the temperature is still fresh. If you're so inclined, you can visit the Bardini Museum where the remaining antiques of his collection are showcased.
Costa San Giorgio 2 | Tues-Sun 10am-7pm, ticket office closes at 6pm | Website | Tickets €8 | Phone: +39 055 2638599    
---
2. Mercato di Sant'Ambrogio
When exploring markets in new cities, you can often find local food and antique treasures.  Of course, for this to be true, you need to find the local markets that don't cater towards travelers.  Mercato di Sant'Ambrogio is the perfect example of this.  Located about 15 minutes from the Duomo, it's far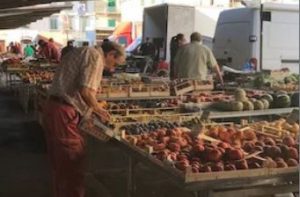 enough out of the "center circle" that you won't just fortuitously stumble upon it.
There is an indoor section with fresh cheeses, meats, produce, and even a few sit-down restaurants.  Outside circling the interior you'll find more fresh food stands but also clothing, ceramics, knick-knacks, jewelry, and other antiques.  Sometimes, you can even find a stand that sells all kinds of
Piazza Ghiberti | Mon-Sat 7AM-2PM | Website
3. Officina Profumo Farmaceutica di Santa Maria Novella
One of the oldest pharmacies in the world, it was founded in 1221 by Dominican friars. The pharmacy once used medicinal herbs grown in the monastic gardens to make medications, balms, and pomades for the monks' infirmary.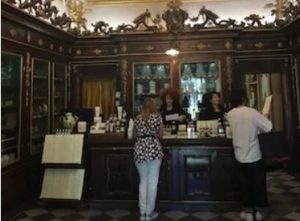 The pharmacy came into prominence in the early 16th century thanks to Catherine de Medici, the daughter of the most powerful family of Renaissance Florence. In honor of her marriage to Henry ll, the future King of France, the monks of Santa Maria Novella created a special perfume called Acqua della Regina, water of the Queen. You can still buy that same perfume, with the scent unchanged, under the new name of Acqua di Santa Maria Novella.
Today, you can walk around the various rooms and shop the oils, elixirs, perfumes, or simply engulf yourself with the potent fragrance of flowers and spices.
Via della Scala 16 | 9am-8pm daily | Website | Phone: +39 055 216276
4. Perseus with the head of Medusa

Smack dab in the middle of one of the most popular sites in Florence, Piazza della Signoria, is a true hidden gem. Aside from many people not knowing this treasure exists, it was designed to be hidden so I can equitably call it a "hidden gem".
The Perseus with the head of Medusa is a bronze statue sculpted by Benvenuto Cellini, and is considered one of the most important and impressive statues in Piazza della Signoria.  He began work on his masterpiece in August 1545 and finished it 9 years later.
Now, obviously a statue this famous needs something more to be a hidden gem.  After you get your fill of the front of the statue, walk to the back of it.  You'll see a face carved into the back of Perseus's head.  This is the self-portrait of Cellini himself. His face is carved with great detail and care, and can easily be missed unless you look for it.
The statue is located under the left arch of the Loggia della Signoria.
Piazza della Signoria | Website
5. Sei Divino
I know you've been wondering when the time for a glass of wine would come.  Wait no longer my patient and thirsty friends.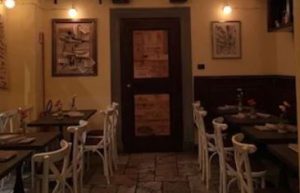 Sei Divino is a favorite among locals and expats, who share a priority in drinking quality wine with a knowledgeable and friendly staff recommending well-paired munchies.  If it's cocktails you're after, fear not.  The classic Italian aperitivo drink, the Spritz, is big in size and popularity. They are also known for reinventing other classics like the Negroni.
Via Borgo Ognissanti 42r | Wed-Mon 6pm-1am | Website |  $$-$$$ | Phone: +39 055 215794  
6. Medici Dynasty

Who doesn't love an exciting night out on the town paired with a theater performance?  The Medici Dynasty Show will take you through 300 years of Florentine history through the lives of the most famous and influential family to ever rule the city.
The Medici family ruled Florence for more than three centuries and this funny yet moving show will show you what happened behind closed doors. Plus, I just love the idea of seeing a show depicting Florence's past and then stepping out onto the streets of the modern city, still nurturing its precious history.
Via Faenza 48 | Show time 7pm | Website |  Regular tickets price €30 | Email | Phone: +39 3491310441 
7. Gelateria della Passera

Finding and recommending quality gelaterias in Italy is a passion with great responsibility, one which I do not take lightly.  Every day I see people stop at the first gelateria they see where the gelato screams artificial coloring and taste.  Not unsurprisingly, this mostly happens around the biggest sites.
Gelateria della Passera is located just a stone's throw away from the famous Ponte Vecchio, in a charming and quaint piazza with benches hosting locals reading the newspaper. Here, instead of paying €5 for a small cup of frozen food coloring, you'll pay the traditional €2 for a small cup of organic, handmade goodness, most of which is naturally vegan.  It's a tiny space, big enough for just one group to go in and order at a time, so enjoy the adorable piazza just outside while you savor the flavors of Florence.
Side note- this impressive gelateria has the highest rating (tre coni, three cones) for the Gambero Rosso award and has been included in the national Italian guide to gelateria's for 2017.  Congrats!
Via Toscanella 15r | Tues-Sun 12pm-12am | Website | $ | Phone: +39 055291882
8. Michelangelo's secret carving
In Piazza della Signoria, you can spot a hidden face carved right into the front of the building. Michelangelo used to spend time every day in the square. Legend has it that the same man stopped by to chitchat on a daily basis.  Eventually growing bored of this man's blabber, Michelangelo supposedly carved this character's face with his hand behind his back as he was pretending to listen.
We'll never know if that is true or not, but there is a face carved into the wall and I am inclined to believe that Michelangelo would do such a thing. Thoughts?
Palazzo Vecchio (facing the building, walk to the right hand side towards the Uffizi.  The face is eye-level)
---
Discover More
If you want to discover the hidden gems of Florence's food scene, check out our Florence Food Tours.
What are your favorite hidden gems in Italy? Follow along on our adventures and share your treasures with us on Facebook, Twitter, Instagram and YouTube!
Up next: Check out the 5 best places to eat in Florence.