A short trip outside of Rome will reveal many abandoned towns that are hanging on for dear life – adventurous travelers like you can visit them and take a look at days long gone. Volcanoes, fire, social upheaval and war have left these towns either uninhabited or sparsely populated today. See for yourself why these places are the top five most beautiful abandoned towns near Rome!
---
1. Civita di Bagnoreggio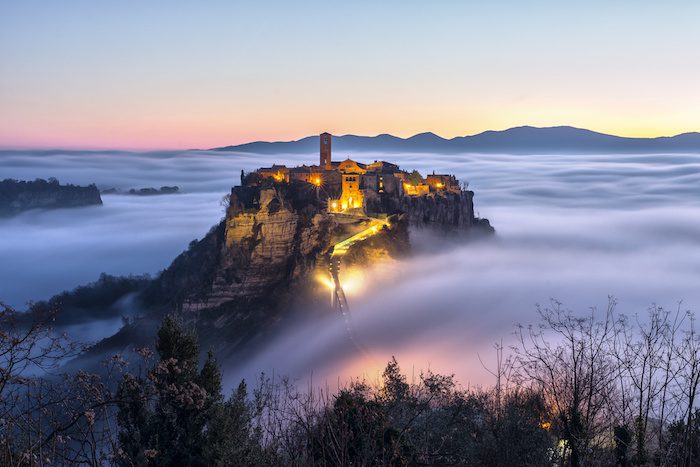 Under two hours from Rome is Italy's "dying city." With a population of less than 20, Civita di Bagnoreggio is nothing short of a magical journey through resilient civilizations that fought off natural disasters. My day trip here was by far one of the best I've had living in Rome. The easiest way to get to the ghost town is by car (it's about 100 km outside Rome). Alternatively, take Trenitalia to Orvieto then Cotral bus to Civita.
2. Rocca Calascio
In the central region of Abruzzo is an ancient hilltop fortress once used by the Medici Family. You won't find any people among the ruins of the fortress, just welcoming stray dogs and sheep. The locals had to abandon ship after a devastating earthquake in the 1700s. Quickest way to reach Rocca Calascio is by car. There is also a bus from Tiburtina Station in Rome- Tiburtina to L'Aquila to Barisciano (in the direction of Sulmona) to Calascio.
3. Giardino di Ninfa
Slightly south of Rome, in the province of Latina, rests an ancient trade civilization turned into a botanical garden. You'll experience the magic of medieval remains of castles, palazzos, churches, clock towers, and even ancient homes. All gracefully and strategically surrounded by bright flowers, towering trees, and gentle streams. To preserve the enchantment of the ancient city, all visitors are led by a trained guide only during predetermined days of the year. Instead of buying a ticket, you are asked to make a 12-euro contribution to help preserve the city.
Take a Trenitalia train from Termini to Latina station, about a 35-minute journey. From the station you'll take a taxi for about 5km to reach the entrance to the garden. Check the official website for opening dates.
4. Monterano



About 40 km from Rome is the ancient city of Monterano. A a place so destroyed by French forces that all its inhabitants left. A city that started in the Bronze Age, Monterano is now the backdrop of many films due to its effortless beauty atop a tuff hill with noteworthy ruins. To reach the ancient city walk through a protected reserve, a chance to have a park day combined with some unique sightseeing. Take a train to Canale Monterano then walk about 2 km through the reserve to reach the town.
5. Santo Stefano di Sessanio
Less than 2 hours from Rome sits Santa Stefano di Sessanio, a medieval town atop the highest section of the Apennine Mountains. The town made a name for itself during the Medici rule under a profitable wool trade. Subsequently, with the decline of the trade business, the population and economy were ruined. Then, in 2009, an earthquake hit and destroyed the Medici tower. To rebuild the town and increase interest, an innovative hotel started using original rooms throughout the town for its guests, including an old brothel and witches lair. Imagine wandering the maze of cobblestone streets, but also waking up in ancient times. That's a vacation to remember, folks.
Driving is the best option – about 1 hour, 45 minutes. Alternatively, take a bus from Tiburtina station to L'Aquila (make sure you get off at the AUTOSTAZIONE DI COLLEMAGGIO and then take a bus to Santo Stefano di Sessanio. Buying the bus tickets the day you travel of is not a problem so rest easy.