The tiny island of Venice counts 25 million tourists every year. Because of it, the tremendous traffic of travelers makes it impossible to find places that are not jam-packed with people. As a local, I can assure you Venice holds more secret corners that anyone will ever know… Keep reading to discover 5 must-see hidden spots in Venice tourists usually don't get to know!
---
1. Biblioteca Nazionale Marciana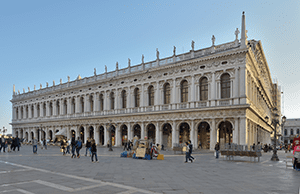 The Biblioteca Nazionale Marciana is one of the major national libraries in Italy, and the most prestigious in Venice. It was built in 1400 thanks to a significant donation by cardinal Bessarione. Consequently, Venice soon became the cultural heart of Europe, recognized all over the world for its heritage. Because of the outstanding architecture and interior, it definitely ranks among the best hidden spots in Venice. In addition, the collection of ancient greek, latin, and eastern manuscripts truly makes it invaluable! The Marciana is in St. Mark's Square, divided in two buildings, Palazzo della Libreria and Fabbrica della Zecca, both designed by architect Jacopo Sansovino.
Opening Hours: 10am – 7pm (from April 1st until October 31st). 10am – 6pm (from November 1st until March 31st). Closed on Sundays.
---
2. The Secret "Pala d'Argento"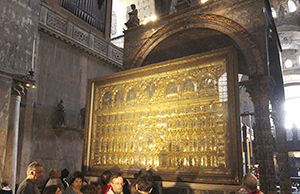 Thousands of people every day get to see the monumental Pala d'Oro, a golden work of art placed in St. Mark's Basilica. Yet, not even Venetians know of the existence of an equally marvellous Pala d'Argento, hidden in the close by Chiesa di San Salvador.
The Pala d'Argento is displayed only three times during the year, at Christmas, Easter and the Transfiguration, on August 6th. The rest of the year, "The Transfiguration of Christ" painting by Titian, hides it behind! Among the hidden gems of Venice, it might be the most unknown, as it is almost impossible to find pictures online! Seems like you must go and see with your own eyes!
---
3. Serra dei Giardini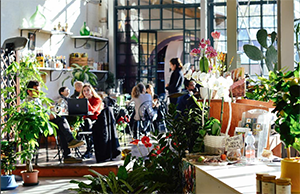 Caffè La Serra is a cozy secret spot in the middle of the Biennale gardens, concealed in an ancient greenhouse. This unique structure was built with a glass and iron structure to accommodate palm trees and decorative plants used during the International Exposition of Arts in 1895. Today, it is a cafe and flower shop. Furthermore, a local's favorite and a great stop to take a break after visiting the Biennale gardens!
Opening Hours: Tue, Thurs – Sat: 10am – 6pm. Wed and Sun: 10am – 1pm. Closed on Mondays.
---
4. Doge's Palace Secret Itineraries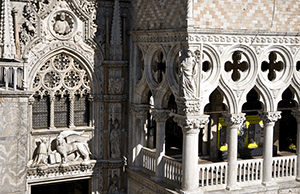 One of the hidden spots in Venice most people are unaware of is the underground part of Doge's Palace. General public can easily access the main floors on a daily basis or admire its Venetian architecture from the outside. Hence, few of them get to embark on a real adventure in a secret restricted area! Who would've known Doge's Palace hides old Venetian vicious detention cells, Pozzi and Piombi, and torture chambers?! Linked to the Palace's prison, the "Chamber of Torment", tells the story of the prisoners of 18th Century Venice. Most noteworthy, Italian adventurer and author, Giacomo Casanova!
If you're looking for a local Venetian guide taking you through time and history in Venice, take our Doge's Palace Secret Itineraries tour!
---
5. Atelier Pietro Longhi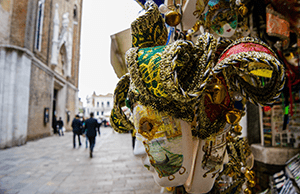 In the Frari area, Atelier Pietro Longhi is the most popular address among locals for historical costumes and masks. Artist and tailor, Francesco Briggi, still crafts by hand the unique reproductions of traditional Venetian gowns by studying original paintings. In addition, every year during Carnival, the Atelier hosts a secret hot chocolate party in one of the most sumptuous palaces in Venice, the Nani Mocenigo. Therefore, the 18th Century costume is mandatory!
Insider tip: buying a traditional gown is unaffordable for most people, but you also have a chance to try and rent your favorite costume for one night!
Opening Hours: Mon-Fri: 10am – 2pm. Closed on Saturdays and Sundays.
---
Discover More
We hope that we've inspired you to discover more of the hidden spots in Venice on your trip!
If you go and visit any of them, please share your experience with us by tagging us in your posts! Share your photos with us on Facebook, Twitter, Pinterest and Instagram with #TheRomanGuy and @theromanguy for a chance to be featured!
Check out our Venice tours to discover our unique experiences with local insiders!
Our team of Italy travel experts are always ready to help you in our Trip Planning Department! Email them with your basic ideas and they will plan your whole trip for you!