Rome is a city of indulgence.  For your taste buds, the luxury of Italian cuisine can be transformative.  Your eyes will dance at the first glance of the remarkable world wonders.  And yes, your body too can finally reach a state of relaxation and rejuvenation.
Amidst the hustle and bustle of The Eternal City are hidden pockets of peaceful paradise. Day spas are a wonderful addition to your time spent in Rome, whether you're stopping by for a brief holiday or plan on an elongated visit.  And let's be honest, a spa day is also a great way to overcome the dreaded jetlag.
Rome has a long history of holistic beauty and health traditions, most of which revolve around water. What better way to dive into local culture and customs than to experience its spa treatments?  Here are the top 5 spas and wellness centers in Rome.
---
1. Cavalieri Grand Spa Club
A self-proclaimed "Mediterranean oasis" this spa is the ultimate source of grandeur and serenity. The facility is perched just above the center of Rome in a spacious and healing park atmosphere.
Allow yourself to indulge in every aspect from the available sports facilities to luxurious treatments such as massages, reflexology, waxing and tanning services, chromo-therapy treatment rooms, salons, and even a cafè and boutique selling exclusive La Prairie and Aromatherapy Associates products.  Plus, in-room services can be arranged if you're a guest at the hotel and are just so relaxed you don't want to leave your room. We've all been there- embrace it, don't shame it.
Address: Via Alberto Cadlolo, 101 (Monte Mario neighborhood) | Opening hours: 7am-10pm daily | Price: $$$ |  Tel: +39 06 35091 | Website
---
2. Acqua Madre
This is the center of minimalistic Zen in Rome.  They are famed for their unique Hamman treatment– a style of steam baths from 200 B.C. that, with a massage, improve circulation and boost your immune system.  In addition, they offer facials, luxurious body scrubs, and other forms of massages customized for your needs.  My favorite service at this facility, though, is their Turkish Baths- an unbeatable experience in terms of relaxation and rejuvenation!
Address: Via di S. Ambrogio, 17 (Jewish Ghetto) | Opening Hours: Tues-Sun 11am-9pm (Wed and Fri – women only) | Price: $$-$$$ |  Tel: +39 06 6864272 | Website
---
3. Caschera Spa at Palazzo Montemartini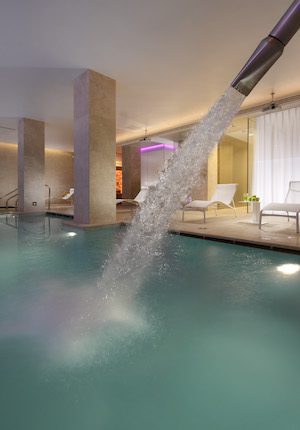 The talented staff at Caschera Spa draw on inspiration from the healing and meditative qualities of water. Their deluxe array of services ranges from two hydrotherapy pools, waterfalls, swimming against the tide, sensory showers, ancient Roman beauty techniques, a relaxation room with herbal teas, and more. Additionally, you can personalize treatments and packages for events like bridal parties.
Address: Largo Giovanno Montemartini (Center, near Termini) | Opening Hours: 10am-9pm daily | Price: $$-$$$ | Tel: +39 06 45661 | Website
---
4. Prince Spa
The name of this spa is not at all ironic, as you receive quite the royal treatment.  Choose from romantic, luxurious treatments for couples, or give yourself some much deserved "me time".
Start your day under the enticing Swarovski crystal ceiling that twinkles above their indoor pool. Their "Wet Area" incorporates ancient ways of healing such as chrome therapy, mosaic Turkish Baths, Finnish Spa, and even an ice fall. You'll also indulge on holistic body treatments and wraps, all with the encompassing notion that water and its surroundings provide a natural rejuvenation. To utilize the pool and Wet Area services, they offer day passes or other membership options. Check out the monthly specials for any ongoing promotions!
Address: Via G. Frescobaldi, 3 (Pinciano, Villa Borghese) | Opening Hours: 7am-10pm daily | Price: $$-$$$ |  Tel: +39 06 85442494 | Website
---
5. Argileto Piccola Metro Spa
On a restful street in Monti, the neighborhood nestled between the ever crowded Colosseum and Forum, is this wellness center.  The professional staff prioritize comfort, relaxation, and utter pampering for all guests.  So, take advantage and treat yourself to traditional Turkish Baths in a peaceful and quiet setting, and then try the deluxe sauna or hydro massage.
If your skin is prone to sensitivity (like mine), fear not as they are capable and willing to personalize any treatment from their massages to body treatments.  Looking to relax with your someone special? They offer unique packages for couples- a perfect way to jazz up any (holi)day!
Address: Via Madonna dei Monti, 108  (Monti) | Beauty and Massage hours: Mon-Sat 9am-8pm, Sun 9am-2pm | Thermal Spa hours: Mon-Sat 9am-1pm, 5-8pm, Sun 9am-2pm | Price: $$-$$$ |  Tel: +39 06 88805491 | Website
---
Discover More