Rome is one of those museum-like cities that you should really spend a minimum of 3-4 days exploring. Especially if you want to see the top attractions such as the Colosseum and Sistine Chapel, have enough time to taste at least 3 different gelatos and also have time to get lost among the cobblestone streets. But when the opportunity arises to spend a mere 4 hours in Rome, due to a flight layover or short day trip from your cruise ship, you can't help but accept the challenge. "Rome in 4 hours? Sure, I've got this".
So how can you spend your 4 precious hours in the Eternal City? We've put together a few suggestions based on 4 different types of travelers; the curious, the wanderer, the artist and the foodie.
---
1. The Curious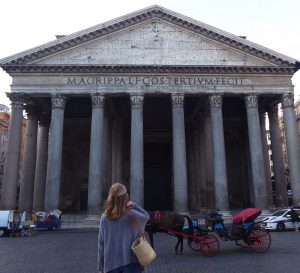 Motto: "I haven't been everywhere, but it's on my list". N. Donald Walsch
How: Joining a Rome driving and walking tour
Time: 3 hour tour & 1 hour lunch = 4 hours
A Rome driving and walking tour, is the best way to explore the city with such a limited amount of time. You'll get the chance to visit some of Rome's key attractions that would be just too far apart if you tried to do it all by foot. You'll visit Piazza Navona and the Pantheon, discover some of Rome's hidden gems, before you head off to one of Rome's most stunning viewpoints. Your tour will end by the famous Spanish Steps, after admiring the stunning Trevi Fountain. You'll finish the tour feeling like you've seen it all! Cameras ready?
Enjoy a tasty lunch at Ginger Sapori e Salute, just down the road from the Spanish Steps to finish off your magical time in Rome.

---
2. The Wanderer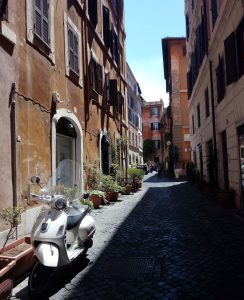 Motto: "Not all those who wander, are lost". J.R.R Tolkien
How: Strolling around, people-watching and gelato-eating
Time: 4 hours
If you are the type of person that likes to put the map down and stroll around a city, than you are definitely a wanderer. No need for google maps to make sure you are going in the right direction when you have no end-destination to get to.
We suggest you start at St Peter's Square, walk along to admire Castel Sant'Angelo and then cross over the Tiber river into the historical center. From there, get as wonderfully lost as possible, it's all part of the fun. Things to see are easily within walking distance that even without planning to, you'll most likely stumble across some of Rome's key attractions.
Make sure to stop for a slice of pizza al taglio or a cheeky gelato along the way!
Check out our neighborhood videos on YouTube to get a feel for the different areas of Rome.
---
3. The Artist

Motto: "Art speaks where words are unable to explain". Artist Mathiole

How: Visiting the Vatican Museums
Time: 2.5 hours tours, 1 hours lunch, 30 mins walk = 4 hours
For the art fanatic, a trip to Rome wouldn't be complete without a visit to the Vatican museums. You've read about it in books, you've seen photos but nothing beats seeing it with your own eyes.
However, you've also heard about the long queues and wasting 1 or 2 hours of your time in a queue is just not an option! Luckily, you can book tickets online in advance through the Vatican Musuem website if you want to explore by yourself. Alternatively join a local expert, that can guide you through the extensive masterpieces and artwork that can often get a bit overwhelming, even for the biggest art-lover! Take an early morning Vatican Express Tour, skipping the lines and getting in before the general public. The tour lasts just 2.5 hours, giving you plenty of time to have a walk around St Peter's Square and grab a quick panino for lunch. We recommend a place called Duecento Gradi, a short 7mins walk from St Peter's Square.
---
4. The Foodie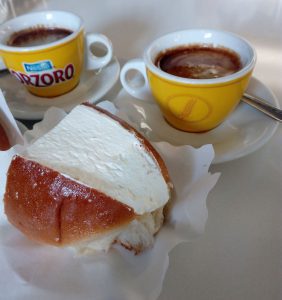 Motto: "First we eat, then we do everything else". M.F.K Fisher
How: Eat, walk and repeat
Time: 4 hours of eating and drinking
Oh you foodies… no need to describe this hungry traveler, you know who you are! When you think of Rome, the first thing that comes to mind is gelato, pizza and coffee? Not necessarily in that order but then again… why not?
However, Rome has its own foodie specialities, including Suppli, Cacio e Pepe pasta and Maritozzo (photographed).
Here are some suggestions on where to get some of the best:
If you want to have a long lunch in one of Rome's famous piazza's, Hannah has put together some suggestions for you.
---
Discover more
Let us know if you have spent such a short amount of time in Rome and what you did in the comments below.
Follow us for endless tips, inspiration and news on everything Italy on Facebook, Twitter, Instagram and Pinterest
Coming up: For those of you lucky enough to spend longer in bella Roma, check out these 5 easy day trips from Rome by train.