Like most cities in Italy, the birth of Venice is still surrounded by medieval myths and tales. History has it that the inhabitants of Aquileia in the 5th century A.D. laid the foundations for the unique city it is today. Because of its mysterious origins and atypical location, Venice offers many interesting anecdotes that make the city even more intriguing. Let's discover some Venice facts you need to know before you visit!
---
1. Venice has the shape of a fish
People coming to Venice for the first time typically wonder how monumental buildings such as the Campanile di San Marco or the Basilica di San Marco can possibly hold on. Since the beginning, construction in Venice had to tackle water, salty air, mud and sand.
By creating a smart system of building stilts and by preventing water leaks with mud, bricks and waste material, Venetians managed to build a cemented ground that's been holding on for decades. During its creation, who could've known Venice would have the shape of a fish when seen from above?! Oh, the irony! Just try and Google it!
2. S
irens in Venice mean "Acqua Alta"
The same sirens that used to signal air strikes during WWII are still on top of all bell towers in Venice! Nowadays though, they alert people Acqua Alta is about to hit.
Acqua Alta means "high water" and occurs when the level of water in the canals suddenly rise above the pavement, flooding the streets.
This phenomenon is relatively recent in Venice's history, as it was caused by excavations made in the past century to let huge oil tankers in the lagoon.
As soon as sirens start blaring, you'll see Venetians diligently place iron plates at their entrance to protect their belongings. Sometimes, you'll even spot tourists take a bath outside St. Mark's Basilica!
3.
Visit one of the narrowest streets in the world 
Calletta (as in "small street") Varisco is located near Campo San Canciano in Venice and it is one of the narrowest streets in the world. It only measures 53 cm in width!
Streets in Venice are usually quite narrow, as in the past the real way of reaching houses and buildings was by canal.
Streets naturally arose to move between houses, but were not originally conceived for traffic.
That's why the main gates of most old buildings in Venice are still facing the canals and can be reached by boat!
4. I
t's not that easy to become a gondolier
The Gondola is one of the most recognizable symbols of Venice and a popular attraction for tourists. However, not many people know that becoming a licensed gondola rider, or "gondolièr" is actually quite hard!
These narrow boats have been used for over 10 centuries to navigate across the canals because of their odd shape, but they can only be led by skilled oarsmen, who need to go through intense training and pass a final exam.
Hundreds of young men apply each year, but only 3 to 4 people manage to get the license! 
5. T
he secret behind the pink columns of Palazzo Ducale
Looking at the columns of the lodge in Palazzo Ducale you can easily spot two of them that are different. What's the reason behind their pink hue?
That's where life sentences were traditionally read. Legend has it that condemned people were offered a last chance to save themselves by completing an impossible task.
They had to turn around one of those columns and not slip off the pedestal. It looked fairly easy from the balcony, but when they tried to get around it, they discovered the outside part of the column actually had no pedestal. It was basically impossible to survive!
6.
The Wars of the Punches
In ancient times Venice had two factions: the Castellani, from the east side of the city, and the Nicolotti, from the west. The factions started fighting relentlessly in 1300, in the so-called "Guerre dei Pugni", or "Wars of the punches".
They were particularly bloody and gory and took place on some of the most famous bridges of Venice.
The most famous are Ponte dei Carmini, Ponte di Santa Fosca, Ponte della Guerra, and lastly Ponte dei Pugni (Bridge of the Punches). The ultimate purpose of these wars was to conquer the bridge and make it private.
The Wars of the Punches provoked many injured and a few deaths, since most fighters fell off the bridge! It got so intense that the Doge had to ban these fights for good in 1705!
7. The tradition of d
rinking "Ombre" 
An Ombra is a round class of red or white wine, and it is one of the most popular drinks in Venice. The origin of the word Ombra, in English "shadow", is still uncertain.
Some think it refers to the see-through, translucent color of wine. Some think it refers to the custom of factory workers to drink a refreshing glass of wine under the shades. 
From that comes the expression "let's go for an ombra under the shades of the Bell Tower". This is also a good activity for tourists who want to take a break from all the museums!
8. W
hy is a Spritz called Spritz?
The first spritz, the typical Venetian drink you'll see locals sip on the streets, has quite a funny story. The word spritz might come from the Austrian verb "spritzen", to spray.
During Austria's dominance in Italy, Austrian soldiers started mixing sparkling water with Venetian wine, as they found it too strong.
Another myth tells that the emperor Franz Joseph was truly fond of this beverage and used to drink multiple glasses. Can you guess the name of his loyal Austrian butler? Apparently, it was Spritz!
9. B
eware of the cats
Who said cats hate water? In olden times, cats arrived in Venice from the Middle East and became immediately precious to Venetian people.
They served to solve a great issue at the time: a mouse infestation. In Venice, the cat population has kept growing until today, but not many cats are stray!
Most of them reside in designed facilities or live with Venetian families and the traditional "gattare", cat ladies. Rumor has it that one of the most popular Doges of Venice, Francesco Morosini, was so fond of his cat that he brought her with him to war! Definitely the weirdest Venice fact so far, right?!
10. Venice history: the origin of the word "Ciao"
Ciao is definitely the most recognized Italian greeting in the world, but truth is, it actually finds its origins in Venice! In particular, it comes from a typical Venetian greeting, "s-ciavo vostro", that translates into "your slave".  With time, the greeting became "s-ciavo", until it simply got to "ciao", the word we all use today!
11. Bonus!! Venice has Secret Gardens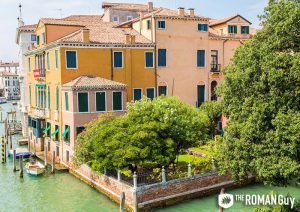 During the summer months, Venice can be surprisingly hot and humid. This allows the city to become a blooming beauty, but only if you know where to look.
Although there are nearly 500 gardens throughout the city, you'd be hard pressed to find them. With our Hidden Venice Tour, we make it easier than ever to gain exclusive access to a secret garden. Tucked away in a maze of small canals, you'll enter a pristine landscape with beautiful local flora not seen by other tourists.
How to get to Venice
Now that you know all about the weird Venice facts, you're ready to go! But how do you get to the lagoon?
From Rome, you can either:
From Roma Termini, take a train to Aeroporto di Fiumicino. Take a plane to Marco Polo (VCE) airport. Make sure to check the Trenitalia website for train tickets, timetables and additional info.
From Roma Tiburtina take a train to Aeroporto di Fiumicino. Take a plane to Venice Marco Polo (VCE) airport. Make sure to check the Trenitalia website for train tickets, timetables and additional info.
Simply head to the nearest train station and get a train from Rome directly to the Venezia S. Lucia station. It only takes 3,5 hours!
From Florence:
The easiest route is to take a train from Firenze Santa Maria Novella to Venezia S. Lucia. Enjoy a 2 hour scenic train ride.
Discover more