Sean: Hi. Welcome to The Roman Guy's neighborhood series. Rome is split up into many different districts. Today, I'm in the Campo de' Fiori neighborhood. [music]
I love this area because it hosts so many of the best things to do in Rome -including bars, museums, restaurants and shops. Imagine yourself in a crowded bar square one second, then you make a right-hand turn and you are in a practically empty piazza admiring the Neoclassical architecture. This is why many noble Italian families still live in the Camp de' Fiori neighborhood. To be completely accurate, Campo de' Fiori is a piazza, but since it is the epicenter of so much Roman activity and nightlife, locals unofficially refer to the neighborhood as Campo or Campo de' Fiori.
Neighborhoods in Rome
If you watched our other Rome neighborhood videos, you know that Rome is split up into 22 districts called Rione. The neighborhood we refer to as Campo de' Fiori is located between two districts called Rione Regola and Rione Parione. Campo de' Fiori means literally, field of the flowers. It's been a fruit and produce market in Rome for many years. Let me show you around the many side streets, bars, restaurants and more in the area.
You can see the Vatican City in the top left of this map. The Spanish Steps are located in the top center and the Colosseum and Roman Forum are in the bottom right. Campo de' Fiori is central to all three of these  top attractions in Rome, reachable in about 10 to 15 minutes from each location by bus. You can find details on which busses to take in the accompanying Hidden Gems Guide to Rome РCampo de' Fiori blog post. Campo de' Fiori is known for its produce and open-air food market in the daytime and some of the best nightlife in Rome when the sun sets. The market closes in the early afternoon and the surrounding bars and restaurants extend their seating out into the piazza.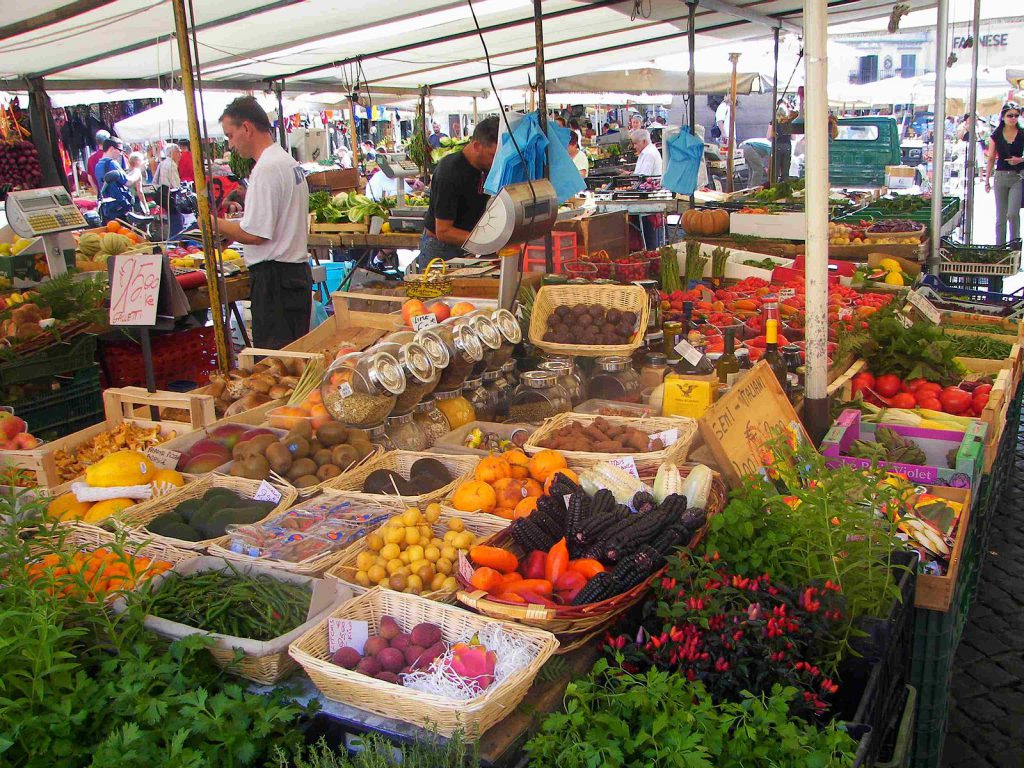 If you arrive before 7:00 PM, you'll see many bars displaying aperitivo, which is a free buffet of snacks to tide you over while you enjoy a drink. Campo de' Fiori has two different crowds frequenting its bars. In the early evening, it's more of a mature crowd enjoying the scenery and local culture. As the night goes on, it's populated with young, local and international students looking to party. The daytime market has only been there since 1869. It was previously in Piazza Navona before they moved it, but the area has always been known for its commercial routes.
The surrounding roads are even named after the trades performed on those particular roads. Via del Balestrari is known for crossbow-makers. Via dei Baullari is known for coffer-makers. Via dei Cappellari is known for hat-makers. Via dei Chiavari is known for key-makers. Prior to becoming a market, Campo was known for its executions, that's right, most famously for that of Giordano Bruno on February 17th, 1600. He elaborated upon the Copernican theory saying that the stars were actually distant suns with exoplanets of their own.
Giordano Bruno's Execution
He even mentioned these stars may be able to foster life of their own. His theory concluded that the universe was infinite and could have no celestial body at its center, directly conflicting with the Church's teachings, punishable by death. Today, the main piazza has more of a light-hearted appeal. The market has a wonderful array of fruits, vegetables, oils, decors, sandwiches and more. The high volume of visitors to this piazza has brought out the entertainer in every merchant. Stand owners offer free samples and often share funny stories and anecdotes.
Besides the stands in the center, there are many authentic Italian food shops in the area. La Antica Norceria Viola is a 126-year-old, family owned and operated shop that sells cured meats. We had a chance to speak to the owner, Benedetto, who is there working daily.
Benedetto: [Italian language] We've been here since 1890. The shop was opened by my great grandfather. Today we are the fourth generation. We have different cooked and raw prosciutto, also smoked. We have different types of wurstel, the best in the world obviously, taken from Dobbiaco on the border with Austria. We have 35 different types of Salame, Salame of Truffle, Barollo, Salame of Boar and of Liver. We also have typical Salame like hunter's Salame with pepper.
We have natural Salame as well. Salame without pepper, without oil and without gluten. We also have Pork Jerky, dried and degreased ham with chilli pepper and fennel. See you soon. Come visit us!
Sean: Although not operated by its original owners,  il Forno Campo de' Fiori has been supplying bread products to the area since at least 1890. Today, they have two shops right next to each other, one that bakes bread and sweets, and the other that makes sandwiches. The sandwich shop is extremely popular amongst locals for lunch, and we happened to be filming there at lunchtime, so I couldn't resist the urge to stopping for a panino.
Piazza Farnese
Adjacent to the busy Piazza Campo de' Fiori is Piazza Farnese. It has a much more tranquil feel, which is strange since it's just a few steps away from Campo. Here, you can relax and have a coffee or a plate of pasta at one of the restaurants. The focal point of the square is Palazzo Farnese. It was once the home of the Farnese dynasty, but today is the French Embassy. Like many Roman palazzi, this is a functioning museum. Instructions on how to book are located in our blog linked below in the description.
The piazza is also home to the two large fountains that were once bathtubs in Ancient Roman baths, the Baths of Caracalla. Nearby on Via di Monserrato is Caffe Peru'. This quaint cafe is frequented by locals and visitors alike. It has a bar where you can get coffee, sandwiches, and drinks on the side. You can also order sit-down food and relax in their artistic seating area that opens up to the street. They change their menu daily and offer dishes with seasonal ingredients. Perfect for a casual lunch.
Most Romans would agree that is amongst the most prestigious street addresses in the city. It's truly an accomplishment to live on this beautiful road. Via Giulia was created in Rome over 500 years ago by Pope Julius II. It was the first example of modern urbanization in the city since antiquity. That's right, since the ancient Romans, a sign that Italy was emerging from the Dark Ages. Via Giulia is a direct route to the Vatican from the city center. For that reason, it was home to many famous popes, cardinals, artists, and people of esteem like Raphael.
The road is framed by the beautiful arch which is a bridge leading from the former Farnese residence to their patron church. During the Renaissance and related time periods, it was normal to go to church daily. Death was much more common in these days and the idea was to be as close to the church as possible in case it was your time to die.
My final recommendation is¬†one of¬†the¬† best local restaurants¬†in Campo de' Fiori 'Äď a place called Der¬†Pallaro.¬†This¬†place¬†is something out of a movie. The place is run by a husband and wife who might¬†be a hundred years old each. The wife is the chef and she¬†loves¬†being in¬†the spotlight. I can¬†almost guarantee she'll stop by your table to see how you're doing. Trust the waiters, but don't over order. Like many traditional Roman restaurants, they can't stomach wasted food and will ask you to finish your food before moving on to the next course or handing over the check. I'm not even kidding.
I hope this guide to Campo de' Fiori video is helpful in planning your next trip to Rome. We have plenty of other neighborhood videos worth watching. If you like this one, please let us know by clicking the thumbs up button. If you love this one, then share it with friends. If you want to see more videos about Rome, subscribe to our channel. All these things motivate us to make more helpful videos. Speaking of which, if you have a good idea for our next video, leave it in a comment below. Thanks again for tuning in from The Roman Guy.
[00:09:34] [END OF AUDIO]